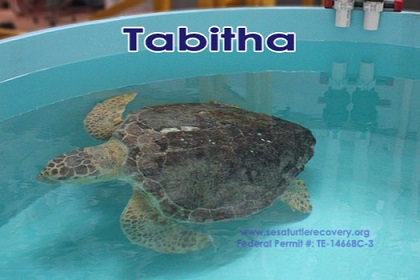 Sea Turtle Recovery, a hospital in New Jersey for sick and injured turtles, will hold a fundraiser from 7-10 p.m. Saturday, Nov. 9, at Josie Kelly's Public House in Somers Point. 
The nonprofit organization relies almost exclusively on public donations and fundraisers to care for and rehabilitate turtles. One of the turtles, named Tabitha, is a 140-pound loggerhead rescued in Ocean City last June. 
Tabitha continues to receive care at the Sea Turtle Recovery facility at Essex County's Turtle Back Zoo. Sea Turtle Recovery has received help from Shore Medical Center's employee pharmacy in Somers Point to secure Tabitha's medications for almost half the cost. 
Tickets for the fundraiser at Josie Kelly's cost $25 per person in advance and $30 at the door. The event is being held as Sea Turtle Recovery prepares for winter, its busiest time of the year. It will help raise money for testing and turtle medications. 
For more information on the fundraiser, visit http://seaturtlerecovery.org/news-updates/rock-sea-turtles