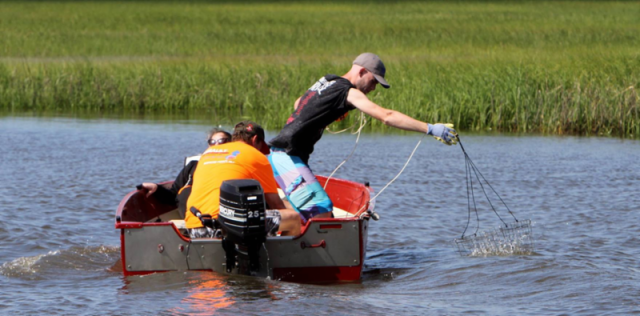 The Patcong Creek Foundation (PCF) will host a gala premier of the documentary film, "On The Line: The Story of America's Largest Crabbing Tournament," on Saturday, Nov 9 at 6:30 p.m. at Gateway Playhouse, 738 Bay Avenue in Somers Point.
The documentary showcases the 10th annual "Assault on Patcong Creek" crabbing tournament and its history.
"Film Reel Productions approached us regarding producing a documentary on the crabbing tournament, and we thought this would be an excellent way to show the benefits of preserving the estuary, while highlighting the culture and world of crabbing," said Jenn Jennings, administrator and outreach coordinator for PCF. "This is a really big moment for the Foundation and the tournament," she continued.
Doors open at 6:30 p.m. for a cocktail hour, hors d'oeuvres, and an introduction by the director of the film, Leanna Mullen. A Q&A panel discussion will follow the film, moderated by longtime former Press of Atlantic City sports editor Mike Shepherd, with Mullen, Ron Meischker, founder of the Patcong Creek Foundation and organizer of the Assault, and tournament veterans.
Seating is limited, and tickets are available at www.AssaultOnPatcongCreek.com.
Patcong Creek Foundation hosts the Assault on Patcong Creek crabbing tournament each June in Somers Point, attracting hundreds of crabbers from over a dozen states. The crabber who brings in the largest crab point-to-point wins, and all participants enjoy good food, camaraderie, and family-friendly fun.
Over 1,500 people attended the 2019 tournament, bringing much-welcomed revenue to the restaurants, shops and accommodations in Somers Point.
"It's hard to believe how much the tournament has grown," said Meischker. "It started out as a few friends and some friendly crabbing competition – the competition is still friendly, but we have many more friends now – and probably a lot more soon, thanks to Film Reel Production's vision."
Next year's Assault on Patcong Creek is scheduled for June 26-27. To make a donation, or become a sponsor for the 2020 event, call 609-517-2531, e-mail info@assaultonpatcongcreek.com or visit www.AssaultOnPatcongCreek.com.