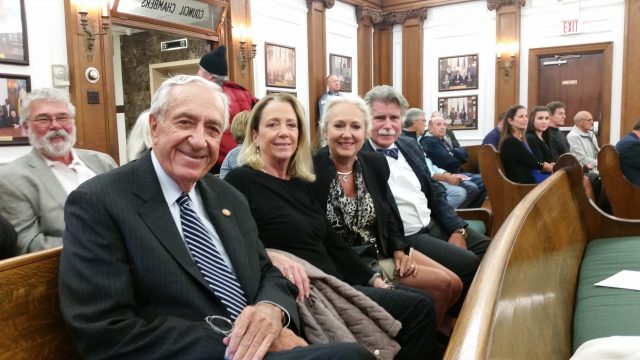 By TIM KELLY and MADDY VITALE
William J. Hughes, an Ocean City political and civic icon, has passed away. He was 87.
Ocean City Mayor Jay Gillian had fond memories of Hughes, a man whom he knew his entire life.
"He was who he was. He was one of those unbelievable people. I knew him all my life. My dad and Bill were good friends and that is really where I learned Bill and dad's statesmanship," Gillian said. "The fact that they could always work together. That is how I grew up. He was a great mentor. He was a resource for me no matter what, when I was a school board member, then as mayor."
When it comes to Ocean City, Gillian said Hughes' death is a monumental loss.
"It is just a big loss to so many people and definitely to Ocean City. He has done so much for Ocean City and the surrounding area," the mayor remarked. "It is hard to measure how much he, his wife, Nancy, and their family have done. It is just a shame we don't have him anymore. He always knew how to get things done and to unite people."
Hughes died Wednesday at his Ocean City home. A cause of death was not released.
To understand Hughes' impact in his adopted hometown of Ocean City, one only needed to observe how beloved Hughes was, a Democrat politician in an overwhelmingly conservative Republican town.
In addition to being a longtime South Jersey Congressman and U.S. Ambassador to Panama, Hughes was active in his hometown, donating time, money and expertise to a variety of causes.
He and his wife, who died in January of 2018, were benefactors to the arts and Ocean City High School, the main donors of the high school's Bill and Nancy Hughes Performing Arts Center.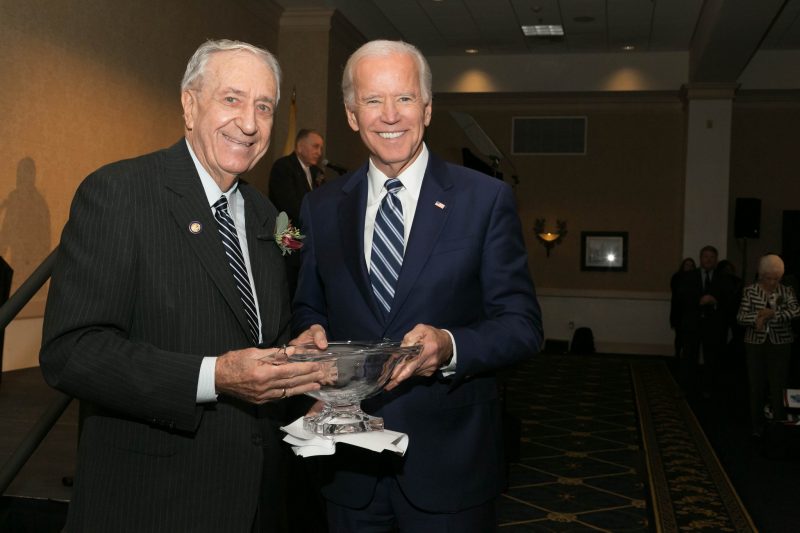 Cape May County Freeholder Leonard Desiderio, who is also the Sea Isle City mayor, said, "This is a sad day today, not only for the Hughes family, but for the South Jersey area. Ambassador Hughes was the most beloved public official in Cape May County of my time."
Desiderio continued, "Although he had been out of political office for over 20 years, he still had significant influence and was regarded as someone who many sought out for advice and support, and that includes myself. He was someone we relied on. We know he was something special and I don't believe we will see the likes of another Bill Hughes in my time again."
Former Republican Congressman Frank LoBiondo, who was a congressman for 24 years and succeeded Hughes in office, knew Hughes since the 1980s.
"He was an incredible public servant who paid close attention to South Jersey, not only as a member of Congress, but also in terms of the community," LoBiondo said. "I know he was involved in many activities in South Jersey and has impacted the lives of many people for years to come. Bill really demonstrated that when you take that oath office you represent the entire system."
Over the years, although LoBiondo and Hughes were from different political parties, it didn't seem to matter when it came down to what was right for South Jersey, LoBiondo recalled.
"Any time we had to work together, it was obvious his interest was in doing what was right for the people," LoBiondo said. "Once I was elected to Congress and Bill was not in office, I would still see him at numerous community events. It was clear that he was still out there making a difference for people in our area."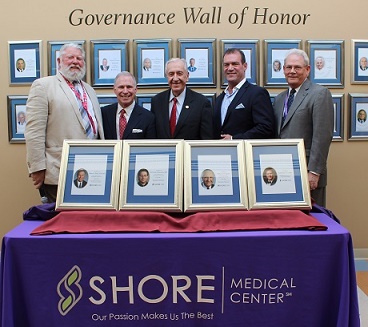 Known for civility and fair play in a political arena that rarely sees such qualities, Hughes became the namesake of the William J. Hughes Center for Public Policy at Stockton University.
Sharon Schulman, the former director of the Hughes Center, said she and Hughes always stayed in touch, even after she moved to Florida following her retirement from Stockton in 2017.
The last time they spoke was on his 87th birthday on Oct. 17.
"He always put people and their needs and the country above politics," Schulman said.
The Hughes Center was founded to be a voice for South Jersey and bring policy makers together for what people need and want. There was an understanding that was its goal, Schulman noted.
Stockton University President Harvey Kesselman sent a statement out to the Stockton community saying how much of an impact Hughes had on the school and the community.
"Bill Hughes was the epitome of what a public servant ought to be," Kesselman said. "He exuded a sense of civility with respect to everything he did in life, and he was unwaveringly committed to exhibiting that noble conduct to those with whom he came in contact."
Kesselman continued, "We are extremely grateful for his having chosen Stockton to house his memorabilia, and we are a far, far better place as a result of his Center being an integral part of what we hold dear as a University. He will be sorely missed."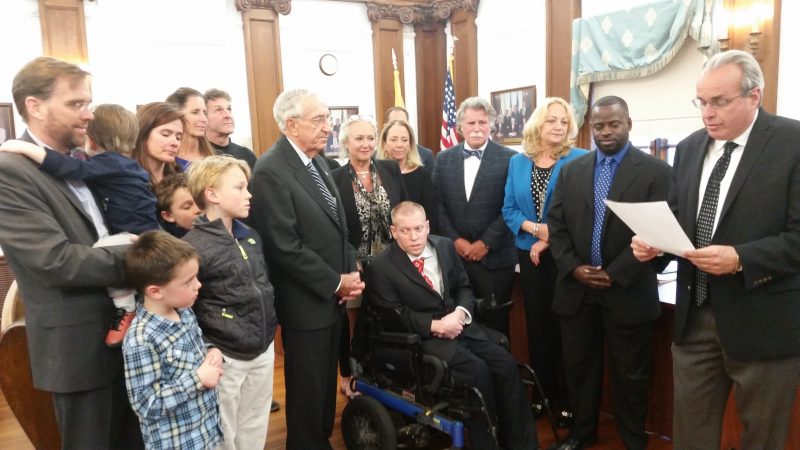 Born in Salem in 1932, Hughes graduated from Penns Grove High School, Rutgers, University and Rutgers Law School (1958). He was admitted to the New Jersey Bar the following year and began practicing in Ocean City, where he settled with wife and the couple raised their four children.
Hughes worked in the Cape May County Prosecutor's Office rising to the position of First Assistant Prosecutor.
Cape May County Freeholder E. Marie Hayes, a retired captain in the Cape May County Prosecutor's Office, called Hughes an inspiration. She became friends with one of Hughes' daughters, Tama Hughes, who was an assistant prosecutor.
"They are just a wonderful family. I got to know them over the years. I am very, very, sad," said Hayes, an Ocean City resident. "Every time he saw me, he would encourage me in my political career and tell me I am doing a good job every time I saw him."
Hughes' political career began in 1970 when he was defeated by Charles W. Sandman, Jr., for a seat in New Jersey's Second Congressional District. In 1974, he took on Sandman again, this time winning and beginning a run of ten consecutive terms.
His legislative accomplishments included a bill that increased the size of the U.S. Coast Guard, a forfeiture law to seize the assets of drug sales from dealers including money, airplanes, boats and other vehicles. He was also a champion of gun control and border protection, among other initiatives.
In 1995, Hughes was nominated by President Bill Clinton to serve as Ambassador to Panama, and was confirmed later the same year. In that capacity he oversaw the transfer of military bases in that country when the United States turned operations of the Panama Canal over to the host country.
He also worked to combat drug trafficking happening in Panama at the time, including creation of an initiative to combat the smuggling of aliens and development of a new border control unit.
Hughes' legacy in South Jersey is far-reaching. The FAA Technical Center next to Atlantic City International Airport was re-named the William J. Hughes Technical Center, and the Bill and Nancy Hughes Performing Arts Center at Ocean City High School was named in recognition of the couple's community service and local contributions.
The Richard Stockton College of New Jersey (now Stockton University) launched the William J. Hughes Center for Public Policy in 2010. The Center conducted research and polling on economic and public policy issues facing South Jersey.
In 2013, Hughes donated a large collection of personal awards and political memorabilia to the Center, which displays much of the material on its walls.
The Center expanded to open a Polling Institute and to launch a Legislator-in-Residence program to allow lawmakers to engage with students and faculty and share experiences with the local community.
In recent years, Hughes could be seen in and around Ocean City at area beaches and businesses. He was said to be a semi-regular at the Airport Diner.
He married the former Nancy Gibson of Moorestown in 1956. The couple is survived by four grown children, Nancy Lynne, Barbara Ann Sullivan, Tama Beth and William J. Jr., and 10 grandchildren.
Funeral plans were incomplete at the time of this article.