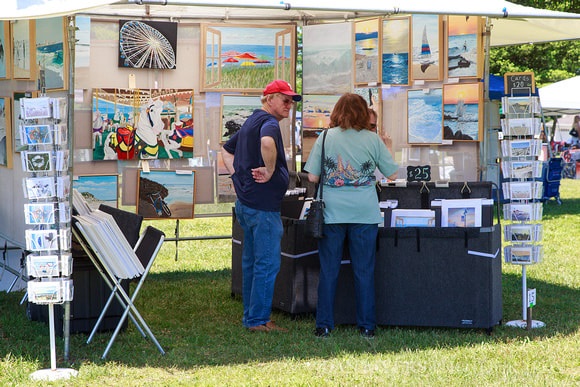 The City of Somers Point is hosting the fourth annual "Art in the Park" event on Saturday, June 15 from 10 a.m. to 4 p.m. at John F. Kennedy Park on Broadway Avenue.
Art in the Park features the work of a number of local and regional, professional and amateur artists for exhibit and sale.
Prizes will be awarded to both professional and amateur artist exhibitors, as well as those in the en plein air (on site) category. Visitors to the festival will have the opportunity to vote for the People's Choice Award.
Sponsoring the awards are Anchorage Tavern, The Clam Bar, Passion Vines Wine & Spirits Co., South Jersey Jazz Society, For Two Cents Plain and The Tilton Inn.
There will be food and music and activities all day, including interactive art experiences for adults and children, yoga and face painting.
Musical entertainment includes the Tom Angello Jazz Trio, sponsored in part by the South Jersey Jazz Society, and by local singer/guitarist Marc Wasserman. Food vendors include Mr. Ice Cream Man, Jay's Crab Shack, Upper Sandwiches and Maui Joe's Shave Ice.
Art in the Park is free and open to the public. Kennedy Park provides handicapped parking. For more information, visit ArtintheParksomerspt.weebly.com for free transportation by Atlantic County Transportation for park/ride pick up sites and schedule.
For more information on Art in the Park, please contact Kathleen Arleth of the Somers Point Arts Commission at 609-653-4991 or katharleth@hotmail.com.
For more information on the City of Somers Point, visit www.visitsomerspoint.com or call 609-927-9088.