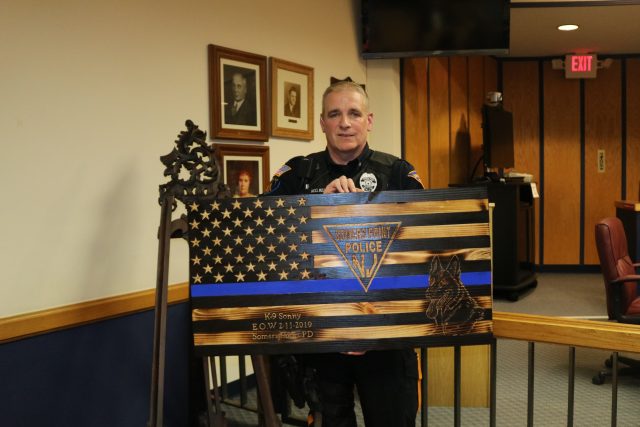 By Maddy Vitale
Somers Point retired K-9 Officer Sonny was honored in a heartfelt tribute by police and City Council during a ceremony Thursday night to salute the police dog.
Sonny was a K-9 for Somers Point from 2008 to 2016. Upon his retirement, his handler and partner, K-9 Officer Mark McElwee, and he lived together until the German shepherd's passing of cancer on Feb. 11.
Police Officers lined the back wall of City Council Chambers to show their support and to honor the police dog and his handler.
McElwee appeared touched and appreciative of the honor bestowed upon his faithful and dutiful K-9 partner. The two took to the streets, making countless warrant arrests, aiding in locating criminals and recovering stolen property.
"Sonny truly fulfilled his obligation to detect and protect; and K-9 Sonny played a major role in our Community Awareness Program and had been an ambassador for the City of Somers Point, loved and admired by many," a portion of the resolution honoring Sonny said, which was read aloud by City Clerk Lucy Samuelson.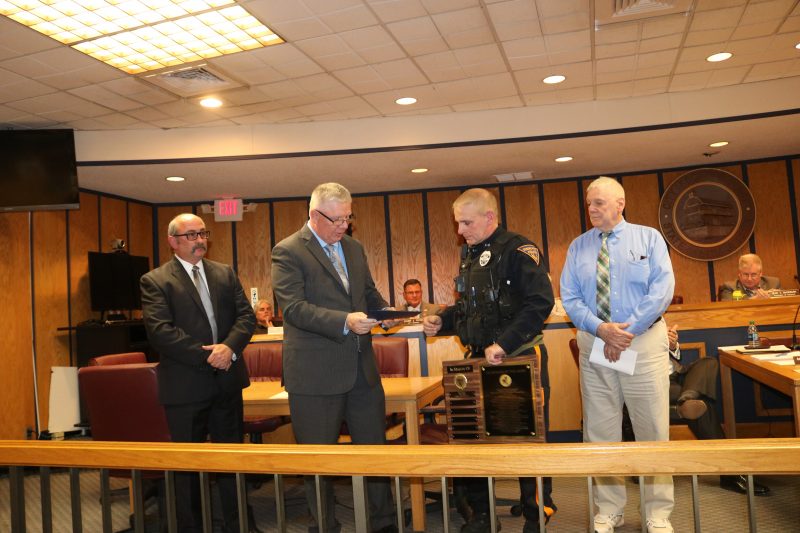 McElwee brought back the K-9 unit in 2008 after it was disbanded a decade earlier, and Sonny was by his side fighting crime.
Since 2016, McElwee has had another German shepherd, named Doc, as his K-9 partner.
"I loved Sonny," McElwee said, adding that he will always be with him because of the memories. "And I love my job and feel so fortunate to be able to work in the K-9 Unit."
Acting Police Chief Robert Somers and Mayor Jack Glasser presented McElwee with a proclamation in honor of Sonny.
McElwee's father, also named Mark McElwee, read a poem, titled "Guardians of the Night," about K-9 companions who have passed.
The poem caused some people in Council Chambers to wipe away tears.
During the presentation, the audience heard from a fellow K-9 Officer Rick Dill.
Dill spoke of the strong bond between McElwee and Sonny. It is a bond only the officer and K-9 could understand, he said.
He presented McElwee with a large K-9 memorial plaque. Sonny's likeness was etched in the wood and an American flag was the backdrop.
"These dogs are willing to sacrifice their lives," Dill said. "K-9 Sonny, while we know he is in your heart and will never be forgotten, we wanted you to have something to remind you of him."