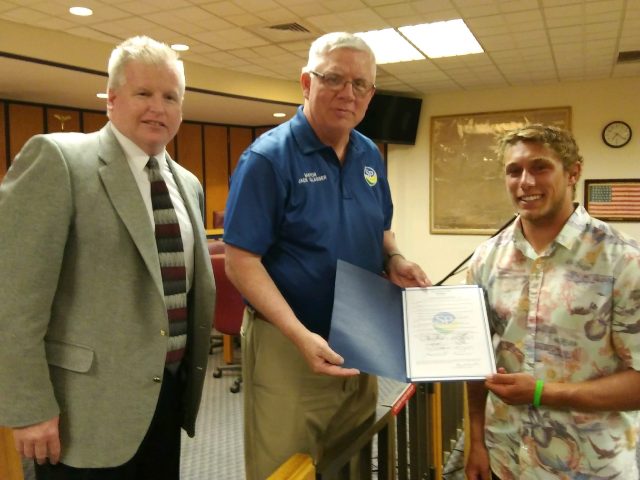 By Maddy Vitale
Lionel F. Crossman lived in Somers Point for 46 years. But he didn't just make a life for his family in the bayside community, he dedicated his life to serving as a volunteer fireman and also a member of the planning board.
Crossman, who was loved in the community, passed away at age 89 on June 27. City Council honored him with a resolution celebrating his life, during a City Council meeting Thursday night.
He was a longtime firefighter with the Somers Point Volunteer Fire Co. 1 and 20 year Planning Board member. Throughout his years raising a family in Somers Point, he also was tireless in his dedication to the place he called home, officials said during a ceremony.
Fellow firefighters, along with Crossman's children, went up to the dais to receive the proclamation from Mayor Jack Glasser and Councilman Dennis Tapp.
Some words in the proclamation really stood out for Council President Sean McGuigan. Those sentiments described Crossman as a person who has made a lasting and positive impact on the community.
"There are no truer words that have ever been spoken," McGuigan said. "He will be sadly missed here."
Glasser recalled Crossman as "a rock," and "someone you could always rely on."
He added, "He was someone you looked you looked up to."
Other members of council said kind words about Crossman and how deep the loss was for the community.
Tapp recognized Crossman, calling him by one of his nicknames "Lee," for his military service as a commander in the United States Coast Guard. "Lee was of a generation where you gave to your country and you gave to your community. He coached me when I was new on the planning board," Tapp said.
He thanked Crossman's family for their support of Crossman's volunteerism over the years.
"You were his support and I want to thank you," Tapp said.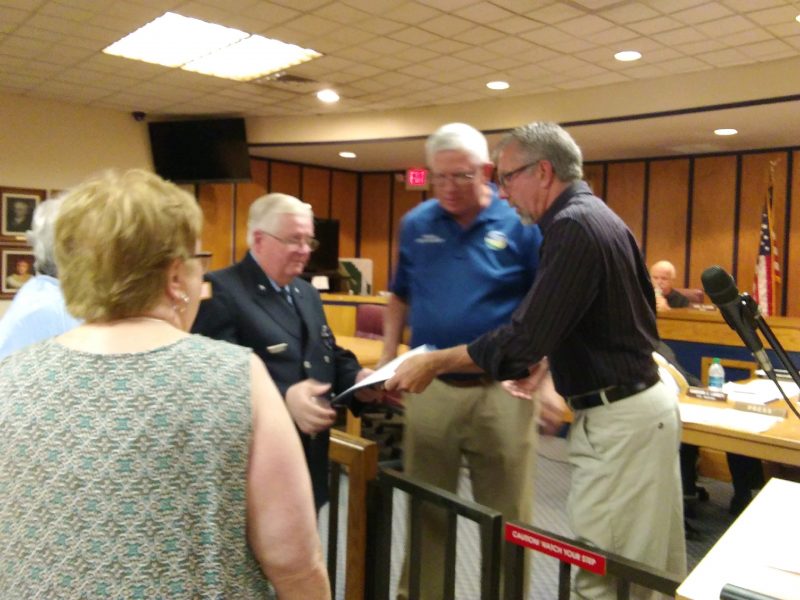 Also, on the agenda was a resolution recognizing Mainland High School graduate Vincent Giunta, for excelling on the Mainland Regional High School Lacrosse Team.
The lifelong Somers Point resident was named First Team All-Star in the Cape-Atlantic League. The proclamation reads: The Mustangs had a historic year. Vincent, 18, led the effort with a team high 49 goals and 39 assists. His accomplishments on the field earned him an All American Honors from the U.S. Lacrosse Organization.
Giunta's parents Shannon and Paul Giunta were in the audience as their son received the proclamation from the mayor and council president.
Vincent Guinta will be attending Georgian Court College on an academic and athletic scholarship, studying biology and chemistry and playing lacrosse in the fall, the Giuntas said after the meeting.
Councilman Howard Dill said he attends lacrosse games and something to note about Giunta is, he is a super star, but he is definitely a team place who cares about everyone else.
Councilman James Toto said Vincent Giunta has a magic touch. He said God really blessed him with immense talent.  
The mayor said it was an honor to see the Giuntas in the audience.
"People look and say, 'He's from Somers Point. That is what makes us proud," Glasser said of Vincent Giunta.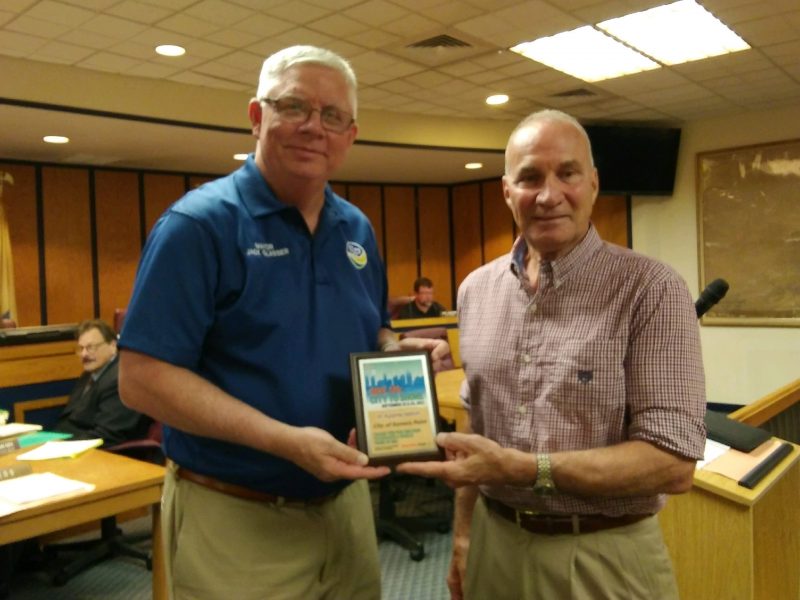 In other matters, Lloyd Humphries, of the MS Society, presented the Council with a plaque for the city's support of Bike MS: City To Shore Ride 2018, which will be held Sept. 29 and 30. The route begins in the Cherry Hill area and ends in Ocean City.
Council President Sean McGuigan said the city is very happy to support Bike MS.
The next Somers Point City Council meeting will be held at 7 p.m. Aug. 23 at City Hall located at 1 West New Jersey Ave.