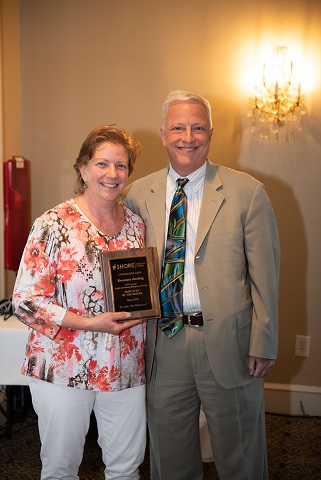 For consistently delivering outstanding patient-centered service and embodying Shore Medical Center's Mission, Vision and Values, Shore is proud to announce that Staff Assistant Rosemary Dowling of its Health Information Management Services department has been named the medical center's May 2018 Employee of the Month.
Dowling joined the Shore team in 1989 as a medical records clerk on evenings and weekends, and was later promoted to her current position as staff assistant. Dowling's many years in the department make her a wealth of knowledge and a go-to resource for questions related to medical records management. She's an essential piece in the coordination and maintenance of accurate provider and patient data.
HIMS Director Calla Waldron-Buck says not only is Dowling essential in the department's daily work, she is also their cheerleader. "Rosemary is known for her support of others and her enthusiastic willingness to assist the department and hospital in any way," Waldron-Buck says.
As an active member of the hospital's Healthy Communities Committee, Dowling is often the first to lend an eager hand to help with committee-sponsored projects, like the canned food drive. Beth Ann Spiegel, chair of the committee, says she can always count on Dowling's support.
"Rosemary is always ready and willing to help with any projects we're working on, especially those that help the greater community. She has a sincere passion for helping those in need," Spiegel says.
Dowling says she is proud to work for Shore. "We have such a strong and caring community-oriented organization, with great values. I've had the pleasure of working with many wonderful caring people over the years and have developed lasting friendships along the way."
Outside of work, Dowling enjoys hiking, gardening, traveling and spending time with her family, including her children, Justin and Bethany, and her two-year-old grandson, Everett. She also serves as the Senior High Youth Group Advisor at Central United Methodist Church. Prior to that, she served as a Girl Scout Leader for 12 years in Cape May County. Dowling loves participating in mission outreach programs, and has served both in the United States and internationally, including Russia and Uganda.
About Shore Medical Center
At Shore Medical Center, located in Somers Point, NJ, kindness complements an extraordinary level of clinical sophistication. People are the foundation of this modern medical center where advanced technology harmonizes with compassionate care. Shore Medical Center attracts the area's best physicians, nurses and clinicians, and is the first and only hospital in New Jersey and one of 86 healthcare organizations worldwide to earn Designation as a Planetree Patient-Centered Care Hospital®. Recognized for its dedication to patient safety, Shore has received eight consecutive "A" grades in The Leapfrog Group's Hospital Safety Score since Fall 2014. Shore Medical Center is home to six Centers of Excellence for Cancer, Cardiovascular, Neurosciences, Spine and Orthopedic, Emergency and Maternity and Pediatric care. Shore's affiliations include Penn Medicine, Onsite Neonatal Partners, St. Christopher's Hospital for Children, Mayo Medical Laboratories, and Advanced Radiology Solutions. In addition, Shore is a member of the Jefferson Neuroscience Network and has physicians on staff from the Rothman Institute. In 2011, Shore opened its Pediatric Care Center, the first of its kind in New Jersey, and its state-of-the-art Surgical Pavilion and Campus Expansion. The Shore Medical Center Planned Giving & Development team, which includes the Auxiliary, creates and implements dynamic philanthropic programs that support the mission of Shore Medical Center (www.GivetoShore.org). For more information about Shore Medical Center, visit www.ShoreMedicalCenter.org.