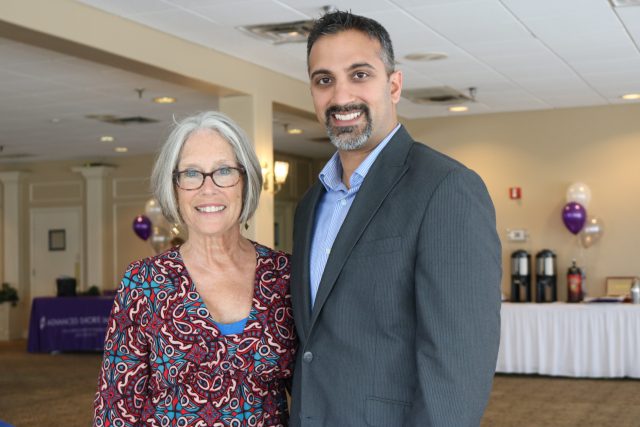 By Maddy Vitale
In August of 2015 Lee Neuman's world was turned upside down. The Cape May Court House mother of three, was diagnosed with breast cancer.
Neuman, 67, went into the hospital for a double mastectomy two months later. Radiation to eradicate the cancer was just part of the battle.
She opted for breast reconstructive surgery.
"Being healthy is the primary focus for me," Neuman, a rental agent with Berkshire Hathaway HomeServices Fox & Roach in Stone Harbor, said. "I went through the reconstruction because I wanted my clothes to fit nicely and feel good about myself."
Her team of doctors at Shore Medical Center in Somers Point were excellent, she said. But the physician who really stood out for her was Dr. Mohit Sood, a plastic and reconstructive surgeon who is part of Shore Physicians Group.
"Right away, I was introduced to Dr. Sood. He told me what would happen and what my options were," Neuman explained. "He was very supportive and let me know every step of the way what would happen."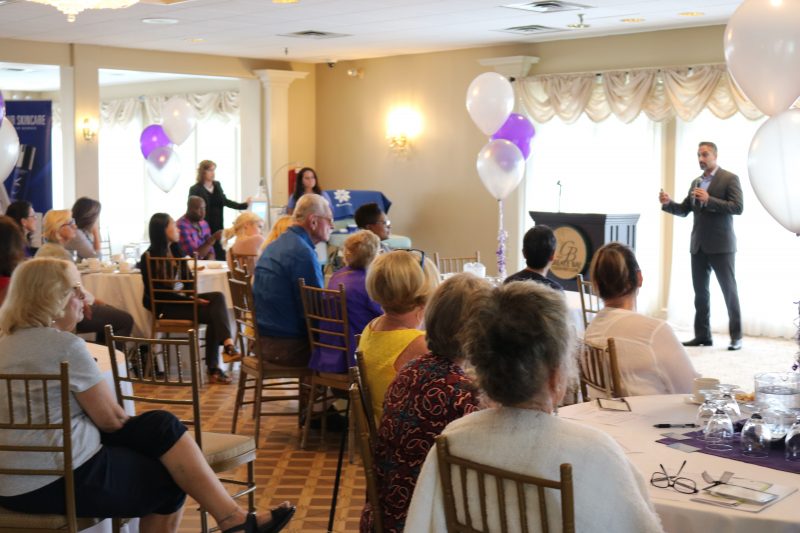 Neuman, who is now cancer free, and her friend Gene Palm, of Rio Grande, joined an audience at Greate Bay Country Club in Somers Point Tuesday morning for a free seminar hosted by Shore Physicians Group, featuring Sood and members of the Sood Center for Aesthetic and Plastic Surgery in Linwood.
Sood, a married father of three, joked with the crowd, explained his love of his profession and his mission to help people look and feel their best.
"I chose plastic surgery because it married well with my personality," he said. "My wife is a cardiologist. I went into a specialty that fits me. My main focus is quality of life. I try to treat individuals, rather than treat true pathologies."
The focus of the discussion centered on reconstructive surgery, something the doctor said he feels very passionate about.
"Breast reconstruction is important for health," Sood said. "It helps with the body image. When a patient requires a mastectomy, at a minimum, it restores their body form. This is a specialty. I enjoy watching them on their journeys."
Skin cancer and scar treatment, as well as breast augmentations, body contouring with Coolsculpting, liposuction and tummy tucks, were also topics of the seminar.
Sood and his team also spoke about face and neck lifts, eyelid surgery, laser treatments, Botox and fillers such as Juvéderm and skin care.
During the presentation, Sood displayed before and after photos of his patients who underwent reconstructive and plastic surgery. He warned that some of the photos were graphic. The images showed positive results of the reconstructive procedures done by Sood.
"No two people have the same exact complaint," Sood told the audience. "Everyone is unique. It is really about assessing a patient's goals. I operate on the toes to the head, to the nose, to just about everywhere."
Audience members asked questions such as how long breast implants last and questions about body contouring.
"There is a hallmark of 10 years," the doctor said of the length of time breast implants should be in before being replaced. He added that medical imaging shows a breakdown in some implants after that time. However, he said, he has known of patients with the same implants for 30 years with no leakage in the implants.
During the seminar, a woman received a Coolsculpting session.
Questions about the body contouring technique included, how long it lasts and on what body parts are the procedures done and if it is effective.
Sood said it can last a long time, but every case is different. The most common uses are for the stomach and "love handles." He also said it is a technique that is right for some, but not necessarily others.
"Cool Sculpting freezes your fat away," Sood explained.
People also asked about insurance coverage.
"We really want to make it patient centered," he said. "We work with providers to offer support to patients."
After the doctor stayed around to speak with audience members.
"It was so educational," Palm noted. "I am grateful that Shore is offering these seminars. There were things talked about I had never heard of before."
Neuman decided to go with her friend to speak to her doctor.
"I don't know if he will remember me," she said.
He definitely did.
"How are you doing?" Sood asked.
Then he hugged his former patient and asked her if she had been following up with the other providers and specific questions related to her case.
"He is just the greatest surgeon ever," Neuman said with a smile.
The event was a continuation of Shore Physicians Group's community educational health series, "Be Well Connected."
For information about Shore Physicians Group visit www.ShorePhysiciansGroup.com. To reach Dr. Mohit Sood email info@soodcenter.com or call (609) 904-5390.