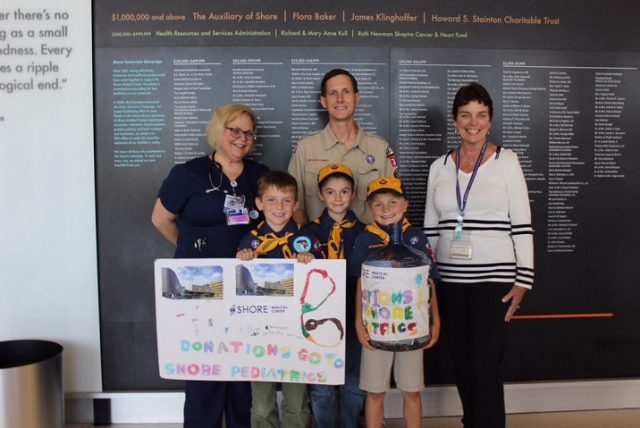 "Do a good turn daily" is a core precept of the Boy Scouts of America, and something that three young members of the Linwood Cub Scouts Pack 39 Wolf Den have certainly embraced.
After several months of fundraising, scouts William Gerhardt, Grant Miller, and Theodore Coville presented Shore Medical Center officials with a donation of $175.80 on June 11 to benefit its Pediatric Care Unit, Shore's separate child-friendly emergency and inpatient area designed especially for children to help make the hospital experience less scary. The Pediatric Unit is staffed 24/7 by pediatric specialists from St. Christopher's Hospital for Children and Onsite Neonatal Partners.
About Shore Medical Center
At Shore Medical Center, located in Somers Point, NJ, kindness complements an extraordinary level of clinical sophistication. People are the foundation of this modern medical center where advanced technology harmonizes with compassionate care. Shore Medical Center attracts the area's best physicians, nurses and clinicians, and is the first and only hospital in New Jersey and one of 86 healthcare organizations worldwide to earn Designation as a Planetree Patient-Centered Care Hospital®. Recognized for its dedication to patient safety, Shore has received eight consecutive "A" grades in The Leapfrog Group's Hospital Safety Score since Fall 2014.  Shore Medical Center is home to six Centers of Excellence for Cancer, Cardiovascular, Neurosciences, Spine and Orthopedic, Emergency and Maternity and Pediatric care. Shore's affiliations include Penn Medicine, Onsite Neonatal Partners, St. Christopher's Hospital for Children, Mayo Medical Laboratories, and Advanced Radiology Solutions. In addition, Shore is a member of the Jefferson Neuroscience Network and has physicians on staff from the Rothman Institute. In 2011, Shore opened its Pediatric Care Center, the first of its kind in New Jersey, and its state-of-the-art Surgical Pavilion and Campus Expansion. The Shore Medical Center Planned Giving& Development team, which includes the Auxiliary, creates and implements dynamic philanthropic programs that support the mission of Shore Medical Center (www.GivetoShore.org). For more information about Shore Medical Center, visit www.ShoreMedicalCenter.org.