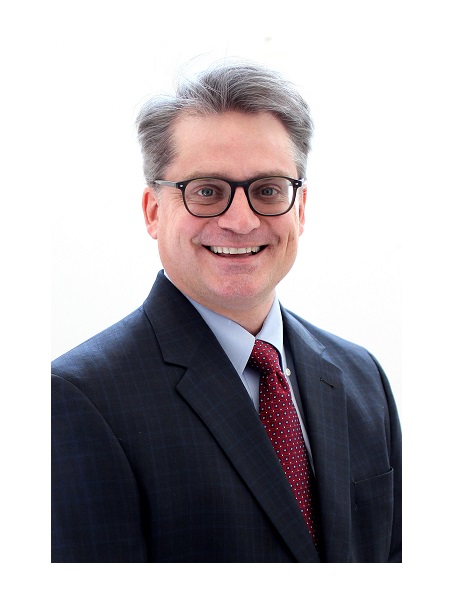 Shore Medical Center's clinical heroes are numerous, from its talented team of physicians and compassionate nurses, to its allied health professionals and techs, all working together to provide expert healthcare to the community. But on the administrative side, there are also standout staff working hard behind the scenes to ensure it can continue to provide that expert care to the community. One of those individuals is Brian Cahill, director of marketing and public relations, who is being honored as the Healthcare Honoree at the Somers Point Education Foundation's annual gala on Feb. 24 at Greate Bay Country Club.
As a nonprofit community hospital and the largest employer in the city, Shore leads numerous external projects that improve the health and wellbeing of Somers Point residents and those in its surrounding communities. Cahill, who came to Shore in 2014 after spending 16 years in the A.C. casino industry, is often heavily involved with those efforts.
Cahill has helped many projects come to fruition that benefit both Shore and the City of Somers Point, including Shore Medical Center's weekly farmers market, craft fair and patriotic tribute hosted in the summer of 2017 in partnership with Somers Point Community First. He represents Shore at the Somers Point Police Department's Trunk or Treat and National Night Out, and at many other community events.
"Brian is among the first to step up whenever there is a community project," says David Hughes, Shore's chief financial and development officer. "I can always count on Brian to do what is needed, including getting his hands dirty, as we saw when he led efforts to clean up the grounds at the Somers Point Senior Center and weeded the welcome area in Somers Point as you enter the city from Ocean City's 9th street bridge. He brings tremendous creativity, enthusiasm and optimism to everything he does, and we're lucky to have him on board."
A resident of Washington Township, Cahill and his wife of 22 years, Jennifer, are the proud parents of three boys, Jack, Andy and Brad. In addition to his role at Shore Medical Center, Brian is also an adjunct professor at Stockton University's School of Business. In his free time he enjoys coaching his kids, spending time with his basset hound, Felix, and obsessing over the Seattle Mariners.
Cahill will be recognized among other honorees at the Somers Point Foundation for Education's 24th annual Dinner Dance Gala, which raises funds to support new educational programs and enhance existing programs. For more information about the gala, please contact the Somers Point Community & Education office at (609) 927-2053, ext. 3102 or e-mail ssomers@sptsd.org.
About Shore Medical Center
At Shore Medical Center, located in Somers Point, NJ, kindness complements an extraordinary level of clinical sophistication. People are the foundation of this modern medical center where advanced technology harmonizes with compassionate care. Shore Medical Center attracts the area's best physicians, nurses and clinicians, and is the first and only hospital in New Jersey and one of 86 healthcare organizations worldwide to earn Designation as a Planetree Patient-Centered Care Hospital®. Recognized for its dedication to patient safety, Shore has received seven consecutive "A" grades in The Leapfrog Group's Hospital Safety Score since Fall 2014. Shore Medical Center is home to six Centers of Excellence for Cancer, Cardiovascular, Neurosciences, Spine and Orthopedic, Emergency and Maternity and Pediatric care. Shore's affiliations include Penn Medicine, Onsite Neonatal Partners, St. Christopher's Hospital for Children, Mayo Medical Laboratories, and Advanced Radiology Solutions. In addition, Shore is a member of the Jefferson Neuroscience Network and has physicians on staff from the Rothman Institute. In 2011, Shore opened its Pediatric Care Center, the first of its kind in New Jersey, and its state-of-the-art Surgical Pavilion and Campus Expansion. The Shore Medical Center Planned Giving & Development team, which includes the Auxiliary, creates and implements dynamic philanthropic programs that support the mission of Shore Medical Center (www.GivetoShore.org). For more information about Shore Medical Center, visit www.ShoreMedicalCenter.org.