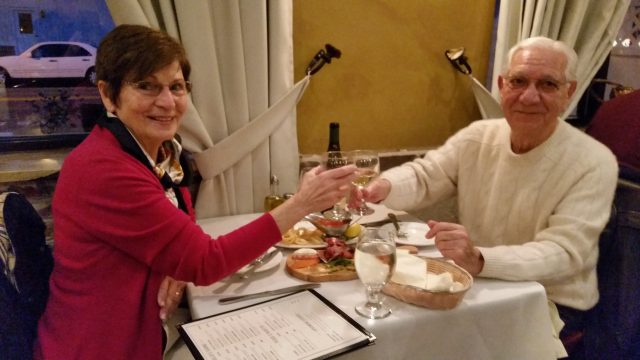 By Donald Wittkowski
Marie and Robert Turchi have been together for 52 years, so you would have thought they could have shared a few secrets with the rest of us on Valentine's Day for what it takes to have a long, loving marriage.
"I have no idea. I wing it," Robert said, rolling his eyes.
"I don't have any secrets, either," Marie added.
They looked quizzically at each other for a moment before Marie hazarded a guess.
"Love. That's it," she said. "Love will keep us together. That was a Captain and Tennille Song: 'Love Will Keep Us Together.' But wait a minute. Captain and Tennille are divorced now."
With that, Marie and Bob burst out laughing.
As they often do on Valentine's Day, the Margate couple celebrated their marriage over a romantic dinner and glass of wine. This year, they chose to mark the holiday at La Fontana Coast in Sea Isle City, one of their favorite restaurants.
Love was definitely in the air Wednesday night for the Turchis and countless other couples at restaurants at the Jersey Shore, including ones in Sea Isle, Ocean City and Somers Point.
Some couples dined out at gourmet restaurants such a La Fontana Coast, while others were happy to share drinks at a neighborhood bar or take their children with them to a pizzeria.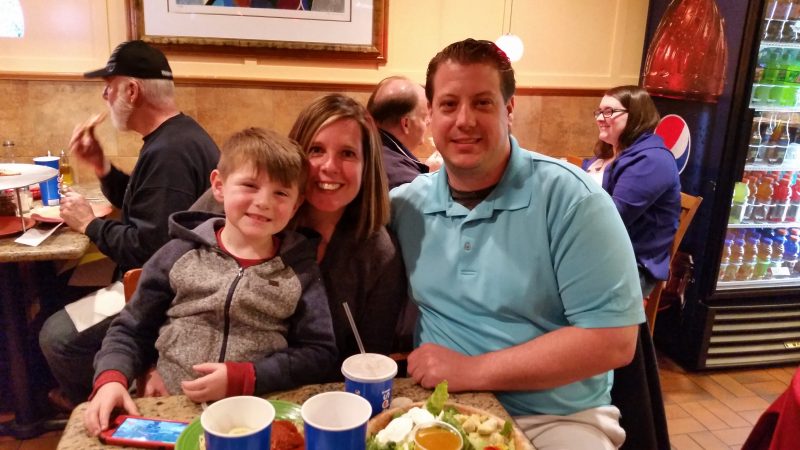 Tracey and Justin Moffitt, of Upper Township, were accompanied by their 5-year-old son, Luke, while enjoying a casual Valentine's Day dinner at Piccini pizzeria and restaurant in Ocean City.
Married for 20 years, the Moffitts noted that their first Valentine's Day date, while they were students together at Millersville University in Pennsylvania, was at a Pizza Hut.
"We went to two or three other places, but the wait was too long. So, we said, 'Hey, let's go to Pizza Hut,'" Justin said. "After we got married, we went to Pizza Hut on Valentine's Day for many years."
The Moffitts stopped going to Pizza Hut about five years ago, but they have kept their Valentine's Day tradition alive by dining at other pizzerias during the holiday.
They first got to know each other while working summer jobs in Ocean City. Then their romance blossomed in college. They attributed their long marriage to the friendship they share and what Justin called their "open lines of communication."
"Friendship is very important," said Tracey, who owns Del's Grill on the Ocean City Boardwalk.
Sorry, folks, they didn't say the secret to their marriage was good pizza. In fact, for their Valentine's Day dinner Wednesday night at Piccini, they ditched the pizza. Instead, Tracey had a cheesesteak, Justin ate a salad and Luke munched on spaghetti and meatballs. They dined while waiting for their other son, William, 14, to finish watching a basketball game in Ocean City.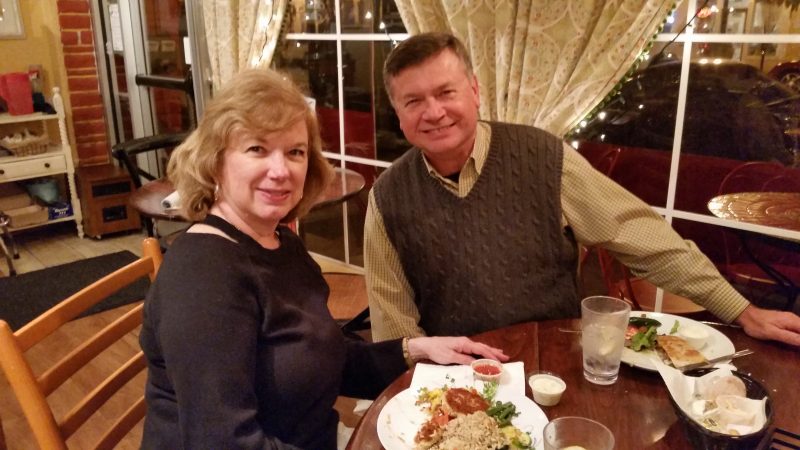 Across town in Ocean City, Nina and Tom Dintaman were enjoying an intimate Valentine's Day dinner at Jon & Patty's Coffee Bar and Bistro. Tom surprised his wife of 39 years by telling her they were going out for the evening.
"I told her we had reservations," he said. "She said, 'Where?' I told her Ocean City. She said, 'OK.'"
With that, Dintamans ended up at Jon & Patty's for the first time. Nina dined on crab cakes, while Tom had a steak and brie quesadilla.
"It's delicious," Nina said in between bites.
The Dintamans live full time in West Chester, Pa., but have a summer condo in Ocean City.
"We love it here," Tom said. "We come down once a month. It's a romantic place to spend Valentine's Day."
In Somers Point, Dana and Joe Loefflad were swapping Valentine's Day jokes over drinks at Charlie's bar and restaurant, displaying the sense of humor that has been a big part of their 29-year marriage.
"The first thing he did today was to eat the chocolates that he gave me," Dana said with mock indignation.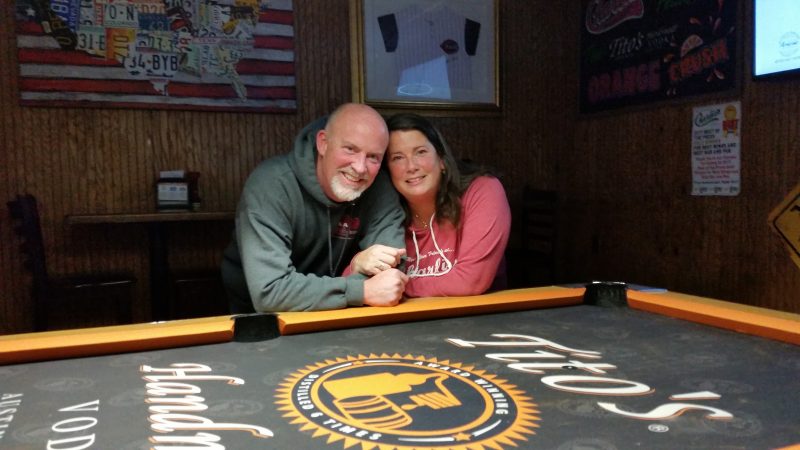 The Loefflads, who live in Somers Point, didn't plan to share dinner for the holiday, but met up – by accident – at Charlie's.
"We weren't supposed to have dinner tonight. He had other plans," Dana explained of her husband.
Joe went to what he thought was a baseball sign-up on Wednesday, but found out it was actually held the previous night. Meanwhile, Dana was already at Charlie's for some shuffleboard games. After discovering his mistake, Joe ended up at Charlie's, too.
"The stars aligned for us," Dana quipped.
The Loefflads will celebrate their 30th wedding anniversary on Sept. 3. Dana asked her husband if he remembered their wedding song. Pausing for a moment, he admitted he couldn't name it.
"Billy Ocean. It was the 'Colour of Love,'" Dana reminded him.
Despite some slips of the memory here and there, both Dana and Joe stressed that they have a strong and loving marriage.
"The secret is being each other's best friend," Joe said.
"We enjoy doing common things. We have a lot of the same interests," Dana added.
Their longtime friend, Carol Milligan, of Somers Point, also credited Joe with being a very good listener.
"I never see them fight," Milligan said.
Now, that may truly be the best Valentine's Day secret for a great marriage.