By Tim Kelly
For Billy Schweim, the Super Bowl is the gift that keeps on giving.
Host of "The Locker Room With Billy Schweim" on 97.3 FM ESPN South Jersey, Schweim is still programming his show around the Eagles' historic 41-33 triumph over the New England Patriots.
Even though the NFL season ended with the final gun February 4 in Super Bowl 52 in Minneapolis, the Birds' capture of their first Vince Lombardi Trophy is still top-of-mind of most listeners to the show, which airs Saturday mornings from 10 a.m. until noon.
"People still want to discuss the game," Schweim said. "In some ways it still seems surreal. Also, there are a lot of other storylines from off the field. Player personnel, looking ahead to the draft.  But mostly there are still a lot of emotions people are feeling about the Eagles finally winning it all for the first time in 58 years."
In the weeks leading up to the game, Schweim said his volume of callers increased, as did the aforementioned passion.
For example, Schweim gave away an authentic signed Brian Dawkins jersey courtesy of Schuylkill Valley Sports, which triggered a firestorm of callers. Dawkins is a beloved former Eagle and his recent election to the Hall of Fame increased the value of the prize.
"We qualified almost 40 callers for the drawing, and they had to answer a trivia question just to have their name put in the hat," he said.
Another indicator was a video Schweim posted on the show's Facebook page of his 2 ½ year-old daughter. He and wife Toni are the proud parents of Alyza Grace, who, clad in an Eagles cheerleader outfit, performed a perfect rendition of the Birds' fight song.  The post was shared by many and viewed more than 1,400 times.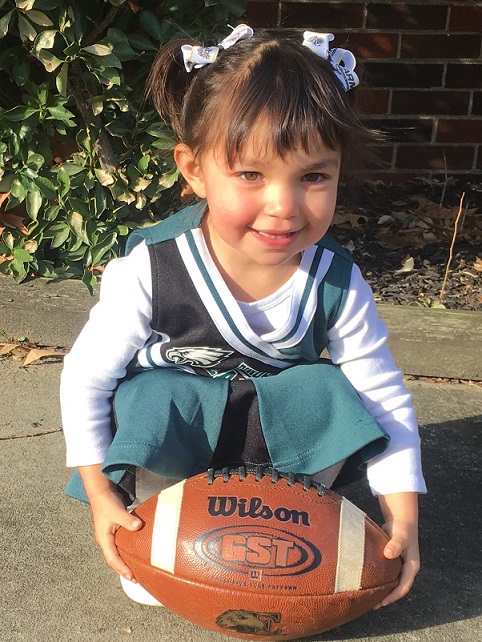 "I'm her dad so of course I think it is great, but any way you look at it that's a lot of views," he said.
The show's loyal following is due in part to Schweim's preparation about the hottest sports topics, and also his hard work in securing guests. Recent Eagles-related guests included defensive line standout Vinny Curry, former special teams ace and subject of the film Invincible, Vince Papale; and legendary former all-pro receiver and radio analyst Mike Quick.
He boasts an equal stable of guests related to baseball, basketball and hockey, as well as the burgeoning realm of fantasy sports. In addition, Schweim keeps his focus local with chatter related to surfing, fishing, lifeguard championships and other topics of interest to the Jersey shore community. It all adds up to a fast-paced and entertaining two hours of sports talk, appealing to the hard-core and casual fan alike.
Last week's show was wall-to-wall Eagles and Super Bowl talk for the entire first hour. He could have easily kept the topic going for the length of the broadcast, but the show's popular regular features such as the surf report with Greg Beck of Surfers' Supplies had to be covered as well.
One of the things that made the Eagles win so special for their fans, he said, is that the championship is a shared event in which each person has their own special take.
"Callers want to talk about where they were for the game, what their reactions were to certain plays," he said. "And they want to talk about their own history as a fan. They talk about other people, friends and family, parents and grandparents who made them a fan and who are no longer here."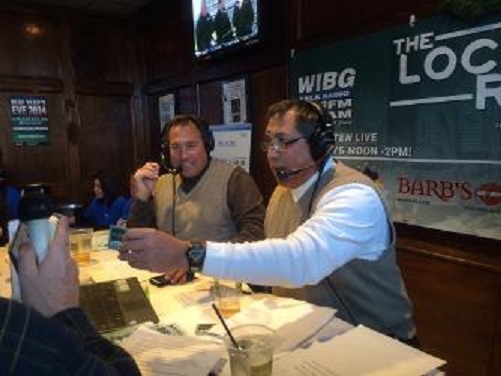 Schweim is no different. Even though he must be objective as a media member, Billy and his frequent co-host twin brother Bob, are lifetime Eagles fans. The 56-year-old brothers grew up in the shadow of the Ben Franklin Bridge in Collingswood, Camden County.
"When (Tom Brady's last second pass fell harmlessly to the turf) and I knew the game was over, I have to admit it. I shed a tear," he said.