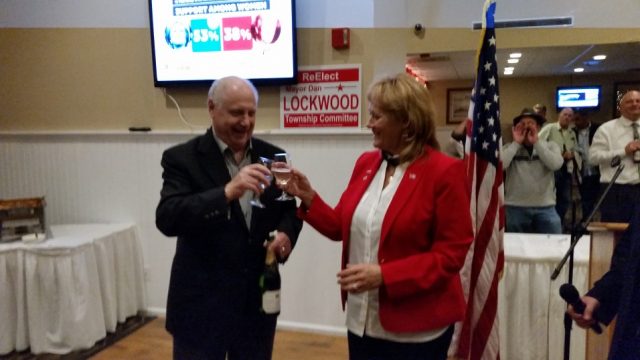 By Donald Wittkowski
Cape May County Republican Freeholders Gerald Thornton and E. Marie Hayes cruised to re-election Tuesday night, while Republican Rep. Frank LoBiondo locked up another term in his congressional race against a political newcomer.
Donald Trump also swept the heavily Republican county in the presidential race, defeating Democrat Hillary Clinton by a wide margin. With all 127 Cape May County districts reporting, Trump captured nearly 60 percent of the vote to just 37 percent for Clinton.
Trump was leading nationwide heading into the early hours Wednesday morning, with Clinton having only a narrow path left to secure enough electoral votes to win the White House.
Meanwhile, Thornton, 76, of Cape May Court House, clinched his 11th term to continue his streak as the longest-serving freeholder in county history. So far, he has served 33 years. Hayes, 61, of Ocean City, won her second term.
They celebrated their victory with a champagne toast while appearing before jubilant supporters at the Bellevue Tavern in Cape May Court House.
"What really won the election for us is that everyone knows that our county government is very well run and managed. We do that year after year," Thornton said.
Hayes said the Republican incumbents worked hard for their victory and ran with confidence.
"You don't run scared," she said.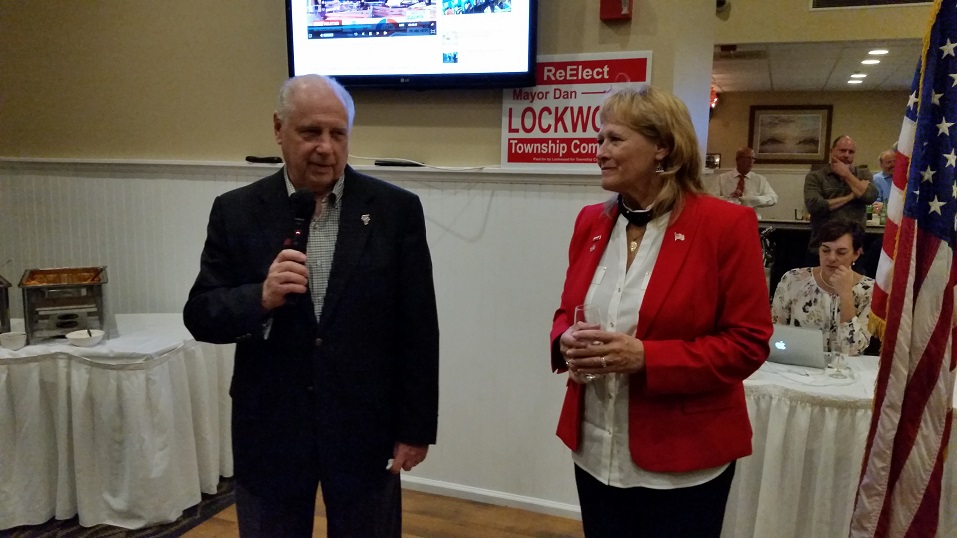 Thornton and Hayes beat back a challenge from Democrats Daniel Kurkowski and John Amenhauser, two attorneys who tried to chip away at the Republicans' longstanding control of the freeholder board. Republicans currently hold all five board seats.
In the past 40 years, only two Democrats have won election to the freeholder board, according to Cape May County Clerk Rita Marie Fulginiti.
Thornton captured 21,985 votes, while Hayes had 21,158. Kurkowski garnered 14,219 votes and Amenhauser had 13,991. The totals do not include mail-in votes, which were still being counted late Tuesday night.
Voter turnout was reported to be high throughout the county. Fulginiti said the presidential race at the top of the ticket ignited intense voter interest.
"I've heard, 'I had to stand in line,'" Fulginiti said of the waiting time at some polling places. "We're not used to that in Cape May County."
Of the county's nearly 71,000 registered voters, a little more than 28,000 are Republicans. There are about 15,600 registered Democrats and 27,070 unaffiliated voters.
Fulginiti said the large chunk of Republican voters virtually assured that Trump would carry the county.
"I think Trump is going to go big, because we're a very conservative voter base here," she said.
LoBiondo, 70, of Ventnor, also benefited from the county's Republican base to win his 12th term representing South Jersey's Second Congressional District.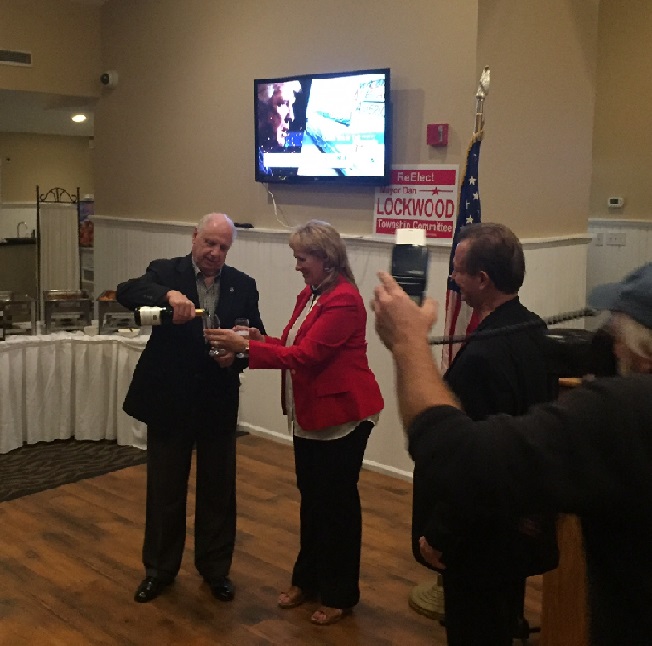 He was challenged by Democrat David Cole, 30, of Mantua, a political novice who formerly worked as a media and communications specialist for President Barack Obama.
In Cape May County, of 38,177 votes cast in the congressional race, LoBiondo captured 68 percent of the total compared to 29 percent for Cole. Candidates running on lesser-known tickets split the rest of the votes. Those results do not include the county's mail-in votes.
LoBiondo and his wife, Tina, took to Facebook on Tuesday night to thank voters for their support. LoBiondo alluded to his ties to the rural Cumberland County town of Rosenhayn.
"Never forgetting my Rosenhayn roots and honored to have the opportunity again to serve our region, I will continue to put South Jersey first," he said on Facebook.
LoBiondo's sprawling district includes all of Atlantic, Cape May, Cumberland and Salem counties and parts of Camden, Gloucester, Ocean and Burlington counties.
Meanwhile, in one key Atlantic County race, it appeared that all four incumbents in Somers Point won re-election for City Council.
Carl D'Adamo, the only Democrat on the seven-member Council, was leading Republican challenger Michael Owen by a narrow margin. D'Adamo had 2,093 votes, compared to 2,031 for Owen, according to unofficial results posted on the Atlantic County Clerk's Office website.
In the First Ward, incumbent Republican Sean McGuigan had 1,204 votes, compared to 888 for Democrat Genevieve DeVito.
Council President Dennis Tapp, a Republican, was ahead by a wide margin against Democrat John DiMaria, a former Somers Point mayor. Tapp had 1,197 votes, while DiMaria had 821 in their Second Ward race.
Republican James Toto, an incumbent, was well ahead of Democrat Susan Slaughter in their Second Ward race to fill the final year of an unexpired term. Toto had 1,166 votes, compared to 835 for Slaughter.
Toto was appointed to the Second Ward seat when former Councilwoman Maureen Kern was elected as an Atlantic County freeholder. He will now fill the final year of her unexpired term with his election victory.