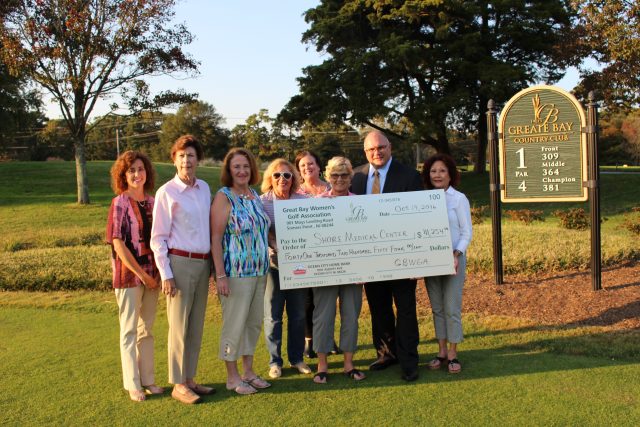 The Greate Bay Women's Golf Association recently presented the Auxiliary of Shore Medical Center with a check in the amount of $41,254, the net proceeds of their Swing Golf Tournament held September 26 at Greate Bay Country Club. Funds will support services like breast cancer screenings and treatment for women in need at Shore Cancer Center.
Joseph Johnston, Administrative Director of Oncology Services, says the donation will go a long way in helping patients.
"Cancer treatment is expensive, especially for uninsured or underinsured patients. These donations will make it possible for patients, regardless of their income level or coverage, to receive high quality cancer treatment," Johnston said.
"This is our first year partnering with Shore Medical Center, and we couldn't be more pleased to support their great work. We look forward to working with them more in the future to enhance cancer care in our community," said Sue Webb of the Greate Bay Women's Golf Association.
ABOUT SHORE CANCER CENTER
Since 1987, Shore Medical Center has received approval from the American College of Surgeons Commission on Cancer (CoC), by meeting or exceeding the organization's stringent standards for patient care. Only one in four community cancer programs nationwide are qualified to earn this level of approval. Approval is granted to those facilities that have voluntarily committed to provide the best in cancer diagnosis and treatment and are able to comply with established CoC standards. Each cancer program must undergo a rigorous evaluation and review of its performance and compliance with the CoC standards every three years. The American Cancer Society recommends receiving care at a CoC-accredited cancer program to ensure you receive high-quality, comprehensive care from teams of specialists who can coordinate the best treatment options available for you.
The Shore Medical Center Radiation Oncology Department is also accredited by the American College of Radiology (ACR). ACR Accreditation ensures that Shore's program meets the most current and stringent standards in staffing, equipment, quality control and technical capability.
ABOUT SHORE MEDICAL CENTER
At Shore Medical Center, located in Somers Point, NJ, kindness complements an extraordinary level of clinical sophistication. People are the foundation of this modern medical center where advanced technology harmonizes with compassionate care. Shore Medical Center attracts the area's best physicians, nurses and clinicians, and is the first and only hospital in New Jersey and one of 80 healthcare organizations worldwide to earn Designation as a Planetree Patient-Centered Care Hospital®. Recognized for its dedication to patient safety, Shore has received five consecutive "A" grades in The Leapfrog Group's Hospital Safety Score since Fall 2014. Shore Medical Center is home to six Centers of Excellence for Cancer, Cardiovascular, Neurosciences, Spine and Orthopedic, Emergency and Maternity and Pediatric care. Shore's affiliations include Penn Medicine, Onsite Neonatal Partners, St. Christopher's Hospital for Children, Advanced ICU Care, Mayo Medical Laboratories, and Advanced Radiology Solutions. In addition, Shore is a member of the Jefferson Neuroscience Network and has physicians on staff from the Rothman Institute. In 2011, Shore opened its Pediatric Care Center, the first of its kind in New Jersey, and its state-of-the-art Surgical Pavilion and Campus Expansion. The Shore Medical Center Planned Giving & Development team (www.GivetoShore.org) creates and implements dynamic philanthropic programs that support the mission of Shore Medical Center.