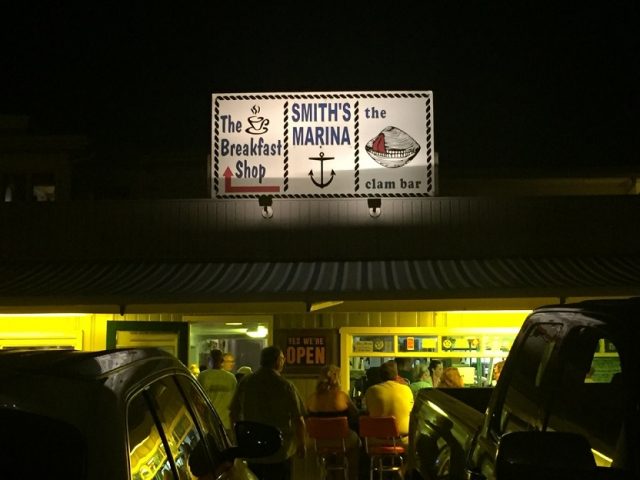 By Tim Kelly
It's a meeting place. It's a tailgate party.  And the regulars will tell you it's the best seafood joint around. It's The Clam Bar.  Unless you call it by its other popular monicker. In that case, it's "Smitty's."
On virtually every night during their season, which starts on Mother's Day weekend and runs through the second week after Labor Day, Smitty's, located in the heart of the Bay Avenue historic district in Somers Point, is jam-packed with loyal devotees.  They come from Ocean City and the Mainland communities of Somers Point, Northfield and Linwood.  Seasonal vacations from all over the country come as well. As a result, diners can expect to wait at least an hour at peak times. But that is part of the charm.
Smitty's consists of a 18-table non-air conditioned building and the 20-seat, clam bar itself– a three sided counter with one side sharing a narrow space with the entrance and hostess station, the other two sides wrapping around a corner of the building's exterior. The building is located on the premises of Smith's Marina, which is where the Smitty's nickname originated.  And the name stuck.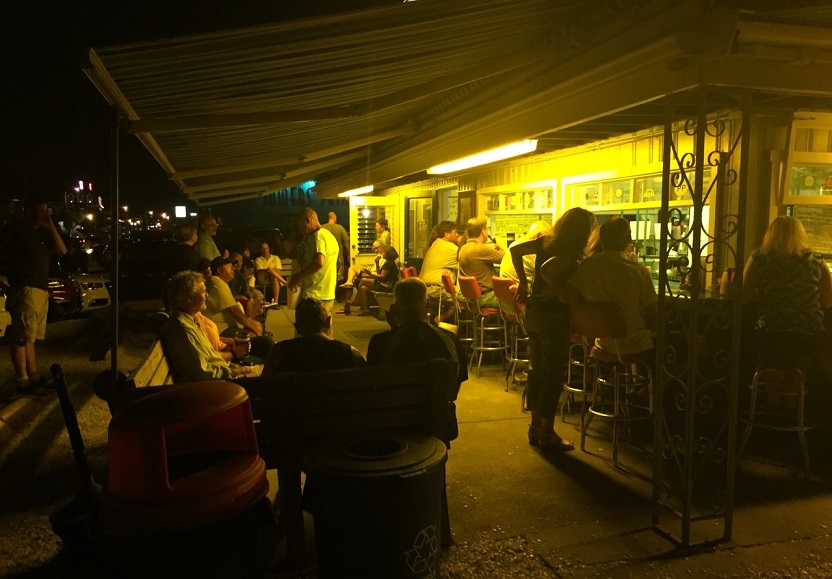 The wait for a table can be a long time, but seats at the clam bar bring immediate service. As a result, competition for spots there can be, shall we say, spirited.
On a recent week night, the parking lot was packed and the diners were enjoying the view and each other. Smitty's offers spectacular sunsets over the bay and a great view of the 9th Street Causeway Bridge and the Ocean City skyline.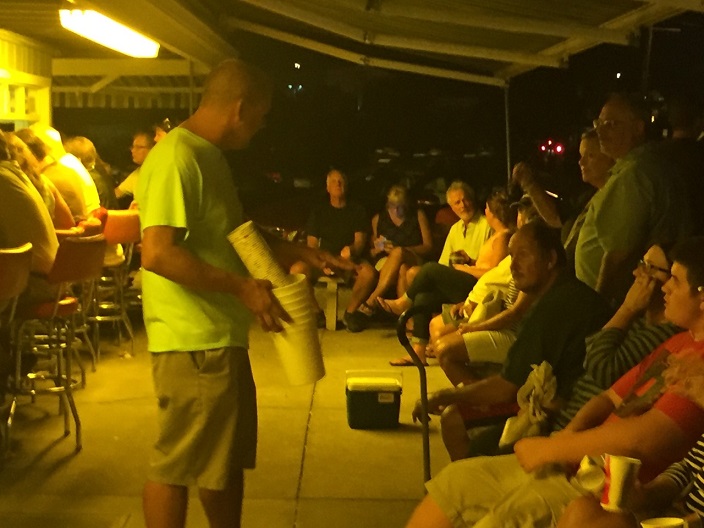 "Our customers are loyal and thankfully they keep coming back, says Patrice Popovich, who owns the establishment with husband Pete. Pete opened the business with his late partner Dennis Dixon in 1973. Patrice started working there in 1974 while she was in college at Penn State, met Pete and the couple married.  They've been working their seafood magic ever since.
"We started out being open 24 hours a day on the weekends and we attracted people who were (patronizing the famous former Bay Avenue nightclub) Tony Marts and people who work in the (hospitality) business.  We would be really busy at 3 a.m."
Slowly, the business evolved into a family-friendly destination for seafood lovers. "It kind of all came together," Patrice said. "First we put in four tables, then eight, then 12. We changed our menu and changed our hours."
They cater to kids, giving the youngsters sidewalk chalk to doodle with during their waiting time, and crayons at the table. A coloring book page is provided, which is then inserted into a sleeve in the menu.  If a family comes back and a child finds their coloring book page on a menu, they receive a free desert.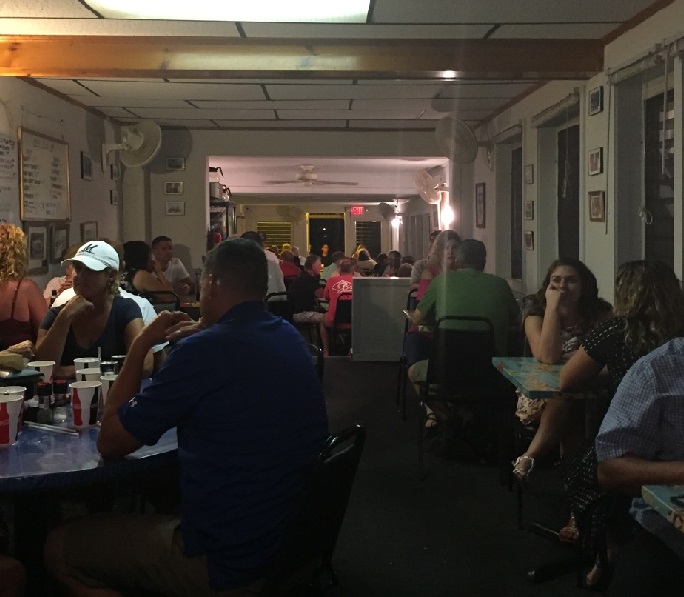 The place attracts blue and white collar clients equally and everyone is part of the scene, united in their love for great seafood at very reasonable prices.
"This place has great atmosphere and character in cookie cutter America," Rich Gevane of Morrisville PA said. "I have been to 35 states and sometimes I am in a mall and forget where I am. Not here."
Rich rolled into the parking lot this weekend around 2:30 p.m., only to be greeted by a sign announcing the restaurant would open at 4:30 for dinner. He was not fazed in the slightest. "I guess I have a couple hours to kill and then I'll be back," he said with a smile.
When asked to name his favorite menu item, he was stumped. "Hmmmm. Everything? Ok if you press me I'll probably say the fried stuff.  But it's all good."
John Caro, a Feasterville, PA resident said he has been coming to Smittys "ever since they first opened. "I've probably eaten here hundreds of times.  The atmosphere is nice, the people are friendly and the food is just great."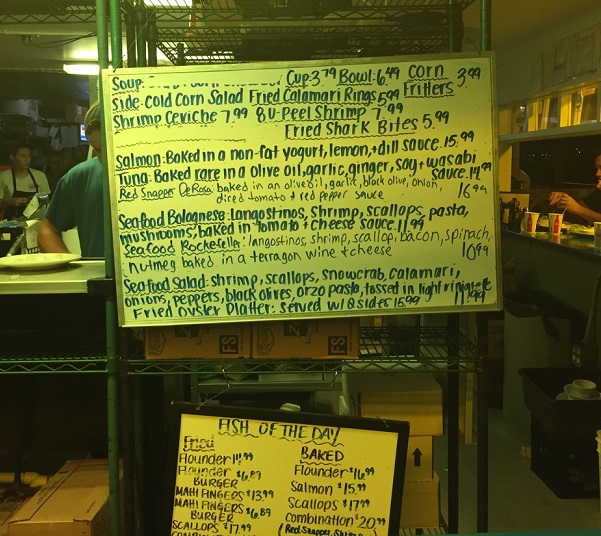 Smitty's menu has a few staples available at all times such as the fried and broiled seafood combo. But there is a larger selection of fresh items on the whiteboard each night.  Savvy regulars wait for their favorites like seafood garlic or broiled mako shark.
Another favorite is the red and white clam chowder which can also be mixed for "pink" chowder. Now that Smitty's is wrapping up its last week for the season, people are hoarding quarts of the stuff.
"Nothing like defrosting one and having a little bit of Smitty's in February," one of the regulars said.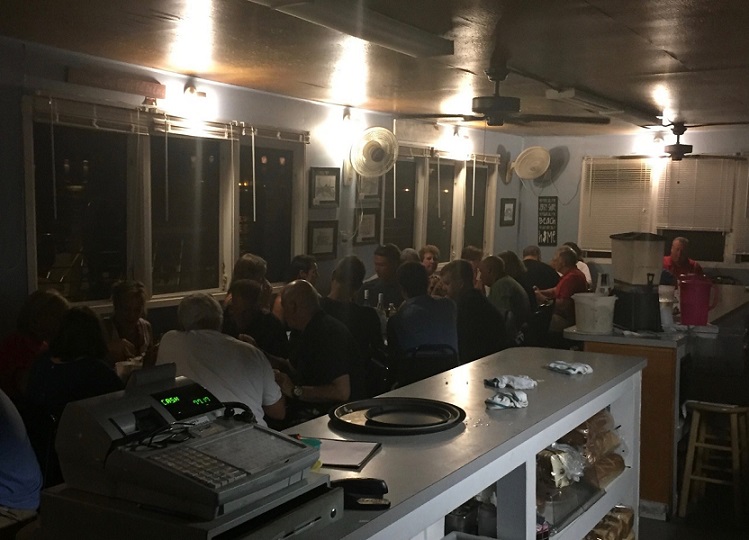 Another aspect of Smitty's is the romance. It's a favorite date night destination, to be sure, and a meet-up spot for Tinder and dating site users.
"We had a couple meet in the parking lot about six years ago, and they got married," Patrice said.
Then there is just the random cool stuff.
"We had someone last week who paid for a $30 check with a $100 bill. They tipped generously and asked the remainder of the money to pay for the next people to come in.  They were paying it forward.  That was really cool," Patrice said.
And that's Smitty's, for you.