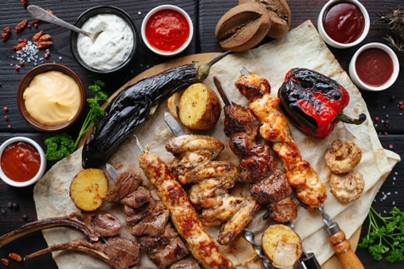 Daffan Nettle works as a Managing Director of a private wealth management firm. As a self-proclaimed foodie, Daffan Nettle provides a look into the best restaurants in Dallas encompassing everything from barbeque to Thai, to Latino inspired cuisine.
It may not be quite as quirky or trendy as Austin, but over the past few years, Dallas' restaurant has significantly expanded its restaurant scene.
There's enviable variety, too, ranging from Southeast Asian at Komodo to the New American dishes at Sixty Vines (which also happens to have wine on tap).
Since 2019, Daffan Nettle says that when Dallas was named Restaurant City of the Year by Bon Appétit, a culinary transformation is underway, leading to numerous fine dining establishments with adventurous dishes sure to attract foodies from around the world.
Dallas' culinary scene blends familiarity with risk-taking — and it's we're all reaping the rewards.
Local Favorites
Daffan Nettle says that many dishes from its best restaurants reflect long-standing Dallas favorites, and there are a few common threads.
Expect elevated red chili, since it's the state's official dish, as well as heavy Tex-Mex influences, mouth-watering — and large — steaks, and chicken fried with duck fat.
All that's left to do is to make a quick reservation.
Mi Da From Scratch
Christmas burritos, hatch tacos, and huevos rancheros all make for an authentic foodie experience at this Grapevine-based restaurant close to Austin according to Daffan Nettle. Mi Da's menu often combines modern Tex-Mex with traditional recipes from Mexico. The result is unique offerings, such as duck carnitas street tacos.
Kaho Noodle Shop
The fact that Laotian food is consistently overlooked thanks to the popularity of Vietnamese and Thao is a tragedy. And with the U.S.' largest Asian immigrant population, Dallas has seen a rise in cuisine options never seen before. Try the boat noodles and the intriguing moutsayhang, or "a bite of everything,"
Petra and the Beast
Daffan Nettle reports that eclectic fare is the hallmark of this restaurant, so expect the odd shapes, playful plating, and uniquely flavored charcuterie. One can also expect local produce ingredients along with a tasting menu every Saturday night and food that's likely hard to find anywhere else, including "fall vegetable dust."
Pecan Lodge
Barbecue is king in Dallas, and Pecan Lodge delivers with its distinctive smoked brisket, pork ribs, and sausage. It is often considered the most famous Dallas barbecue destination, best known for its no-frills lunch menu, which boasts side dishes like fried okra and cornbread says Daffan Nettle.
Shinsei
Taking modern Asian cuisine to new heights, Shinsei has very full sashimi and sushi menus, but it pays to think outside of the dining box here. It offers must-try braised pork steam buns, slow-braised short ribs, and salmon cured with fennel.
Several Taquerias
Daffan Nettle suggests that it doesn't get more traditional than ordering tacos while leisurely passing the time away at one of Dallas' fantastic taquerias, including Trompo, Fuel City, and El Palote Panadería, which is all vegan.
Bolsa
Popular for brunch, this farm-to-table spot maintains a no-nonsense, down-home flair that appeals to locals and visitors alike. Bolsa really shines through its inventive cocktails, its thoughtful wine list, and a great brunch mimosa.
Tatsu
Daffan Nettle says that landing on Eater.com's list of the hottest restaurants in Dallas, Tatsu is so exclusive that it only seats just 10 during its prix fixe dinner service at the chef's counter of traditionally prepared sushi. Fans say it's the best sushi they've ever had outside of New York and Japan.
Chamberlain's Steak and Chop House
Some of Chamberlain's fare is standard in steak-heavy Dallas, but it also includes inventive dishes like duck breast glazed with pomegranate and New York strip glazed with Kona coffee.
Chamberlain's has been open since 1993, a testament to its appeal in a city that is particularly picky about its steaks.
Roots Southern Table
Soul food rivals Tex-Mex as Dallas' main cuisine, and Roots Southern Table is the best of the best (and a two-time James Beard Award nominee). Everyone loves the duck-fat fiend chicken and appetizers including local Texas peaches paired with country ham, pecans, bitter greens, and burrata.
Bonton Farms
Morning people will naturally gravitate to south Dallas' Bonton Farms, which has extensive breakfast and brunch menus. Chances are that their sweet potato hash includes eggs from chickens on the farm laid that day and sausage made from pigs at the Bonton Farms extension.
Daffan Nettle says that the best part is bringing home the farm's best flavors including honey butter, as well as some of its vegetables and eggs. Oh, can't forget to mention the honey butter ice cream?