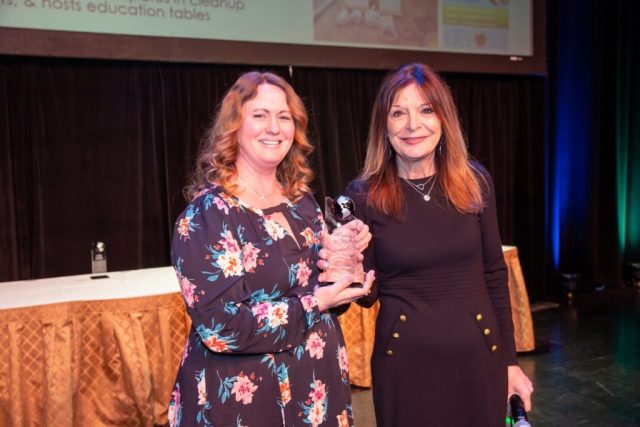 Atlantic County Clean Communities Coordinator Rebecca Turygan of the Atlantic County Utilities Authority was recognized with the Clean Communities Coordinator of the Year Award during the 18th Annual N.J. Clean Communities awards reception.
The event was held in Atlantic City on March 9. The award is presented to an individual who has developed and implemented a comprehensive county-wide litter abatement program and who demonstrates ongoing support of N.J. Clean Communities.
Turygan has served as Atlantic County's certified Clean Communities Coordinator for 10 years.
The certification program is administered by the Rutgers Office of Continuing Professional Education.
Becoming certified involves completing the N.J. Clean Communities Council's safety training courses and obtaining credit hours every two years to maintain certification.
Turygan also administers Atlantic County's Adopt-A-Road Program, which provides local groups and organizations with the equipment to conduct safe litter patrols, including grabbers, safety shirts, bags and gloves.
Volunteers can adopt a county road, school yard or park and conduct community cleanups throughout the year. Groups are acknowledged with a road sign displaying their name.
In 2022, The Atlantic County Clean Communities Program performed 291 cleanups and removed 954 bags of litter, 595 bags of recycling and 32 tires from area roadways, parks and school yards. In total, 376 miles were cleaned thanks to the dedication of Atlantic County residents.
Turygan's work as Clean Communities coordinator also involves educating the public about New Jersey's single-use plastic ban, which went into effect in May 2022.
"I am honored to have been recognized with this year's County Coordinator Award," Turygan said. "I appreciate the support from the New Jersey Clean Communities Council and look forward to continue growing Atlantic County's program."
Atlantic County was a big winner at the ceremony. The city of Atlantic City, Egg Harbor Township and Stockton University each received awards for promoting litter abatement and organizing cleanups.
Atlantic County resident Kathy Ford of the Ford Beautification Project was also recognized with the Volunteer Award for her dedication to litter cleanups completed with her husband, Chuck.
New Jersey Clean Communities is a statewide litter abatement program. The mission is to reduce litter in public places, promote volunteer cleanup of public lands and sustain a reduction in litter through education.
For more information on the Atlantic County Clean Communities Program, see www.acua.com/adoptaroad.