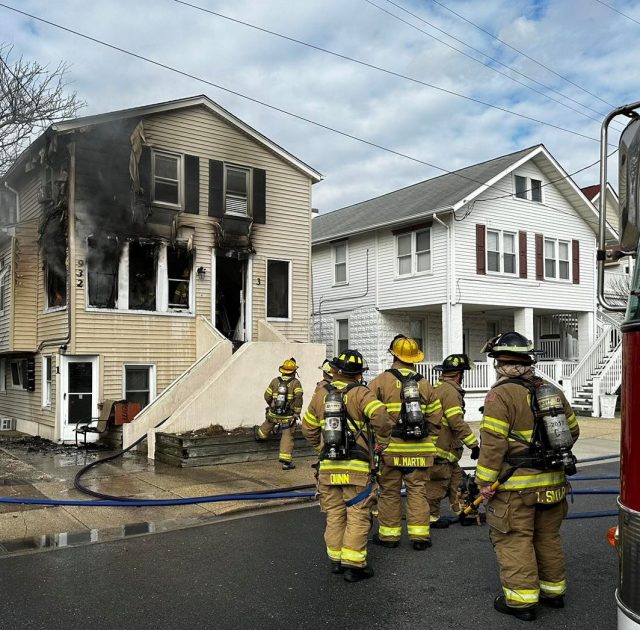 By MADDY VITALE
When a fire broke out and destroyed a multi-family residence at 932 Simpson Ave. in Ocean City on Jan. 27, it left 23 people without a place to live.
But the community came together quickly, to not only find temporary housing, but to provide meals, clothing and comfort for the displaced residents. No one was injured in the blaze, but families left with nothing more than the clothes on their backs. One child ran out of the house barefoot, according to officials.
"There really has been an outpouring of support," St. Peter's United Methodist Church Assistant Pastor Kathleen Crockford said in an interview Thursday. "They lost everything. All of their personal belongings were lost in the fire."
Community support started with the police and fire personnel, the American Red Cross and the city's Office of Emergency Management. It continued from there.
A host of organizations helped out. They included churches and other non-profit organizations, such as OCNJ CARE, along with Noble Caterers, Sally Onesty of "A Bella Salon," Ocean City schools, and many more groups.
A GoFundMe page was set up to help the displaced people and as of Thursday night, nearly $12,000 was raised toward a goal of $15,000.
To donate, go to https://www.gofundme.com/f/23-community-members-displaced-by-ocean-city-fire
Cristian Moreno-Rodriguez, executive director of El Pueblo Unido of Atlantic City, is assisting the families through his organization.
In an email to those donating to the residents, he spoke of the generosity of the Ocean City community and what it means to the fire victims.
"The money will be used to help them regain stability and start a new, fresh chapter of their lives. It brings us tears of joy to see how the entire Ocean City community has come together during this time of need," Moreno-Rodriguez said. "The families and individuals are truly grateful for everyone's support and I am as well! It truly does take a village." 
St. Peter's United Methodist Church and St. Damien Parish were among many Ocean City organizations that came to the aid of the families to do whatever was possible to make sure the residents were safe and fed.
In addition to providing gift cards for fire victims to local grocery stores, St. Peter's United Methodist Church also provided hot meals that volunteers delivered to the Watson's Regency Suites located at 901 Ocean Ave. The families are being housed there courtesy of several different local organizations.
"We were among many people in the community who came together to support them," Crockford said of assisting the displaced residents. "St. Peter's was able to supply some funds to house the families at the Watson Regency, but the city also did so much."
The giving nature of the community is not extraordinary to those who live in or work in Ocean City, officials said. It is just something that they do to help others affected by disasters such as the devastating fire, sickness and financial difficulties.
Lucille Worley, president of the Ocean City Ecumenical Council — a faith-based organization whose members gather food, clothing, and money to feed and clothe those in need — said a chain reaction led to the Ecumenical Council's assistance in helping the families.
"The city contacted us and we said we would be more than happy to help," Worley said in an interview Thursday. "We said we would do whatever we needed to do."
Worley and other volunteers from the Ecumenical Council met with the displaced residents at the Clothes Closet, which is part of the Council's services.
On Jan. 28, people went to the Clothes Closet at 555 West Ave. to pick up clothing and other items they needed, she said.
"There were maybe three or four gentlemen, two women and children. We let them take whatever they wanted," Worley said. "We told them whatever they needed we wanted them to have and to help themselves. They took clothes, sweaters. Each child received a new winter coat."
And then Worley contacted Regina Ralston, head of the Ecumenical Council's Food Cupboard housed in St. Peter's United Methodist Church. Shelves filled with food and toiletries are there for the taking year-round for those in need.
As of Thursday, Worley said there were so many local restaurants and organizations that gave food and prepared meals for the victims that they didn't even need to come in to pick up supplies.
However, she stressed that they are are more than welcome to whenever they wish.
Worley said comments made by Moreno-Rodriguez about the help from people in Ocean City truly "warmed her heart."
"He said it makes him want to move to Ocean City, because everyone has been so wonderful and giving," Worley said. "It's a good feeling when you can help others."
According to the GoFundMe page, the goal is to find the following apartments available to rent:
– 3 Bedroom Apartment For 1 Family of 4 including 1 Child in OC
– 3 Bedroom Apartment For 1 Family of 5 including 3 Children in OC
– 3 Bedroom Apartment for a group of 3 Individuals anywhere in Ocean City, Linwood, Somers Point, or nearby communities.
– 2 Bedroom Apartment anywhere in Ocean City, Linwood, Somers Point, or nearby communities.
– 1 Bedroom Apartment anywhere in Ocean City, Linwood, Somers Point, or nearby communities.
All families will be applying for emergency rental assistance in the form of security deposit and first month's rent. A majority of all adults displaced also work full time, have identification and have paystubs/letters from their employer verifying employment and wages.