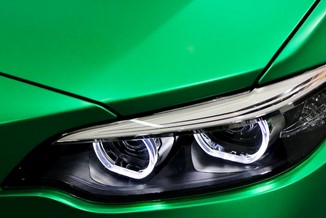 Ari Sorkin is an entrepreneur whose business specializes in fleet wraps and commercial vehicle wraps. This industry is booming, and in the following article Ari Sorkin gives an introduction to the various types of vehicle wraps used in both personal and business applications.
Cars get exposed to all sorts of damage during a daily commute. Gravel, hail, falling branches, and tree sap can all scratch up the paint and leave permanent marks. Over time, Ari Sorkin explains that the damage adds up, lowering the car's value and aesthetic appeal.
Many people can't afford the money or time commitment it takes to repaint a car. Fortunately, most autobody shops offer an attractive and economical alternative: vehicle wrapping.
Vehicle Wrapping Overview
Ari Sorkin explains that vehicle wraps are large sections of vinyl that can be applied to every surface on a car's exterior, including the doors, sides, mirrors, roof, hood, and bumper covers. These panels come in a wide variety of colors, patterns, and finishes, and can even be printed with custom designs.
Essentially, vehicle wraps are large stickers with a color or design on one side and adhesive on the other. Heat is used to bond the decal to its corresponding car panel. The wraps are then pressed with a squeegee to smooth out any wrinkles or bumps.
Though anyone can order wraps and cover their vehicle by hand, Ari Sorkin highly recommends having wraps installed by a trained and certified technician for the best possible results. High-quality wraps applied by a professional installer can last upwards of five years.
Types of Wraps Available
Vehicle wrapping is more than just an economical alternative to repainting. It offers many more options for customization and personalization than simply applying a new coat of paint to a car.
For instance, Ari Sorkin says that customers can choose wraps with a matte finish for a sleek, futuristic look. Small business owners may wish to brand their cars with their company's name for advertising purposes. Since different panels are printed for each section of the car, clients can mix and match multiple colors and patterns to create a unique and eye-catching palette.
Like stickers, some wraps are easy to peel off and remove. Since they're relatively affordable, they provide an economical way for drivers to feel like they own a new car without spending thousands of dollars says Ari Sorkin.
Benefits of Vehicle Wrapping
In addition to their aesthetic value, vehicle wraps offer a slew of protective and money-saving benefits to car owners.
Protection from Scratches
In addition to covering up unsightly dings and scrapes, vinyl wraps can help prevent a car from acquiring new ones. When gravel or sticky tree sap pelts the car's exterior, the wrap takes the brunt of the damage, protecting the paint job beneath. Tattered or stained wraps can easily be peeled off and replaced with new ones.
More Economical than Repainting
Ari Sorkin says the price of repainting and wrapping a vehicle depends on many factors, such as the size of the car and the type of wrap or paint involved. However, vehicle wraps are usually anywhere from hundreds to thousands of dollars cheaper than a full paint job, and they don't require as much skill to achieve great results.
Plus, repainting a car is a much bigger time commitment than wrapping it. A professional technician usually takes multiple days to finish completely re-painting a car, while a high-quality vehicle wrap can be completed in a few hours.
Finally, vehicle wraps have less impact on the car's resale value, since they can be easily removed. On the other hand, Ari Sorkin says that a botched or unprofessional paint job can significantly lower a car's worth.
Advertising
Car wraps are a popular way for entrepreneurs and contractors to advertise their businesses. Information such as a logo, the company's name, services they offer, and a phone number or website may be printed on vinyl and adhered to the vehicle's doors, trunk, and hood.
Used this way, Ari Sorkin says that vehicle wraps can be an investment with considerable returns in the form of new clients shopping for products or calling in for estimates.
The Car Wrap Process
Designing the wrap. The client or a graphic designer creates the image that will go on the car.
Printing the design. The final image is printed onto large vinyl wraps.
Preparing and cleaning the vehicle. The vehicle is thoroughly cleaned and treated with isopropyl alcohol.
Applying the wrap. The vinyl is pressed with a squeegee to ensure smoothness, and a heat gun is used to bond the film to the car.
Detailing and cleaning. The finished wrap is inspected for flaws and the car is given a wrap-friendly wash.
In Conclusion
When correctly applied, vehicle wraps provide an extra layer of protection for cars that can last for years. Their customizability and relative affordability make vehicle wraps a popular alternative to repainting.