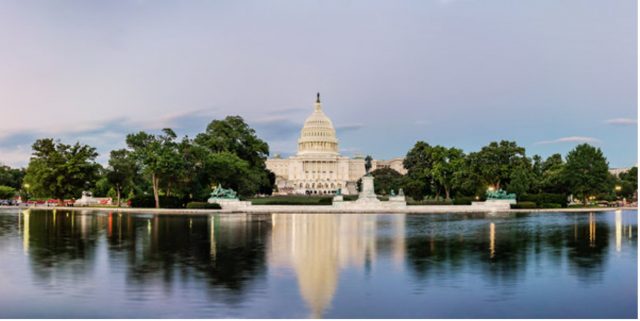 Washington DC really comes to life during the holiday season. The nation's capital has so much to offer whether you're a resident or tourist. From viewing the national Christmas tree to building a gingerbread house at Tudor Place, there's something here for everyone.
Read on to learn about Washington DC's main winter attractions.
View the National Christmas Tree
The Christmas tree set up in front of the White House is quite the sight. If you're ever in this city, it's worth visiting it. This tradition goes back to the 1800s and takes place at the beginning of December. There is ceremonial lighting of the main tree led by the president and smaller trees that represent each state and territory in the United States. What could be more perfect than a collection of Christmas trees?!
The National Zoo
The ZooLights attraction is unfortunately cancelled for 2021, but the National Zoo is open! Please see the website for COVID-related guidelines. And put ZooLights on your calendar for next year: a visit to the National Zoo during the winter months is a magical experience thanks to the eco-friendly light displays at ZooLights.
Washington Harbour Ice Rink
Do you have a knick for ice-skating? If so, you'll want to visit the Washington Harbour Ice Rink. Not only is this rink breathtaking, but it is also affordable for adults and children alike. Since Covid-19, they've also closed the rink for 30 minutes after every 1.5 hours to disinfect. This gives families peace of mind while skating in this royal district.
Downtown Holiday Market in Penn Quarter
This Christmas market in Washington DC features over 150 vendors to shop from. While you look around at all sorts of treats and treasures, you'll enjoy live music and an unmatched holiday spirit. This event can be found at F St NW & 8th St NW (in front of the Smithsonian American Art Museum and National Portrait Gallery building). It's also another completely free event to attend.
The National Menorah Lighting Ceremony
Chanukah is another big occasion in the winter, equally significant as Christmas in Washington DC. The festival is composed of a few events, among them:
A musical performance by the Military Bands of the Military District of Washington. A Jewish celebrity often accompanies them.
Special guests among them the President, Vice President, members of the Cabinet, and more!
The lighting of the menorah(a lantern consisting of 9 branches) takes place during this festival, followed by food, music, and good cheer!
You don't have to be Jewish to attend The National Menorah. It is a great way to experience a new festival, custom and learn about the history behind this celebration.
Enchant Christmas in DC
There is so much you and your family will be able to enjoy when attending Enchant Christmas in DC. You'll be able to immerse yourself in a number of activities, among them a spectacular light maze where a mischievous elf misplaces some very important gifts. Here, you'll have to help find these gifts and save Christmas!
Guests will also ice-skate through the illuminated skies of Enchant Christmas or wander the village. Here, you can spoil yourself with holiday treats or dine at the popular Enchant Eatery. After you've eaten, browse the artisan vendors for some neat souvenirs.
Go Green at the U.S. Botanical Gardens
The U.S. Botanical Gardens sure know how to decorate for the holidays. In the wintertime, you can enjoy an indoor paradise of everything from poinsettias to decorated trees. This conservatory showcases one of the largest indoor decorated trees in DC. It is truly breathtaking and worth experiencing during the winter.

Build a Gingerbread House
This is a fun activity for your kids aged five and above. Children can act as detectives while exploring the Tudor Place estate, searching for clues on how holidays were celebrated in the past. By the end of the activity, the detectives will have transformed into bakers and will have built an edible gingerbread house. A treat for all to enjoy!
Where to Stay?
With so many hotels available in the Washington DC Metro area it can be overwhelming trying to make the best choice for your stay. Below, we've made it a little easier by sharing the top picks based on guest reviews:
Holiday Inn Express in Hyattsville, MD
Holiday Inn Express in Hyattsville, MD is a great pick for DC tourism as it's just a 5-minute Uber from the Capitol, White House, and other attractions. The hotel is also easy to get to and close to the airport. The Holiday Inn Express in Hyattsville, MD offers a business center, kitchenette, free hot breakfast, free access to laundry facilities, free Wi-Fi, and a health/fitness center on the premises. With complimentary onsite parking as a bonus, you can't go wrong with this Holiday Inn Express.
The Comfort Inn Washington, DC
Check The Comfort Inn Washington, DC for current discounts! This is a modern hotel situated right in the middle of the action. Easily walkable, you're just a few minutes from the National Mall, as well as Capitol, the White House, and Washington Monument.
The Comfort Inn Washington, DC features amenities like the business center with free Wi-Fi, fitness facilities, breakfast, and more. The Comfort Inn Washington, DC is very accessible and located near subway stations and close to a wide variety of restaurants. The Comfort Inn Washington, DC puts you right in the center of excellent dining and entertainment options as well.
Home2 Suites Owings Mills, MD
Home2 Suites in Owings Mills, MD is another top visitors' choice, especially those looking for exciting nightlife and dining options. Only a short walk from Metro Centre at Owings Mills, guests can easily take in all the Maryland food scene has to offer. The hotel is pet friendly and provides access to amenities such as free Wi-Fi, in-suite kitchens, free hot breakfast, Spin2 Cycle fitness, an indoor heated pool, and access to a business center.
A pet-friendly hotel, Home2 Suites in Owings Mills, MD is near enough to Baltimore, MD, to make an easy day trip to this historic city. Home 2 Suites in Owings Mills, MD also provides free Wi-Fi, fitness center, laundry access, and too many other bonuses to list, Check for current specials!
Enjoy the Holiday Atmosphere
Washington DC has so much to offer during winter with its numerous attractions and decorations. Make sure you plan ahead prior to arrival. This will ensure you hit as many of these attractions as possible.
So, take a deep breath, enjoy the sights, and get involved in the holiday spirit of the city.