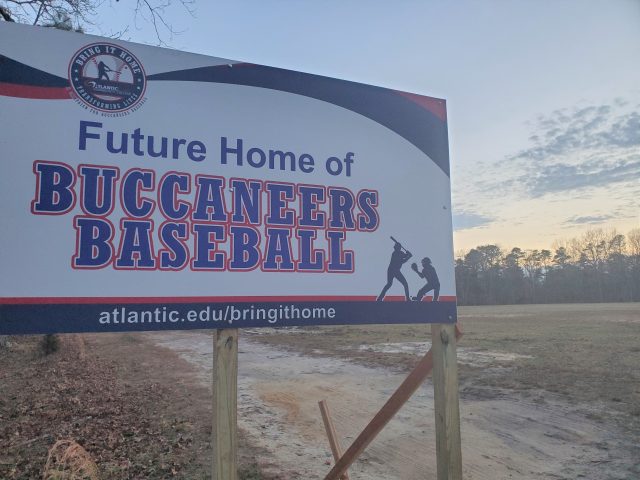 As Atlantic Cape Community College's Buccaneers Baseball team celebrates earning its first top 10 national ranking, it is just the beginning of exciting things happening for the team and the college.
During a game on Saturday, April 10, against Sussex County Community College, Atlantic Cape will officially launch the "Bring it Home" capital campaign, to revitalize the team's baseball park at the Mays Landing campus.
To mark the kickoff, Bring it Home committee co-captains, Steve Nehmad and Thomas Heist, will throw out the ceremonial first pitch at 11:30 a.m.
The Atlantic Cape Buccaneers have not practiced or played on campus for more than two decades, robbing the team of the opportunity to play on their home turf and limiting student attendance at games, which bolsters school spirit and the full college experience, according to a college news release.
Currently, the team travels more than 20 miles to Surf Stadium in Atlantic City to practice and play. Now it's time to "Bring it Home" to create a true home field advantage for the team.
Committee members including Atlantic Cape and Buccaneers alum, current coaches and successful entrepreneurs believe the Buccaneers Baseball program is exceptional, and they want to support the players and the program.
"Baseball at Atlantic Cape meant the world to me," said Buccaneer alumnus Steve Nehmad and co-captain of the Bring it Home campaign. "The baseball program changed my life for the better in so many ways. It enabled me to develop engagement at the college, which helped me in my studies."
Over the past decade, the college and coaches have built a program that does more than just shape athletes into better ballplayers.
It is the foundation on which these young adults have become engaged citizens who understand and value commitment, teamwork and dedication to each other, the college and the community, the release said
"We're not just coaching players, we're helping transform lives," said Head Coach Rodney Velardi. "We've worked to create a culture where these young athletes are engaged, thoughtful and dedicated. Of course, we want to win games, but there's a bigger picture here. It's such a privilege to be a part of that growth, we want to foster that."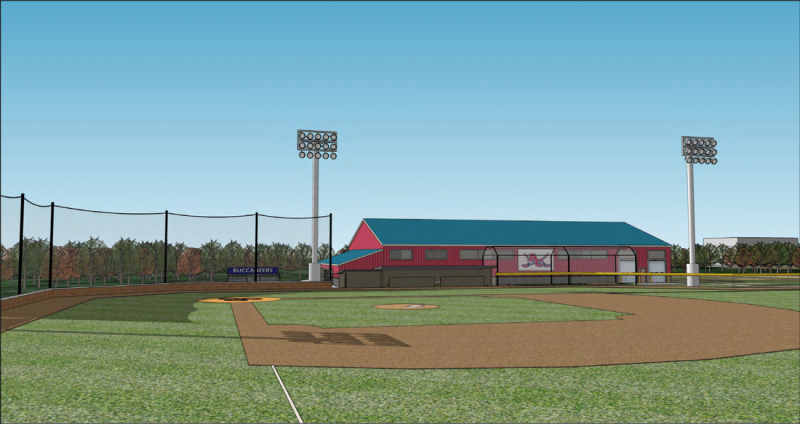 The "Bring it Home" campaign seeks to raise $1.5 million for the multi-phased project. The first phase is slated to begin this spring with the revitalization of the field to make it playable, which includes adding dugouts and a scoreboard. The cost for this phase is estimated at $400,000 to $500,000.
Phase two will improve the field and fan experience by installing energy-efficient lighting and new seating by spring of 2023. Phase three will add the finishing touches with a field house and concession stand by 2025.
A revitalized, playable field on campus would enable the team to gather and practice more readily and add a dynamic element to student life on campus.
Games in Atlantic City are mostly attended by family members, not students who would be more inclined to stop and watch a game or a practice before or after classes.
"Bringing Buccaneers baseball home would boost the culture and enrich the student experience we are working to create here at Atlantic Cape," said Atlantic Cape Community College President Dr. Barbara Gaba.
In addition to building school spirit, an investment in the Bring it Home campaign would bolster enrollment in the college by helping attract top players to Atlantic Cape in an area where college baseball is highly competitive.
"This is an investment that we know will yield great results in a variety of ways," said Thomas Heist, co-captain of the Bring it Home Committee.
Donations can be made by visiting atlantic.edu/bringithome or by texting BUCCSBASEBALL to 41444.