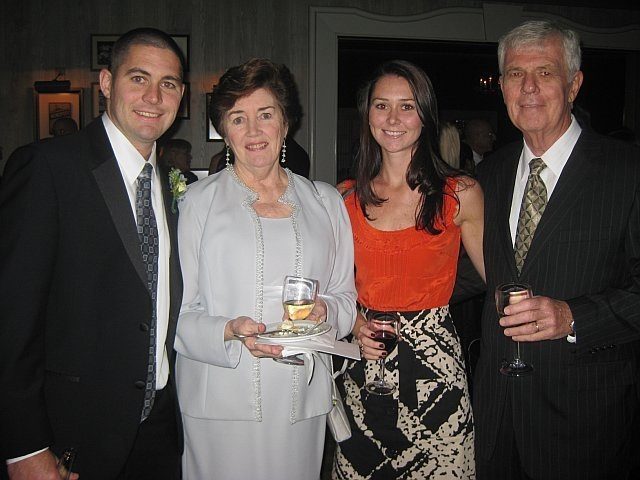 By NANETTE LoBIONDO GALLOWAY
Former Atlantic County Clerk Michael James Garvin, who died Dec. 28 at age 80, is being remembered as a great Irishman and one of the "most decent" men in politics.
On New Year's Eve, Atlantic County Executive Dennis Levinson said Garvin was not only "the most decent man in politics, he was also the most decent man I have ever met in my life."
Levinson said Garvin, with his "charming movie star looks" was not a "political guy," although the Democrat was elected to be the keeper of records for Atlantic County's 262,000 residents after former Clerk Lori Mooney retired in 1996.
"The reason he stepped down was because pressure was placed on him and rather than be confrontational, he decided not to run. He called me to say he was done and could not in good conscience continue," Levinson said.
Garvin, who was born in Philadelphia to Irish immigrants, raised his children in Longport, where he "never took for granted the tranquility and peace that comes with living by the ocean."
Longport Mayor Nicholas Russo described Garvin in one word: "ambassador" – not only for education but also for his rich Irish heritage.
"He served as an ambassador promoting and sensitizing all cultures to the wonderful Irish culture. This included Irish music, Irish dances and especially Irish humor and wit," Russo said. "He acutely realized the importance of understanding and learning about cultural diversity within communities regardless of one's personal heritage. Mike was a great example of a person who honestly embraced all cultures and realized that the merging of various cultures was what made America the unique democratic society that we all enjoy."
Russo said he and Garvin were members of a minority group in Longport.
"I joked with Mike that he and I were part of a minority group in Longport because we were registered Democrats. His smile and laugh were truly contagious as was his love for life in general and his commitment to helping those less fortunate," Russo said.
A big part of Garvin's life was playing the music of his ancestors in his South Jersey Ceili Band where he played the squeeze box accordion and performed South Jersey venues, especially around St. Patrick's Day.
According to his obituary, in addition to serving first as deputy clerk then clerk, "Michael had many 'jobs,' including priest, bartender, bar owner, lobster fisherman, teacher, juvenile probation officer, school guidance counselor and founder of the South Jersey Ceili Band," and was a founding member of the Irish-American Cultural Society of South Jersey.
He was also a man of faith and he and his wife Mary were active members of Holy Trinity Parish Church of the Epiphany in Longport.
"His wife Mary and my wife Anne were very close and spent many hours together at Holy Trinity Parish," Commissioner Jim Leeds Sr. said. "Mike and Mary would take their kids to the beach in a wagon and always stop to talk with us. We did talk a little about local politics and I always enjoyed his musical Irish night held every year outside at Borough Hall."
Garvin was a longtime member of the Longport Historical Society formed by Michael Cohen in the 1990s. Historical Society President Lee Karlock said everyone "loved and respected" him.
"He was a true gentleman," she said.
She recalled his annual Irish concerts in various locations around the borough and for the last 15 or so years in the park at the rear of Borough Hall.
"It was always a wonderful evening and gave all the residents a chance to catch up. Everyone would dance and the children would bounce to the music like babies do," she said. "He helped make Longport like Mayberry RFD."
On the John F. Fluehr and Sons Funeral Home memorial page, Gary DalCorso said Garvin exuded "brilliance, peace, kindness, competency, sweetness, love and happiness with a wordless smile."
"Mike will be sorely missed by all who knew him and had the privilege to interact with him as a genuine caring, considerate and spiritual individual. Longport has lost an ambassador of good will in every sense of those words," Russo said.
Levinson said Garvin's passing "should not be mourned, but instead his life should be celebrated. He was a man of great faith and he is now in a much better place."
He is survived by his wife Mary Lynch Garvin, his son Brian and his wife Alexis, daughter Brigid and three grandchildren.
His family said a true Irish wake will be held at a later time, but his funeral mass will be live streamed 11 a.m. Saturday, Jan. 2 on Facebook at https://www.facebook.com/events/711989256124224/