By MADDY VITALE
With just two days left before the Nov. 3 election in one of the most heated and divisive presidential races in recent history, President Trump's supporters let their choice be known Sunday with a parade into Ocean City from the 34th Street Bridge.
The caravan of more than 100 cars, pickup trucks, SUVs and motorcycles rolled into the resort blaring their horns. Red and blue Trump signs were emblazoned on cars and trucks. Trump banners waved in the wind as the stream of vehicles made its way into the city from a staging area off Roosevelt Boulevard in Marmora.
Brian McDowell, of North Wildwood, organized the event. He is the county coordinator of the Cape May County GOP for Trump.
He looked at the procession of cars and said he was pleased with the number of supporters who came out for Trump.
"I started these parades in North Wildwood and then in Avalon, Stone Harbor and Sea Isle," McDowell noted. "We have a great turnout today and we did for the other ones, too. I expect an even bigger turnout when we have a victory parade next weekend."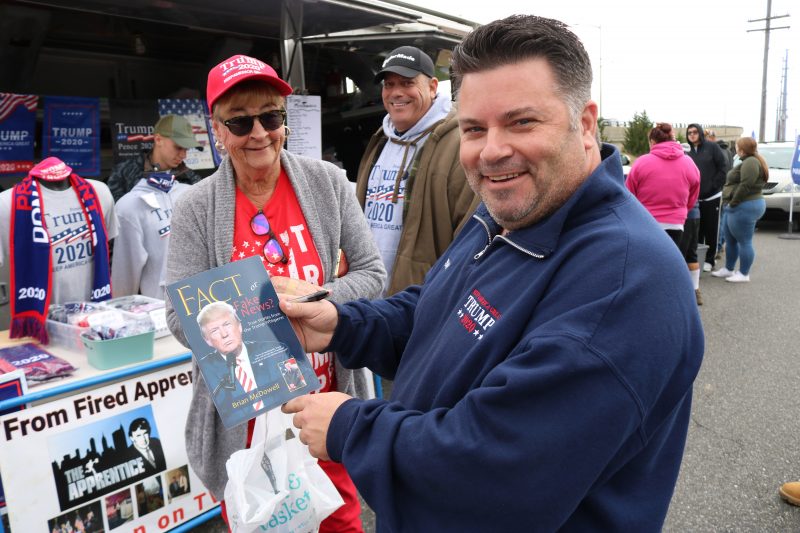 Trump supporters Bill and Debbie Eberle, who live in Philadelphia, spent the weekend at their vacation home in Ocean City so they could participate in the parade.
"We want to support the president. We did in 2016 and we are doing it again," Debbie Eberle said. "He is the hardest-working president."
Somers Point City Council candidate Joe McCarrie and his wife, Mariela, also came out to show support.
"I'm obviously at the event because I support President Trump's ticket," McCarrie said. "I support what he has done as president."
While some Trump supporters stood around and chatted, others awaited the start of the caravan in their cars, such as Ed Murray, of Upper Township.
"For not seeing much in the way of advertising for the parade, there are a lot of cars here," Murray pointed out.
McDowell said 117 vehicles participated in the event, which took place in a drenching rain.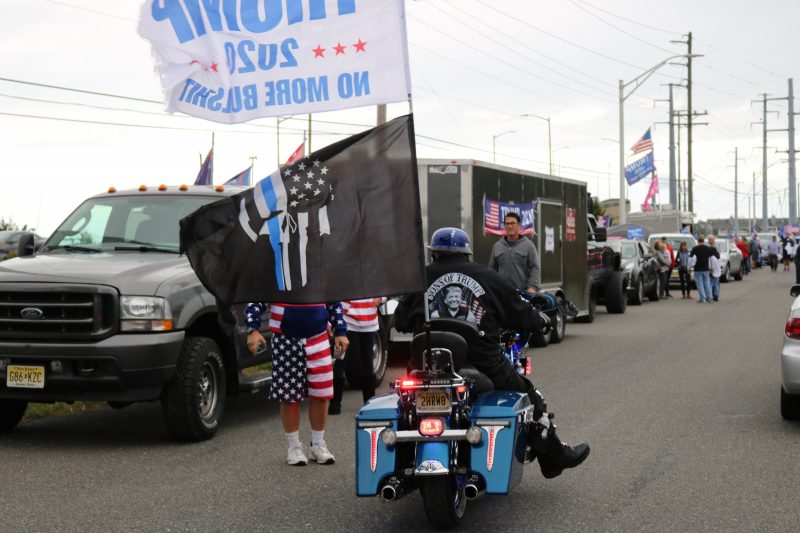 Some people, such as Martin Swiatek, have made it a point not only to support the president, but to dress up like him for the parades. Swiatek wore a Trump-like dark blue suit and red tie on Sunday.
In recent weeks, national polls have showed Democratic presidential candidate Joe Biden holding a lead ranging from several percentage points to just a slight edge over Trump.
But that didn't seem to matter to the people who showed up Sunday.
Jimmy DiNatale, of Somers Point, and his wife, Kelly, brought their military-type truck to the parade complete with Trump signs.
"I think Trump has to win," DiNatale said.
Will West, 20, of Downingtown, Pa., came down to visit his girlfriend in Ocean City for the weekend and decided to ride in the parade.
"I support Trump and I think it is important for young people to be involved in politics," West said.
Cape May Court House residents Karen Minchelli and her husband, Joe, who helped with organizing the parade, were confident that Trump will be victorious on Election Night.
"He is going to win without a doubt," Karen predicted. "He will win by a landslide."
As the parade prepared to get underway, a line of cars proceeded into the staging area off Roosevelt Boulevard at about 11:30 a.m. The staging area overflowed with cars, requiring some to use a parking lot across the street.
Cars traveling into and out of Ocean City on the 34th Street Bridge beeped their horns, while some parade participants called out to Trump supporters along the route.
The caravan traveled through Ocean City before returning to the staging area.