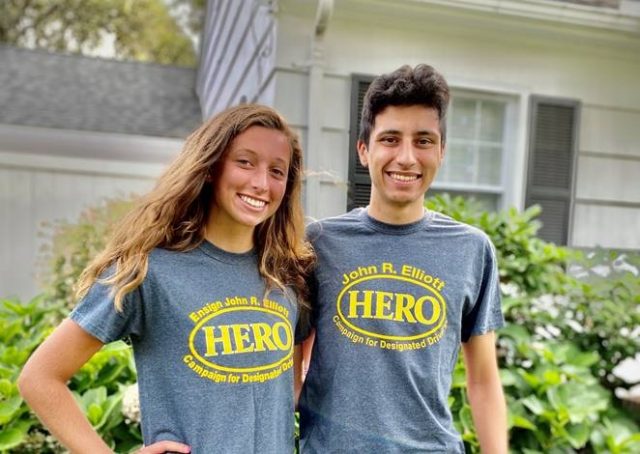 A pair of Mainland Regional High School (MRHS) students has created a new video for friends and peers that promotes the John R. Elliott HERO Campaign and its safety message, "Be a Hero. Be a Designated Driver."
The video, which was recently added to the HERO Campaign's YouTube channel and its website can be viewed online at https://herocampaign.org/video/hero-campaign-student-volunteer-video/.
The video marks the 20th anniversary of the campaign, created by the family of John Elliott of Egg Harbor Township, who was killed by a drunken driver two months after graduating from the United States Naval academy.
MRHS senior Bret Batohie and junior Rian Heal had included volunteer work on their summer to-do lists, but as with most plans amid the COVID-19 pandemic, they feared any opportunities for community service might also be sidelined.
"I thought there would be no options for me this summer, other than maybe a summer job," said Batohie. "But when Rian approached me about volunteering with the HERO Campaign, I was excited to help. This seemed like a natural extension of what I wanted to devote my time to, and service in general."
Heal was already familiar with the HERO Campaign when she learned about the opportunity to help promote the campaign's message through a video production, and she invited Batohie to partner with her.
"I first heard about volunteering for the HERO Campaign from a friend, and I was interested in the cause," she said. "Then, my dad explained the history of the HERO Campaign, and why the [Elliott] family began their work, and I knew I wanted to be even more involved. My dad also attended the Naval Academy when John Elliott was there."
The students recruited their peers from Northfield, Somers Point, and Linwood, capturing video footage of them at work, at play, and just hanging out. The result was a video gallery of students, donning HERO masks and shirts promoting designated driving and emphasizing the role of community service by young people.
"We want to thank Bret and Rian and all their friends who participated in this powerful and entertaining video promoting the HERO Campaign," said HERO Campaign Chairman Bill Elliott.
He continued, "Their video also encourages others to volunteer for the campaign and spread its highway safety message with their friends and families. We applaud their efforts to help us save lives by teaching their peers about the important role of designated drivers in preventing drunk driving tragedies."