By TIM KELLY and MADDY VITALE
The license plates told the story.
Rhode Island and Vermont, Missouri and Ohio. And, of course, Pennsylvania and New Jersey. And Nevada. Nevada!
The latter plate was seen on a dirt-covered SUV parked within two blocks of the Wildwoods Convention Center on Tuesday night. The building was the site of a campaign rally on behalf of President Donald Trump's 2020 re-election bid and that of local Congressman Jeff Van Drew.
Someone or multiple someones had apparently driven cross-country to one of the most geographically remote locations in South Jersey to gain a prized free street parking spot, and more importantly a slot near the top of the line to gain admittance to the "Keep America Great" rally.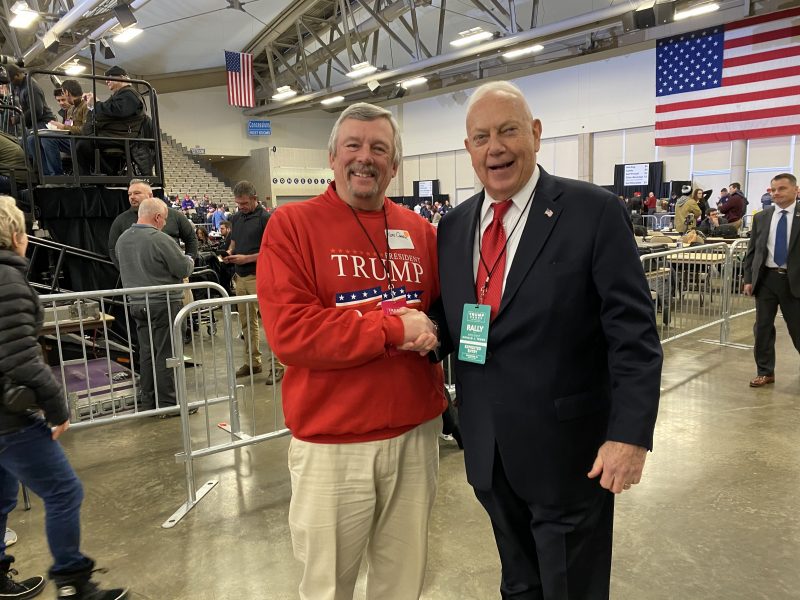 The vehicles parked in the area were as diverse as the tags attached to them. A beat-up Corolla here, a late model Escalade there.
Wildwood native Bill Matz, who grew up on nearby Davis Avenue and spent the latter part of his childhood in Ocean City, where he still maintains a home, marveled at the scene.
Matz, a highly decorated retired Major General of the U.S. Army, currently serves as Secretary of the American Battle Monuments Commission. It is the federal agency charged with operating 26 military cemeteries and 30 battle monuments and markers in the U.S. and around the world.
On this day, the worldly Matz looked at his local roots with a more global perspective.
"I was walking down my old street, and it is filled with all these wonderful people, many of them blue-collar folks from all over," said Matz. "It makes you think differently about your (hometown) when you realize all of these people came here and all of the national attention is here."
The event fulfilled Trump's pledge to hold a Van Drew-requested campaign rally in South Jersey. After his November 2018 election as a Democrat, Van Drew voted against the ongoing presidential impeachment proceedings and then switched parties last month.
At the rally, Trump announced that approximately 175,000 free tickets had been requested and issued for the event, which, according to reports, had been attended by 12,000 people crammed onto the arena floor and all of its 7,400 seats.
Tickets were required to gain admission to the event but only gave the holder a chance in the first-come, first served admissions process. Savvy Trump fans began gathering and taking their places in line as early as Sunday, and in large numbers on Monday.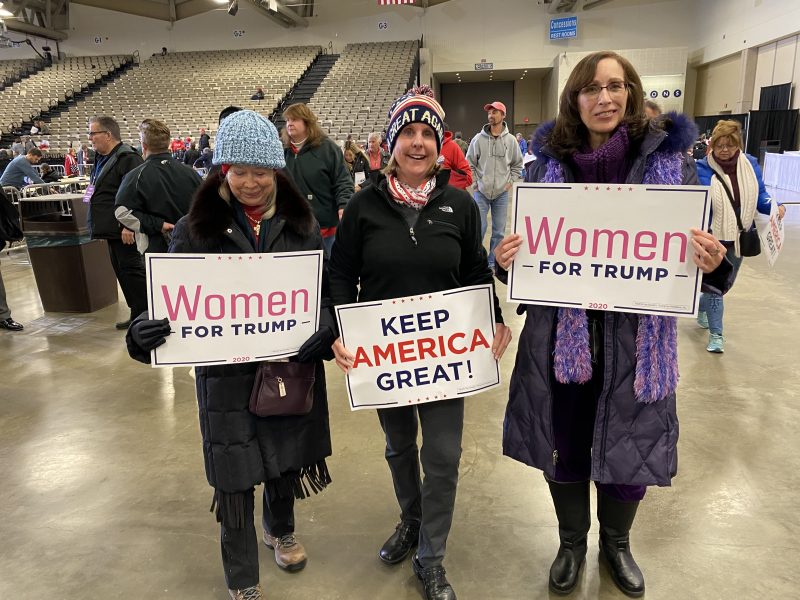 One such person was Jill Rogers of Ocean City, a nurse practitioner who spent a frosty Monday night in a sleeping bag and her "snow pants" to earn a coveted prime seat inside the arena.
Rogers said she was pleased to hear Trump's plan to allow seriously ill patients to try the newest medications that have not yet gone through the lengthy FDA approval process in exchange for the patient waiving the right to sue the pharmaceutical companies.
"It just makes sense," said Rogers. "People are dying waiting for (experimental and new drugs) to be approved. The president is saving lives. I'm also in favor of the president's pro-life stance. That one is saving lives, too."
Many local dignitaries attended the rally and said no matter which side of the political aisle were your allegiances, the fact remained, it was an historic day.
Ocean City Councilman Bob Barr attended the rally.
Barr, who is close with Congressman Van Drew, called the event a "monumental occasion."
"Regardless of how you feel about partisan politics or the president of the United States, the fact that the sitting president of the United States was in Cape May County — it was an historic day and a monumental occasion."
Barr, who, like Van Drew, recently switched parties from Democrat to Republican, said that while looking around the convention center, he could feel the energy.
"It was just a great feeling. You could feel the history in the room. There were Republicans, Democrats, Independents," he explained. "There were people outside just riding bikes around to take in history with no intention of getting inside the building."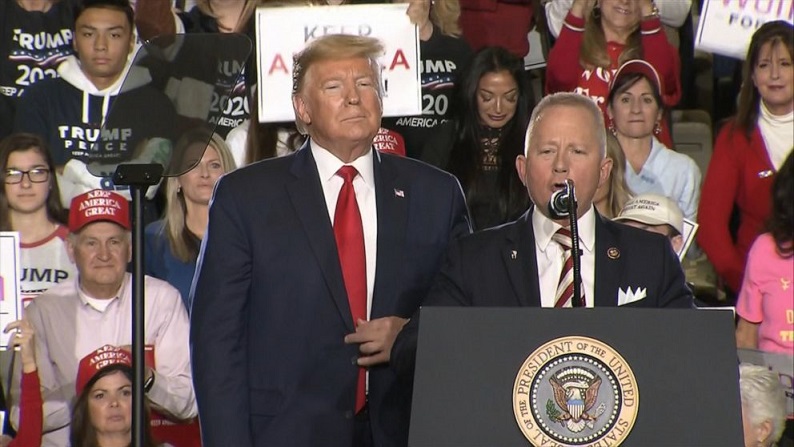 Barr said more than anything, two things really made the day particularly meaningful for him. One involved Van Drew, a longtime friend.
"On a personal level, two things really struck me. Seeing my good friend and colleague, Congressman Van Drew, up there speaking at the presidential podium and getting to ride on Air Force One was one," he said. "To me, it is a testament to him and his hard work and his dedication to South Jersey."
The other reason, Barr hoped he had a hand in.
At the end of President Trump's speech, he mentioned Ocean City as one of New Jersey's finest towns.
"That was a particularly proud moment for me," Barr said. "I spoke to the president in the Oval Office before Christmas about Ocean City. He said he was very fond of it and to have the president of the United States recognize your city as one of the best in the state — every resident and vacationer should take some pride in that."
Barr's day began at 6 a.m. and went until after 11 p.m.
He was a VIP at the rally and was responsible for making sure people with special needs under the Americans With Disabilities Act (ADA) were properly seated. His assistant, Bryan Leatherwood, also helped, he said.
"It was a long day, but a very rewarding one," Barr pointed out. "History was made. Regardless of how you feel about the president, you have to beam with pride."
Cape May County Freeholder Leonard Desiderio, who is also the Sea Isle City mayor, also attended the rally.
"You could feel the energy. It was electric. The president had a huge crowd listening to every word that he was saying. The crowd was so enthusiastic to hear him. It was a fabulous night," Desiderio said.
He continued, "Whether you like the president or not, you have to respect the office and respect the fact that the president of the United States was in Cape May County."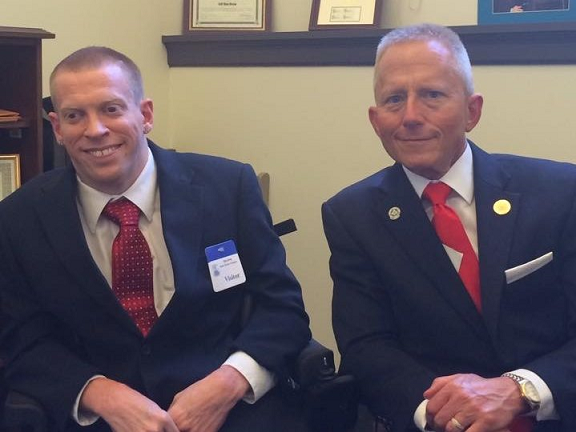 Desiderio, a Republican, who oversees the county's public safety, said the event from start to finish was orderly. There were about 300 police officers on duty including six Sea Isle City police, he noted.
"My hat goes off to Wildwood and to all law enforcement," he said. "Everything was orderly and great. There was not a problem to my knowledge. When it was all over, I could not believe how quickly we were able to leave."
He also said the event was a good boost for Wildwood businesses.
"You knew many people weren't going right home. It was a nice shot in the arm for Wildwood and neighboring communities in January."
Desiderio also mentioned how proud he felt when President Trump mentioned Sea Isle City as one of the finest towns in New Jersey, along with Ocean City and Stone Harbor.
Around 6 p.m., thousands of people were still in line as the Convention Center neared its capacity and admissions were subsequently shut down. Several thousand still hung around in the blustery, 35-degree chill.
However many people actually showed up, there appeared to be an equal number of reasons as to why.
For Darius Mayfield, of Freehold, one of the few minority people in attendance, the question was met with a flip of the script.
"It's easier to ask why wouldn't I want to be here?" said Mayfield, founder and CEO of Marvel U.S. Management, a consulting firm to small businesses.
When asked which Trump policies were most important to him, Mayfield quickly ticked off four economic ones before he mentioned foreign policy.
"The economy is the hottest thing. The president comes up with innovations and look at his results," he said, citing record gains in the stock market, record lows in unemployment and the creation of new jobs.
"He's a genius," Mayfield added.
Medford resident Stephen Melchiorre, president of Dynamic Building and Construction, which has showrooms in his hometown and on Long Beach Island, said, "I was raised in a Republican home with conservative values."
It was Trump's tendency to sometimes take an unorthodox approach that particularly appealed to him, Melchiorre said.
"There are plenty of Republicans who don't like him, not only Democrats," he said. "He wasn't afraid to shake up a government that was slow and inefficient. Donald Trump said he was going to change Washington and he actually did it."
The Rev. Joe Ganiel, pastor of Holy Child Roman Catholic Church in Runnemede, is part of the Catholics for Trump organization.
"The most important reasons I support Mr. Trump is his stance as pro-life and also in support of religious freedom."
Father Ganiel said he never campaigns for Trump or any other political candidate during his homilies, "but I do talk about the issues."