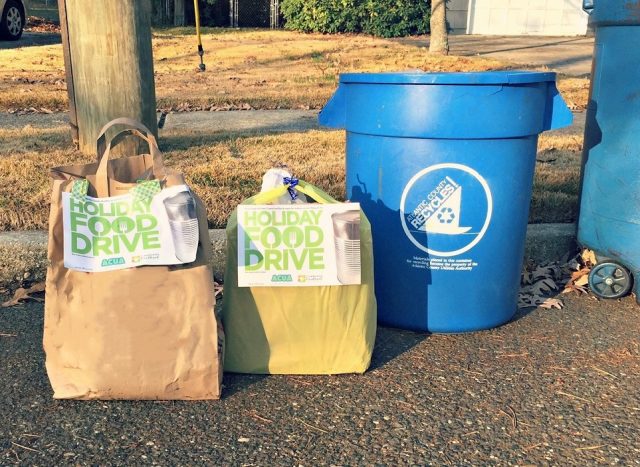 Beginning Monday, December 2 and continuing through Friday, December 13, Atlantic County residents are urged to place non-perishable food items at the curb on their recycling collection day as part of the 29th annual Holiday Food Drive. Atlantic County Utilities Authority (ACUA) recycling crews will collect the food in conjunction with regularly scheduled recycling pick-ups.
To participate, just fill any bag or box with your donation and leave at the curb on your recycling day between December 2 and December 13.
Sponsored by ACUA, the Holiday Food Drive gives residents an easy and convenient way to provide for South Jersey neighbors in need while helping the environment.
All food collected through the Holiday Food Drive will be distributed through the Community FoodBank of New Jersey's Egg Harbor Township location, which provides food to about 300 partner agencies for distribution to struggling families throughout Atlantic, Cape May and Cumberland counties. These charities include emergency food pantries, homeless shelters, soup kitchens, and other charitable feeding programs.
"We're thankful for our longstanding partnership with the ACUA and for the generosity of Atlantic County residents," said Colette Kraus, Food Sourcing Manager at the Community FoodBank of New Jersey. "ACUA and its customers have fought holiday hunger with this annual food drive for over 25 years, a testament to their commitment to the FoodBank's mission, which could not be accomplished without initiatives like this one."
The Community FoodBank of New Jersey is looking for donations of food items, especially canned tuna and meats, hearty soups, meals in a can and peanut butter. Please do not include perishable or frozen items or food in glass jars.
"Every community is impacted; the need for food donations is pervasive and many of our friends and neighbors are struggling," said ACUA President Rick Dovey. "ACUA's food drive provides an easy way for people to donate when they put their recycling out."
"There are more than 66,000 food insecure individuals in Atlantic, Cape May, and Cumberland Counties, many of whom turn to the FoodBank for help putting meals on the table, and we truly need as many residents as possible to donate to this year's effort," Dovey added.
Last year, residents donated 18,625 pounds of non-perishable food items.
"Our goal is to exceed last year's total and we are always encouraged by the generosity of Atlantic County residents," Dovey said.
Atlantic County residents not serviced through the ACUA curbside recycling program can participate by bringing their donations to the ACUA at 6700 Delilah Rd. or to the Community FoodBank of New Jersey at 6735 Horse Pike, Egg Harbor Township.
To learn more about how you can help, contact the Community FoodBank of New Jersey's Egg Harbor Township location at (609) 383-8843 or visit cfbnj.org. For more information, call (609) 272-6950 or visit www.acua.com/fooddrive.