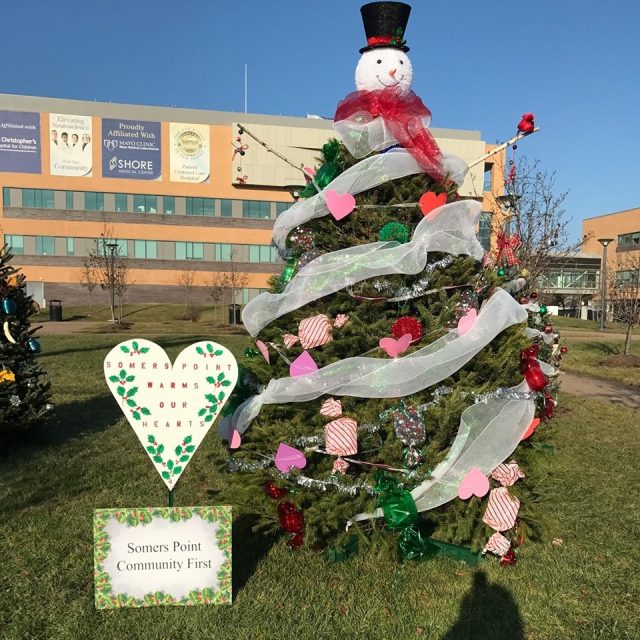 Somers Point-Community First, a local volunteer organization, announced that it will once again host a Christmas tree decorating and lighting event this holiday season.
All clubs, restaurants, families, and organizations within the Somers Point community are invited to come decorate a tree. A sign will be placed outside of an accompanying tree to identify participation.
The decorating of the trees will begin on Dec. 7.
Each establishment will be responsible for decorating and removing the decorations off their own trees.
The tree lighting event will take place on Dec. 12 from 4 p.m. to 5 p.m. Hot cocoa and candy canes will be available for attendees.
Santa will arrive on a fire truck from the Somers Point Fire Department to greet everyone and lead the ceremonial illumination of the park.
"The magic of Christmas is alive and well in Somers Point, as evidenced by the fact that more than 200 people gathered for our inaugural tree decorating and lighting ceremony last year," said Michele Law, a volunteer member of Somers Point-Community First.
"People have been talking about this event and asking us if it is coming back. We were waiting for word from the North Pole about Santa's schedule and we are happy to let everyone know that he has cleared time for us in Somers Point on Dec. 12," Law added. "We are looking forward to seeing everyone and continuing this newfound community tradition."
A limited number of trees are available. Contact Michele Law at MicheleLaw1808@Yahoo.com to reserve a tree today.
About Somers Point-Community First
Somers Point-Community First is a volunteer group that serves as a voice of the Somers Point community and is involved in local projects to promote the betterment of the city.
The group assists in offering organizations and businesses advice, expertise, community project partnerships and more, but does not provide financial support.
It is comprised of people with expertise in community activism, economics, health care, education, entertainment, traditional and social media, insurance, management, marketing, entrepreneurship and more. Each member lives or works in Somers Point.
Those interested in having their organization considered for assistance, visit Somers Point-Community First on Facebook, send a message or create a post.