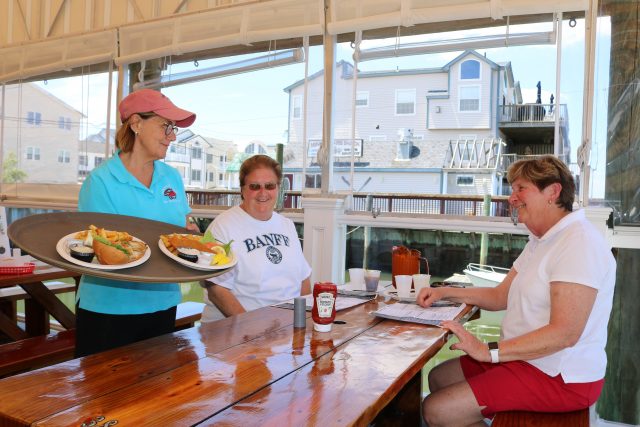 By Donald Wittkowski
Sea Isle City is consumed with the quality of its restaurants.
This is a small town that boasts of having a big-city-style culinary scene comparable to anything found at the Jersey Shore – all 127 miles of it.
"I honestly think that Sea Isle has some of the finest restaurants at the Jersey Shore," said Mike Monichetti, owner of Mike's Seafood & Dock Restaurant on Park Road.
Starting Monday, the local restaurants will get a chance to prove it. Sea Isle will showcase its array of eateries during Restaurant Week on June 3-9.
Altogether, 13 participating restaurants in Sea Isle and two others in neighboring Strathmere will offer a prix fixe menu that includes four courses for $34.
Restaurant Week features a dining experience that runs the gamut – from casual pubs to old-school taverns to gourmet establishments.
"We have a little bit of everything in Sea Isle," said Sergio Herrera, owner of Andrea Trattoria Italiana II on Park Road. "We have seafood places, we have steakhouses, we have Italian restaurants. There are a lot of different concepts."
Herrera believes Sea Isle's diverse dining atmosphere is well-suited to satisfy the eclectic tastes of the tens of thousands of tourists who visit the beach resort during the summer vacation season.
"In Sea Isle, people are from all over. They have to have different types of food. We have those types of restaurants," said Herrera, whose Italian eatery will participate in Restaurant Week.
The Sea Isle City Chamber of Commerce and Revitalization, the sponsor of Restaurant Week, is using the event as a catalyst for more business in early June, traditionally a slower time on the calendar because it falls between the big Memorial Day weekend celebration and the start of the full-fledged summer tourism season.
"I think Restaurant Week is not only a benefit to the restaurants in getting more business, but it also benefits the whole island by showing that Sea Isle has become one of the premier restaurant destinations in Cape May County," Chamber of Commerce President Christopher Glancey said.
Hoping to capitalize further on the event's popularity, Chamber officials have discussed the possibility of also having a Restaurant Week in the fall. For now, it is a fixture in June.
"People really look forward to Restaurant Week because the restaurants aren't as busy now as we are in July and August," Monichetti said. "They can easily get in and get out and enjoy a really good meal in Sea Isle's finest restaurants."
Glancey explained that Restaurant Week also allows Sea Isle to shine the spotlight on the bars, retail shops and other businesses in town to new visitors who aren't familiar with the city.
"It's going to give people from other towns an opportunity to sample all of the great restaurants we have and to also learn about Sea Isle's other businesses, Glancey said.
Monichetti noted that Restaurant Week helps to attract a loyal following of diners from as far away as Somers Point and Stone Harbor to Mike's Seafood, in addition to the customers from the home base of Sea Isle.
"What's great about Restaurant Week is that people come in to see you and remain customers for life," he said. "We have many people who come here for the first time for Restaurant Week and then become repeat customers. You're building customer relationships for life."
Mike's Seafood, which traces its roots to the early 1900s, when the Monichetti family first arrived in Sea Isle, is one of the anchors of the historic Fish Alley neighborhood, an enclave of bayfront restaurants and commercial fishing boats.
During Restaurant Week in 2017, business at Mike's Seafood & Dock Restaurant increased by 10 percent and then jumped by 18 percent last year, Monichetti said.
"So many people look forward to Restaurant Week. They start talking about it in March. Restaurant Week has taken off in popularity," Monichetti pointed out.
Visit seaislerestaurantweek.com for a list of participating restaurants and menus. Some restaurants are not offering Restaurant Week specials on Saturday, June 8.