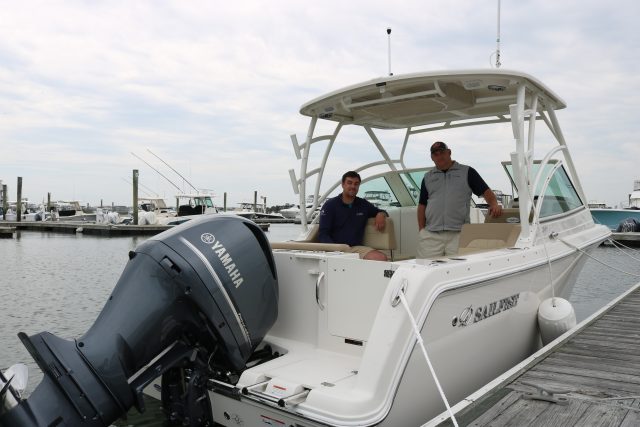 By Donald Wittkowski
There are no dock fees or insurance costs. No back-breaking cleaning or maintenance, either.
Your boat will be fueled up and ready to go before you even step on board.
Welcome to "boating without owning."
The Carefree Boat Club gives members all of the pleasures of being out on the water without the hassles and expense of actually owning a boat.
Now, Carefree Boat Club has arrived at the Jersey Shore, taking up residence in Avalon at the Commodore Bay Marina at 900 Ocean Drive.
A grand opening celebration featuring drinks, food and music will be held at the Commodore Bay Marina this Saturday from 3:30 p.m. to 6:30 p.m.
The Avalon location is part of a growing network that features nearly 80 Carefree Boat Club sites in the United States and Canada. Membership in Avalon gives boaters access to all U.S. and Canada locations. A boat slip will also be reserved at the Pier 88 Marina in Sea Isle City for members.
Business partners Sean McNulty and Adam Fox own the Avalon franchise. McNulty, 25, serves as director of sales, while the 44-year-old Fox will use his experience as a licensed charter boat captain to oversee the day-to-day operations as general manager.
"It's really a first-class, concierge-type service. That's what we're striving for," Fox explained of the Carefree Boat Club experience.
Club employees will greet members in the parking lot and carry their belongings to the boat. Before they leave the dock, members will receive safety training to familiarize them with the vessel.
"They'll feel safe and confident with the boat," Fox pointed out.
Besides supplying the boats, the club will also take special requests from members, if needed. For instance, if members have a favorite meal or bottle of wine in mind, they can reserve it ahead of time and McNulty and Fox will do their best to see it's on board before the boaters take to the water.
A fleet of six new boats ranging in size from 20 feet to 25 feet will be at the Avalon location. There are two pontoon boats, two center console models, a dual console model and a water-skiing boat.
"We're buying $100,000 boats, so they're really nice boats," McNulty said.
The variety of boats will allow members to take fishing trips, enjoy a recreational outing or simply have a relaxing, lazy day out on the bay or ocean.
"We'll always have availability," McNulty said.
Reservations made over the phone, online or using a mobile app will allow members to book their boats in advance. They may also take "spur of the moment" trips.
"You'll most likely have a reservation that fits your schedule," Fox noted.
The boat is in the water when members arrive, filled up with gas and ready to go. When they're done, all the members have to do is bring the boat back to the club. There's nothing else left for them to do – saving them from the hassles of cleaning or maintaining the boat.
Perhaps the best thing, Fox and McNulty said, is the cost savings associated with the club membership compared to the expense of actually owning a boat.
"It's the third of the cost of a new boat," Fox said.
The one-time initiation fee is $6,900 and there will be a $500 per month membership cost. Membership will be part of a three-year contract.
The number of members will be capped at 50 to ensure everyone will have access to the boats. The first 25 people to sign up will be considered charter members and will be eligible for special deals, McNulty noted.
"There are a lot of people showing interest," he said of the initial reaction from the public.
People expressing interest in becoming members generally fall within two groups: Either they are new boaters who are eager to get out on the water or they are former boat owners who want to come back to boating without all of the hassles, McNulty said.
The boating season for club members will run from April to November.
Hoping to make the experience even more enjoyable, McNulty is looking to partner with local restaurants, bars and recreation spots at the shore for special deals for Carefree Boat Club members.
The locations of the restaurants, bars and other businesses would be programmed into a boat's GPS system for easy directions.
"I want to partner with as many bars, restaurants and other businesses as possible to make it a really cool experience," McNulty said.
For more information about Carefree Boat Club, visit https://carefreeboats.com/locations/avalon/ or see their Facebook page or call (609) 388-9009.