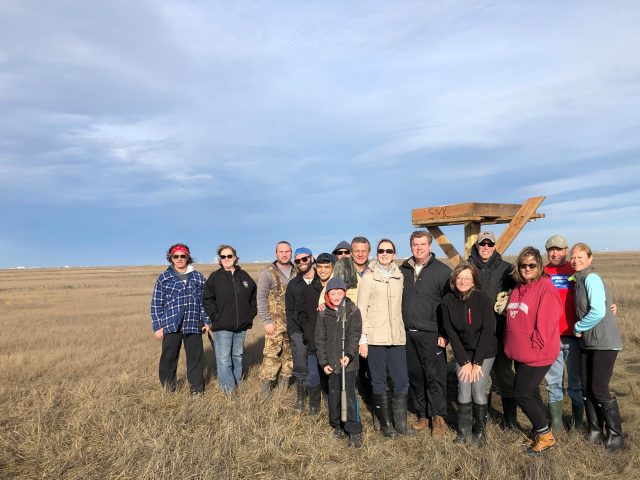 Thanks to the volunteers of Somers Point-Community First and the craftmanship of Jon Rosky, Ospreys looking for a new nesting place this year will have to look no further than Somers Point.
On Sunday, March 24, a dozen members of Somers Point-Community first assisted in the installation of a platform on which returning Ospreys can built a nest. The platform was constructed by the group's volunteers in the Fall of 2018 under the guidance of Jon Rosky, who has successfully placed Osprey platforms in South Jersey for more than 25 years. The new platform is located in the marsh along Bay Avenue and East Ocean Avenue.
"As a long time resident of Somers Point, I always telling everyone that our town is the perfect place to raise a family – and that same advice even goes for Ospreys!" joked David Hughes, founding member of Somers Point-Community First.
"But seriously, nature and wildlife are such an important part of what makes Somers Point special, so we wanted to provide these beautiful birds with a place to nest when they return," Hughes continued. "It will also give our fellow residents an opportunity to watch a true wonder of nature close to where they live."
"On behalf of Somers Point-Community First, I would like to thank Jon Rosky for donating his time and expertise on this project," continued Hughes. "Without his passion and spirit of volunteerism, this project would not have been possible."
Somers Point-Community First serves as a voice of the Somers Point community and is involved in local projects to promote the betterment of the city. The group assists in offering organizations and businesses advice, expertise, community project partnerships and more, but does not provide financial support.
It is comprised of people with expertise in community activism, economics, health care, education, entertainment, traditional and social media, insurance, management, marketing, entrepreneurship and more. Each member lives or works in Somers Point.
The organization recently hosted a series of free self-defense classes for women, a community Christmas tree lighting and decorating event, and has taken an active role with the Somers Point Senior Center, Somers Point Little League, the Somers Point Garden Club, and more.
In 2017, Somers Point-Community First also helped bring to the town a weekly Farmer's Market and Craft Fair and Patriotic Flag salute ceremony.
Anyone who is interested in having their organization considered for assistance, may call David Hughes at 609-653-3299.