With Christmas right around the corner, meal preparation is at the top of mind of many a holiday host and hostess.
One of the traditional and most enjoyable of these is the Feast of the Seven Fishes, a longtime Italian-American ritual held on Christmas Eve. But as Mike Monichetti tells it, the feast has branched out and become a favorite of anyone who enjoys celebrating the holiday with loved ones who are also seafood lovers.
"This is a very important tradition to me and my family and to many other families celebrating Christmas," said Monichetti, owner of Sea Isle City's iconic Mike's Seafood.
It began in the Southern regions of Italy and in Sicily, "from Naples on down to the Southernmost areas of the country," Mike noted. There it is known as "La Vigilia" or "the vigil" in America. The symbolism for seven fishes are many and varied: the number 7 is the most repeated numeral in the Bible, more than 400 times, he said, and of course there are seven seas and seven mountains surrounding Rome, just to name of a few stated reasons for the number.  There can be as many as a dozen or more seafood dishes considered traditional enough to be included. However, most modern celebrations of the feast consist of a meal of seven seafood dishes.
The Feast of the Seven Fishes came to America in the late 1800s, taking root in Italian American neighborhoods throughout the "new country." With the popularity of cooking shows and the Food Network, Monichetti says, the Seven Fishes is something many non-Italian and non-Catholics have adopted.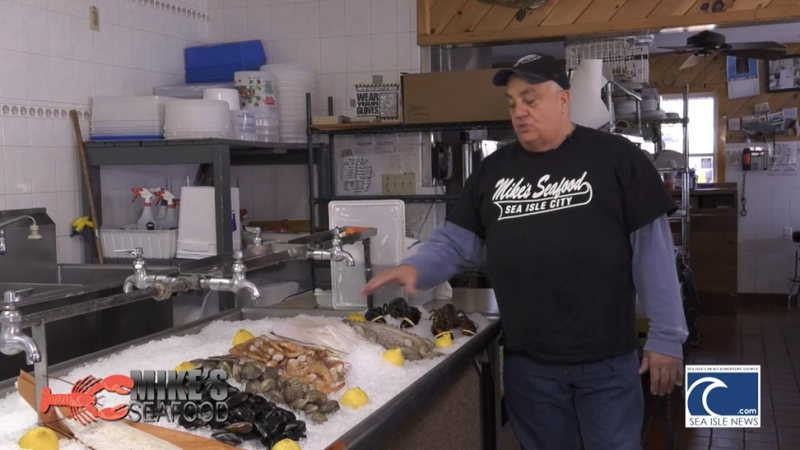 Not long after the Feast became ingrained in Italian-American culture, Monichetti's grandparents landed on Ellis Island and settled in Sea Isle City, where they founded one of the oldest and most enduring businesses in town. Thus, Monichetti is the third generation in his family to help bring this wondrous meal to tables all across the region.
Monichetti said the most famous fish, and the most labor-intensive to prepare is salt cod or "baccala." This fish requires a soak in fresh water for three days before baking, changing the water every 12 hours to draw out the natural salt. It is then baked and served topped with tomato sauce.
The other dishes options in Mike's traditional feast include:
Fried Calamari
Fried Smelts
Fried Crab Balls
Shrimp
Lobster & Shrimp Linguini with Marinara
Clams & Linguini with Olive Oil & Garlic
Mussels Marinara
Octopus Sautéed with Lemon,Garlic, & Olive Oil
Smoked Whiting
As vigils go, this one is about as delicious as it gets. If all this sounds good enough to eat but difficult to make, do not worry. Mike's stands ready to help you with the preparation, or they will even cook it for you.  If you ask us, that's something to celebrate.