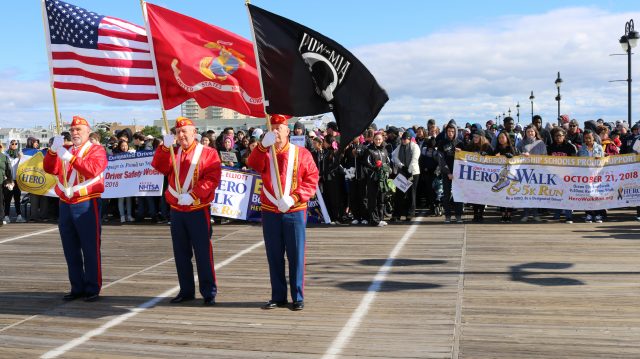 By Maddy Vitale
Eighteen years have passed since Bill and Muriel Elliott's son, Navy Ensign John R. Elliott, was killed by a drunk driver.
It was just two months after he graduated from the U.S. Naval Academy.
There are many reasons why his parents formed the HERO Campaign in 2000, shortly after John's death in July. And many reasons more why their nonprofit continues to grow. It educates youth and adults alike on the dangers of drinking and driving, why having a designated driver is the only way to go, and why the Elliotts continue their mission.
On a chilly Sunday morning, the Elliott family joined hundreds of people in the eighth annual John R. Elliott HERO Campaign Walk and Run on the Ocean City Boardwalk, which kicked off at Sixth Street at the Sports and Civic Center. Their goal is to raise more than $50,000 to spread the word that designated drivers are key to safer roadways.
The Elliotts, of Egg Harbor Township, and their daughter, Jenny Adamchak, 37, work together, along with many volunteers, so others will never forget John Elliott.
"High school kids are becoming more and more involved with the HERO campaign," Muriel Elliott said. "They are never too young to get the message. John would like this. He is here in spirit."
Adamchak said as she scanned the civic center with groups of participants wearing HERO Campaign shirts and other attire with the names of loved ones who died at the hands of a drunk driver, "People are getting the message. You could tell by the people who come out. There are young kids and grandparents."
Bill Elliott noted that throughout the year the campaign hosts events to keep the message fresh. All of the events are designed to tell people not to drink and drive and to use a designated driver instead.
Elliott said what began as something modest in 2000 transformed into a celebration of advocacy throughout the community and the nation.
The event began with a run, followed by time at the civic center where people met up and shared stories.
Some of those people lost loved ones to drunken drivers.
Donnah Marvel, 59, of Somers Point, brought friends along. She spoke with Muriel Elliott for a while.
The two have something tragic in common. They both had sons they adored who were killed by drunken drivers.
Nicholas Marvel, 18, was killed by a drunk driver in 2004, while he was walking with friends along Route 9 in Linwood. Donnah Marvel said she would not miss the HERO walk for anything.
Marvel still goes to her only son's memorial to light candles a few times a week. Over the years, she has had her struggles. She battled cancer and had to have hips replaced. But that pain, she said, is nothing compared to her broken heart.
But, with her daughter, Dana, 26, she manages to go on.
"I just want to say, life can go on," she said.
The drunken driver who was responsible for Nicholas Marvel's death was convicted and served time in prison.
In the case of John Elliott, the man who killed Elliott had been arrested and charged with drunken driving just two hours before the crash, but was released to the custody of a friend, who let him get behind the wheel again. He then crashed into Elliott's car, killing them both.
The case resulted in John's Law, which requires that an arrested drunken driver must remain in police custody for 12 hours before they are released.
While Marvel walked in honor of her son, Ocean City Primary School teacher and Cape May County Teacher of the Year, Carrie Merritt, ran in honor of a little boy who died of a rare disease. Merritt wore a bird costume, she said, because he liked birds.
Grand Marshal Richard Sweeney, of Ocean City, almost died in October 1999 when he went out for a jog by his home in Mount Laurel and was struck by a drunken driver.
Former U.S. Ambassador to Panama and former Congressman Bill Hughes, who lives in Ocean City, summed up the significance of the HERO Campaign.
"As I said to Bill and Muriel, they turned a real tragedy into something that has helped so many lives and I'm reasonably certain they have saved so many lives," Hughes said.
The HERO Campaign has been credited with helping to reduce the number of drunken driving fatalities in New Jersey and other states. So far, New Jersey, Delaware, Pennsylvania, Kentucky and Virginia have formally embraced the campaign's call for designated drivers.