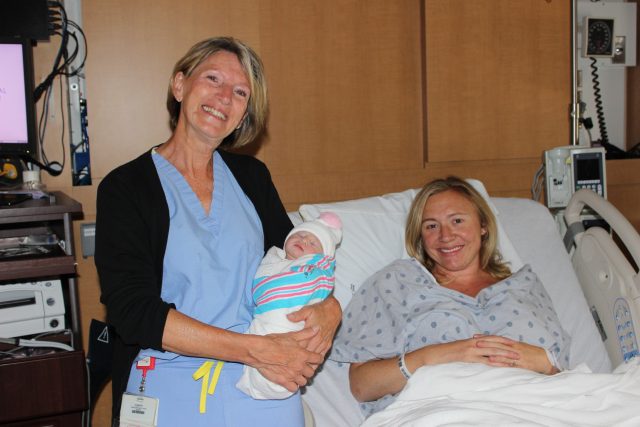 By Maddy Vitale
Shore Medical Center Neonatal Nurse Christine Smith, of Seaville, received a surprise award Wednesday morning for her passion and commitment to caring for babies born at Shore and their families, as well as her dedication to educating nurses on the maternity unit.
The award, given at the hospital located in Somers Point, was sponsored by specialty pharmaceutical company Chiesi, based in Cary, N.C. The honor was one of only 17 presented to neonatal nurses across the country in advance of Neonatal Nurse's Day, which is Sept.15, according to hospital spokeswoman Beth Ann Spiegel.
Just hours before receiving her award, Smith assisted in the delivery of a healthy baby girl, Amelia, born to Amanda and Louis Pitcock, of Goshen, Cape May County, Spiegel noted.
A dedicated staff of neonatal nurses, such as Smith, is the main reason families choose Shore to have their babies, hospital officials said.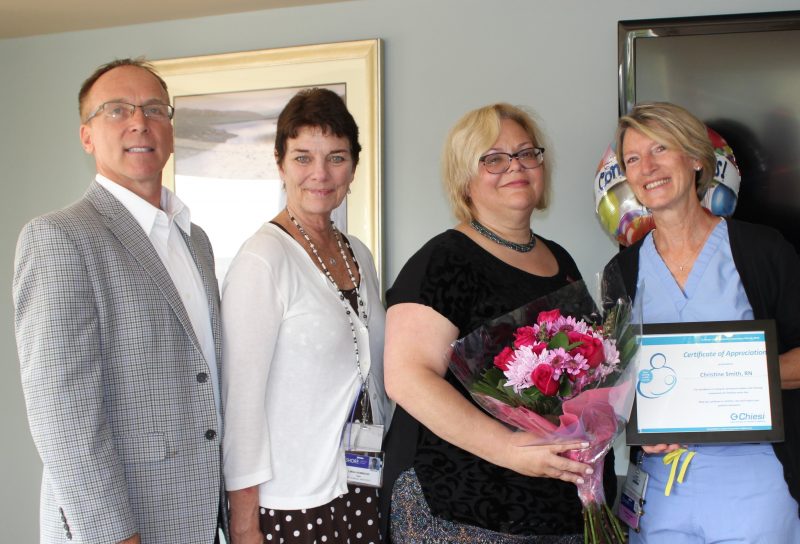 Brenda Braun, clinical supervisor of Shore's Pediatric Care Center and Maternal Child Health, said when nominating Smith for her award, "Chris is 100 percent for our babies. She has taken time to work with every staff RN on the unit to review fetal assessment, care, positioning and resuscitation."
Braun continued, "She is caring and compassionate and is always there to care for our sickest babies and to support our 'new to neonatal care' nurses. Chris volunteers to help with Neonatal Resuscitation Program reviewing, and spends countless hours emotionally supporting our parents. There are just not enough words to describe her passion."
Smith has been working as a neonatal nurse at Shore since 1990.