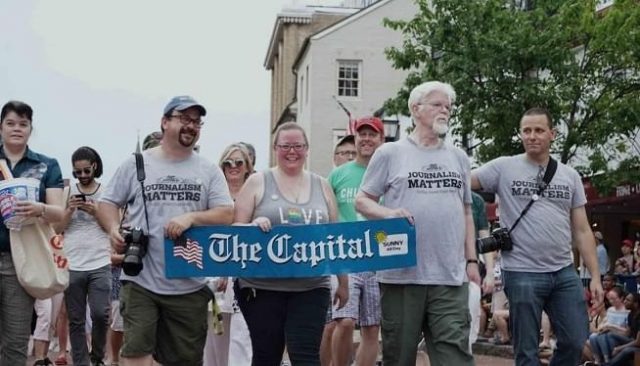 By Tim Kelly
Paul Gillespie's thoughts and heart raced as he huddled under his desk in the Capital Gazette newsroom.
"I'm gonna die right here," thought the veteran photojournalist as a gunman stormed through the workspace, shooting Gillespie's co-workers with a pump-action shotgun.
His thoughts turned to wife Jennifer. "She's going to be alone.  Will she be all right?"   He then tried to control his breathing and his racing heartbeat as the shooter made his way around the room.  "I was afraid if he heard my breathing…" his voice trailed off.
Five innocent people died and two more were injured in the June 28 attack at the local paper serving Annapolis and Anne Arundel County, Maryland.
Paul managed to escape by making a run for his life when the shooting briefly paused.  The incident concluded less than a half hour later when police found and apprehended the gunman under the very same desk Gillespie had hidden under just moments before.   In the interim came a series of terrifying moments that would forever change Paul's world.
Gillespie, 48, is an Atlantic City native who also lived in Northfield and Margate, graduated from Mainland Regional and who worked for a time in and around Ocean City. But for the last 18 years, the Annapolis area has been home and the Capital Gazette colleagues his family.
"My parents and my brother have all passed away, and I have no kids," he said. "All I have left are my beautiful and supportive wife and my Capital Gazette family. "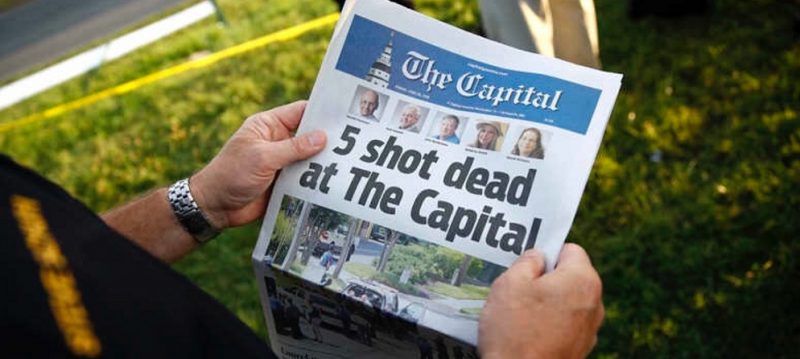 The victims included Rob Hiaason, 59, assistant editor and Sunday columnist; Gerald Fischman, 61, editorial page editor; John McNamara, 56, who served the paper in various capacities including writer, editor, page designer and sportswriter; Rebecca Smith, 34, sales assistant; and Wendi Winters, 65, editor and community reporter.
To say the last two weeks have been difficult for Paul Gillespie does not do the situation justice. Paul attended five funerals in eight days, marched in a July 4 parade with current and former Capital Gazette staffers, gave interviews to national and local news outlets, received grief counseling and slept only a few hours since the horrific incident.
He decided to tell his story because "I want (the world) to know what wonderful people they were and to honor their memory."
He also wants to get two messages out there: first, "Journalism matters," he said.  "We aren't 'fake news.'  We are your neighbors, dedicated professionals working hard for low pay to inform you and serve you."
More importantly, "We need to be kinder to each other. We need to promote better mental health and be better parents.  We can't have so many disenfranchised people.  If we treated others the way we want to be treated, it would be a better world.  If someone is in need of help, we should  try to help."
The incident began at approximately 1:30 p.m when the gunman, identified as Jarrod Ramos, 38, fired through a glass door and began shooting people right away.  He had barricaded the only other exit before beginning the rampage.
"I heard a loud shotgun blast and the shattering glass," said Gillespie, who was editing photos at his desk at the opposite end of the newsroom. "I wore my reading glasses so I couldn't see much detail but I saw (Ramos) and dove under my desk and curled up in a ball."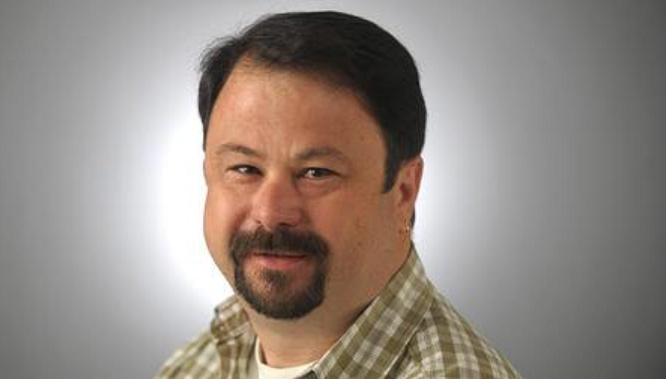 What happened next was chilling.
"He shot Rebecca first. I knew it was a shotgun because I heard him pump (the gun.)  Then he started walking toward the back of the room where I was hiding."
Gillespie reached for his chair in case the gunman walked in the aisle next to his desk.
"I thought maybe I could push it into his legs, take him down and fight him that way," Paul said. Instead, he heard Wendi Winters try to defend herself.  "She yelled 'No! Stop this right now!' and he shot her. "
"He came up to where I was hiding. He was about two feet away from me.  I just tried to be as quiet and still as I could be.  Then he shot Gerald and Rob.  I was thinking 'this is really happening.  I'm gonna die.' Then he went back toward the part of the newsroom where the sports department is.  There is one part of that area where a utility closet blocks the view from where I was hiding.
"The shooting stopped for a moment. I decided to take a chance that he couldn't see me and to make a run for it."
Gillespie scrambled from under the desk and stopped briefly at Winters' lifeless form.
"I considered trying to help her but she wasn't moving. I had to step over her body to make a break for the door."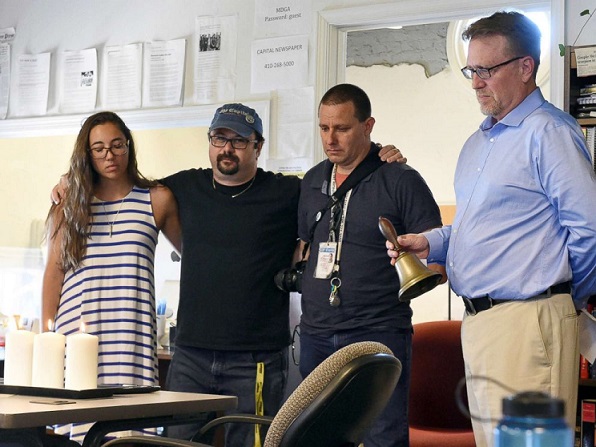 Paul said the official police report has yet to confirm it but he is sure Ramos was chasing him.
"I heard footsteps behind me and felt the wind rush closely past me and heard a shot. I think he shot at me and missed."
Gillespie exited the building through the shattered glass door and the main lobby. He attempted to flag down a woman in a Lincoln Town Car on the road in front of the office building.  "She rolled up the window and drove off, though."
He then ran into a nearby bank and began yelling 'somebody is shooting up the Capital!' Nobody did anything until I said it two more times and finally someone called 911."
Other 911 calls were made from inside the newsroom, and police said they were on the scene within a minute. They apprehended Ramos, who was hiding under Gillespie's desk in virtually the same spot Paul had been hiding moments before.  He was taken into custody without further incident, and though he refused to cooperate with police, has identified with the aid of sophisticated face-recognition technology.
Ramos, who was charged with five counts of murder and other offenses, had a longstanding grudge against the paper. He was upset about its coverage of a harassment case against him, and the dismissal of a defamation suit he had filed against the paper.
Gillespie takes great pride in working for the Capital Gazette, perhaps due in part to the hard path it took to get there.
"Paul was not a natural talent," said Bill Horin, longtime local photographer and videographer who hired Gillespie as an assistant, and now counts him as "one of my best friends. "He really worked at it and he became really good."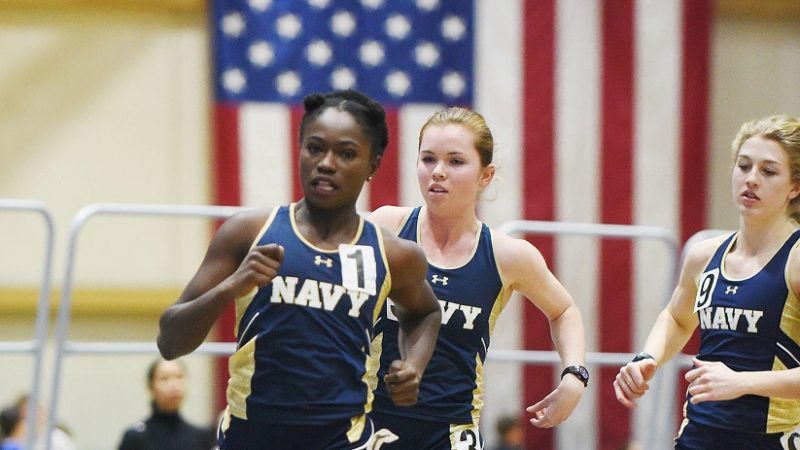 "Paul showed up at my studio one day and said he wanted to learn photography and would work for nothing. I needed somebody and told him that he didn't need to work for free.  I was going to pay him."
Horin, the founder and proprietor of the ArtC organization which promotes the arts in South Jersey, said it was the beginning of a great professional and personal relationship.
"Paul 's work ethic and reliability set him apart," he said. "He had a second job delivering pizzas at the time.  He would work at the pizza place 'til 1 in the morning and then be waiting for me at (the client's) for a shoot at 7 a.m."
It was a mutually rewarding union. "I learned so much from Bill," said Paul, who would work with Horin for four years.  "Lighting, composition, and many of the technical aspects of photography."
One day Horin asked to see Gillespie's portfolio, but Paul had very little to show him.
"He was working so hard for me that he hadn't spent much time taking pictures. I told Paul if he wanted to be a photographer he was competing for a job with people who are out there every day.  Paul took it to heart."
Gillespie eventually began working as a freelancer for the Hammonton Gazette, then was hired by the Current Newspapers as a staff photographer. In addition to landing his first fulltime photography job at the Egg Harbor Township-based chain of weeklies, Paul met a reporter there named Jennifer Donatelli.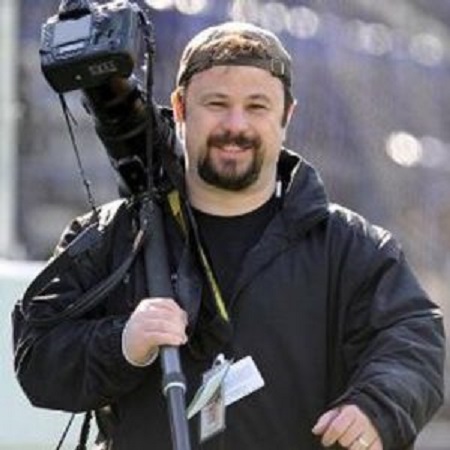 "The Current was great," Paul said. "Jen was there. And when I was out covering stuff, I got to meet the Press (of Atlantic City) photographers.  Vern (Ogrodnek) Ben (Fogletto) Mike Ein and those guys were great to me.  Vern even gave me film (when Gillespie ran out) so I could keep shooting, and he let me use one of his lenses.  I've never forgotten that and always tried to be the same way with young photographers that I meet."
From there Paul began working at the Press himself as a freelancer. He was finally working for a daily paper.  "I was doing well enough there that it was my main source of income.  But then Jen took a job with a paper in Hanover, Pennsylvania.
With their love set to bloom, Paul grew tired of the long-distance part of their relationship. Jen heard about a photography job opening at one of her sister papers in Annapolis, Maryland.  It was about an hour's drive from Hanover.  The idea was to rent an apartment in the middle and each could commute 30 miles to work.
"They asked me why I wanted to work there and I explained the situation with my girlfriend. Their reaction was to ask me if she would be interested in a job there. "
Jen and Paul wound up working together again and settling in Annapolis. Paul covered everything from community events to sports and occasional hard news. He won numerous awards and loved his job. He took pride in being known by readers and contacts as "the Capital photographer."
"I enjoy telling stories with my camera," is the way Paul describes his job.
Since the shootings, life has been a blur, he said, but the outpouring of support has helped him and the other survivors of the massacre. The newsroom relocated to a temporary space and will not return to the scene of the carnage.
"People have sent us food and gifts and set up a fund to support us," he said. "Our subscriptions are way up.  I hope it lasts."
He also mentioned his South Jersey friends who sent him a care package of local foods like White House hoagies, pizza from Tony's Baltimore Grill and goodies from his favorite deli.
He underwent basic grief counseling, but said he will probably be treated for trauma similar to post traumatic stress disorder. The first crowded space he entered since the incident was a Verizon store to replace his phone, which is being analyzed as part of the police investigation.
"I thought, somebody could just walk in here and start shooting," he said.
The Capital Gazette staff famously put out the next day's paper to report the incident, show solidarity and to refuse being stopped by the gunman. That is what his deceased colleagues would have wanted, Paul said.
Life would go on.  But life would never be the same.
"None of the people who died had anything to do with what (the gunman) was mad about,"  Paul said.  "None of them or their families deserved what happened to them.  They were wonderful people with no ill will in their hearts."