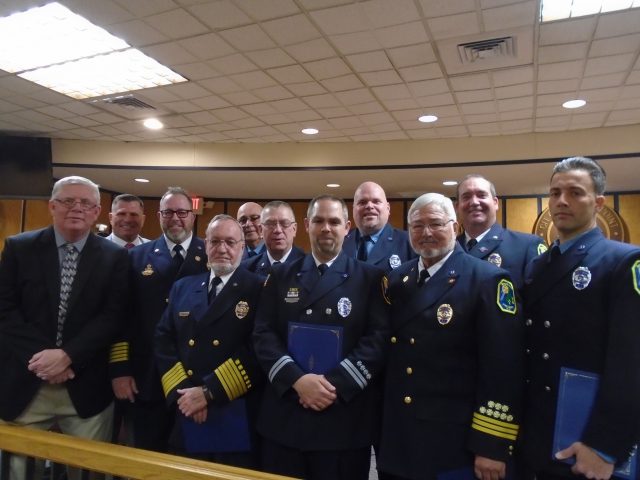 By Maddy Vitale
Somers Point Police Captain Michael C. Sweeney's day is not over when he punches out.
He is nowhere near through protecting the lives of others in the community he loves so much. He is also a 28-year-veteran firefighter. Somers Point Police Officers lined the back of the council chambers, there to show appreciation for one of their own.
On Thursday night at the Somers Point City Council meeting Sweeney was recognized for his efforts, along with nine other volunteer firefighters devote countless hours making sure others are safe. They get up in the night when the sirens sound. They go out in frigid temperatures to fight fires and they respond to motor vehicle accidents. And they are all volunteers.
"What can you say but always thank you on behalf of a great city. Thank you for all of your service. You mean so much. You protect the citizens," Mayor Jack Glasser told the firefighters. "You have done so much for us. You protect us every night. This whole community supports you. This (proclamation) is just a small token of what you mean to us so thank you."
The resolution presented to each firefighter focused on the individual accomplishments and years of service, which ranged from 25 to 40 years. But the one sentence that was in each acknowledgement was this; "The all-volunteer fire department is part of the fabric of the community and is a great source of pride for the city."   
Sweeney, of Egg Harbor Township but who lived in Somers Point for many years has been a police officer for 23 years, said he just loves what he does.
His wife Melinda said she deals with his hectic schedule just fine. It is all they have known together. Jordan, 17, and Justin, 13, are into sports. Justin said he isn't really thinking about a profession right now. Sweeney's parents Pat and David who live in Somers Point, said how proud they are of their son.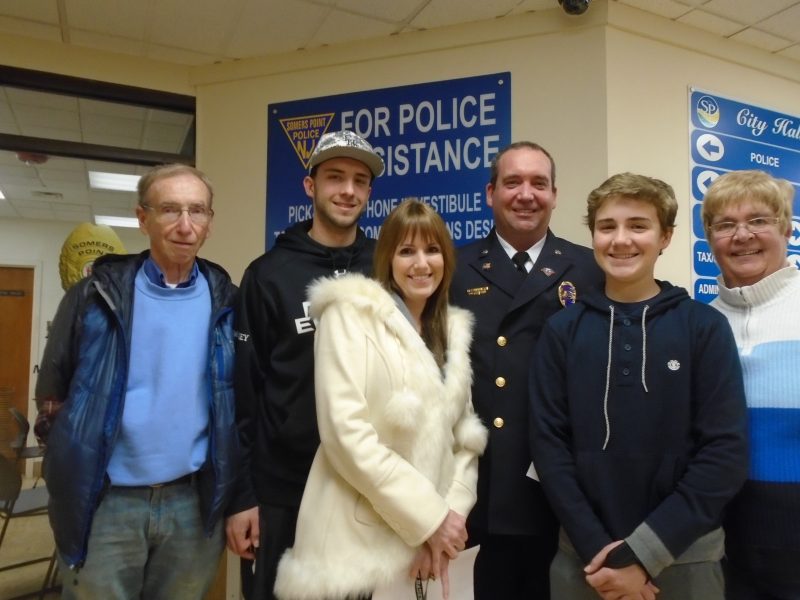 Councilman Jim Toto said their calls for duty never end, whether it is on a holiday or another day, the volunteers put themselves in danger and should be recognized for their service.
Several family members attended for the other firefighters who received the proclamations and took pictures.
The other firefighters are as follows; Jeffrey Taccarino – Firefighter of the Year,Hank Guenther and Robert Blumberg – 40 years of service, James Guckes, Kimbal Feinstein and Michael Corbo – 35 years of service, James Somers – 30 years of service, W. Christopher Martin – 25 years of service and Robert Fehn – 20 years of service.
Council President Sean McGuigan remarked about the dedication and the exemplary service of the men who were honored Thursday.
He addressed Blumberg's service, "Forty years and you are still at the fire company. Your lengthy firefighting career is nothing short of an accomplishment," McGuigan said, prior to adding that Blumberg, who is also plays Santa, made special memories for many children in the community.
He called Corbo "a pretty big asset to the community who has not only been an active member for 35 years, but currently serves as an assistant chief."   
To the other firefighters he commented on their specific years of service, their importance in the community.
Between all 10 firefighters, McGuigan said they have 285 years of service. "The citizens of this community owe you a lot of gratitude."