By Maddy Vitale
A diminutive copper still sits atop a shelf behind a bar at the Little Water Distillery in Atlantic City. It is only large enough to process five gallons of alcohol, a far cry from the 300-gallon still that sits just feet from it.
But that small conversation piece is what started it all for brothers Mark and Eric Ganter, who got an idea and were soon on their way to becoming business partners, producing whiskey, rum, gin and vodka, and creating a brand that they say is authentic, delicious, and top quality.
"I like to tell people this brand is emerging in an industry that is dominated by large brands," Mark Ganter, 48, of Ocean City, said during a tour of the distillery. "Regardless of how we develop this brand further, we need to be competitive and live and die by the authenticity of our product. We work hard to deliver an authentic product –  something that conveys our values."
And it all started as a gift to their father, Frank Ganter, of Upper Deerfield, in Cumberland County, Jan. 28, 2013.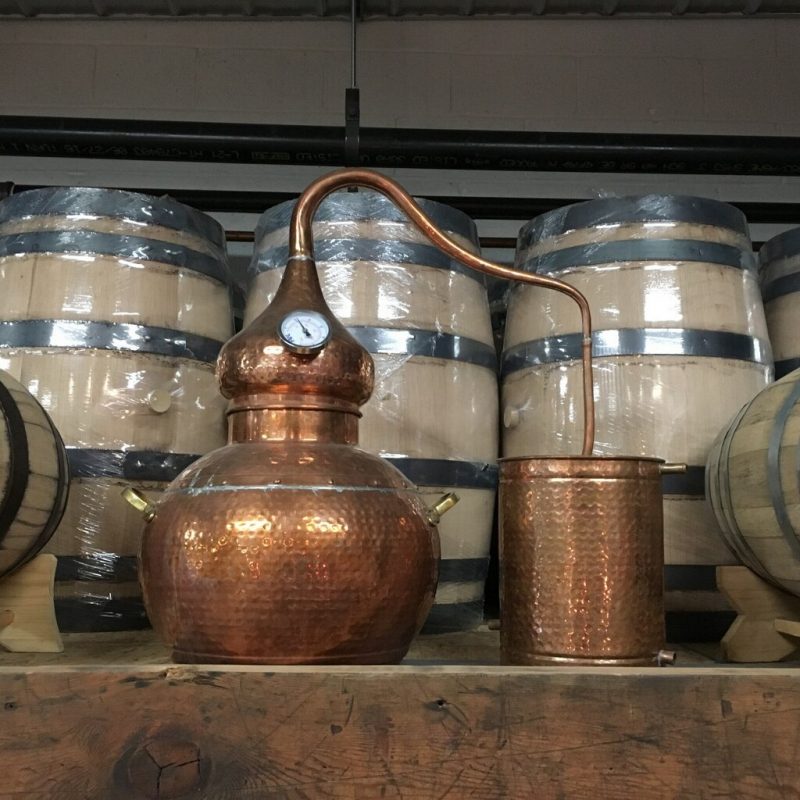 "We bought my father a still for his 70th birthday," Ganter said. "It was actually the same month that they passed the craft distillery laws in New Jersey. My dad had just retired and sold his boat and had a tremendous amount of nervous energy. The still was a means to channel that energy in a fun activity that allowed his sons and him to connect over something."
Looking back, Ganter said, it was kind of funny since no one had any expertise with stills. "We worked very hard to convince one another we knew what to do," he joked.
Fast forward to June 2016.  
The brothers purchased property at 807 Baltic Ave. in Atlantic City, where a 1930s-era building sat in need of a bit of work.
By November 2016 the still was in operation and by March 2017, the distillery was open to the public for tours, tastings and private events.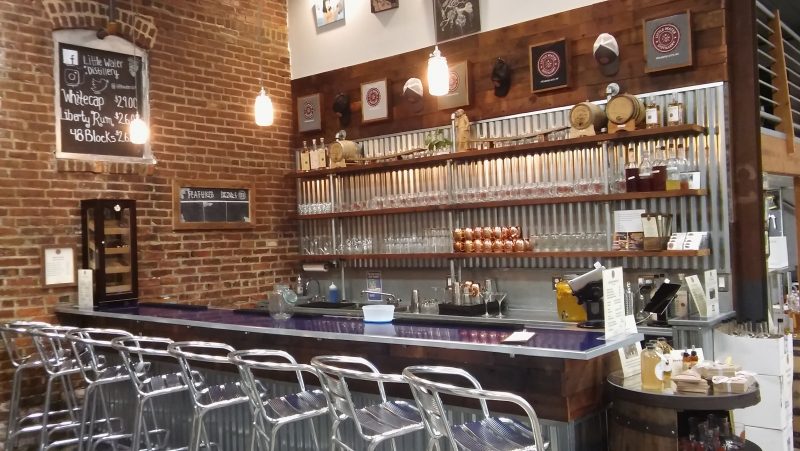 "It was a mid-career reset for both of us," Mark Ganter explained of his new-found profession. "I worked for Total Wine and More and went to retail stores around the country. Eric was a school teacher."
Mark Ganter used to design and build wine, beer and spirits stores from the ground up. Eric, 44, of Ventnor, taught in Ventnor.
So it only made sense, with their different backgrounds, that Mark would handle the sales, marketing, distribution and administrative side of the business, and Eric would handle the production side.
They came up with the name Little Water Distillery because Absecon, which is the neighboring community to Atlantic City, is the Lenape Indian tribe word for "Little Water," Mark Ganter explained.
The craft distillery owned and operated by the brothers is in the heart of what was "Prohibition unfriendly" territory, according to the Little Water Distillery website.
Walking around the hip, industrial building with exposed beams, piping and the huge still, Ganter opened a door to a bathroom, where bottles filled small window-boxes. The blue and green plain glass bottles were Prohibition-era liquor bottles, dug up by locals around the historic building.
"You can't put a shovel in the ground without pulling out glass," Mark Ganter said of the endless stream of bottles that continue to pop up from the ground to this day.
But why select Atlantic City for a distillery?
There were plenty of reasons why, Ganter said. The resort city is filled with bars, restaurants and, of course, casinos, all potential clients for a craft distillery.  
It is also a convenient location because of its proximity to Cape May and Toms River. "There are a million offerings, but our brand is authentic, so we thought we would do well here."
And they have.
"It's a wonderful location," Ganter said. "It is an area where most people wouldn't expect a place like ours. It is far enough away from the casinos. It offers another reason to come to Atlantic City."
The business, he said, is for 20-somethings to 70-somethings to enjoy.
A local connection to the product is the focus. Subtle hints of that local tie-in are seen on the labeling. In small letters there is an AC NJ label on the front of the bottles. The vodka is called 48 Blocks for the 48 Blocks in Atlantic City.
According to the Little Water Distillery website, the spirits each have their own specific characteristics that make it the Little Water Distillery brand. The corn-flavored whiskey called Whitecap American Whiskey is a handcrafted spirit with 24 months of aging in once-used bourbon barrels. 48 Blocks Atlantic City's Vodka is a wheat vodka blended bottled at the Little Water Distillery with the region's water drawn from the Kirkwood-Cohansey aquifer and then finished over local minerals.
Liberty American Silver Rum has a dry taste with subtle tastes of vanilla, sugar cookie, citrus and spice.  And Prosperity American Dark Rum is handcrafted in Atlantic City in small batches aged for a minimum of six months in once-used bourbon barrels. Aromas of coconut and vanilla are followed by flavors of molasses, honey and brown sugar.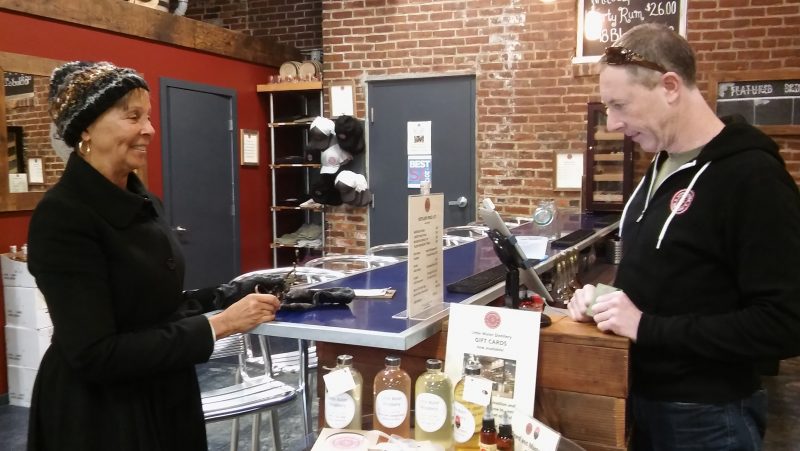 The prices are competitive, Ganter said. A bottle of Whitecap whiskey is $29, rum and vodka are each $26 a bottle. If you don't feel like driving to the resort to pick up a bottle of spirits, you can find them in various retail stores from Princeton south to Cape May. The locations are listed on the distillery website.
And if you aren't sure what type of spirit you'd like to purchase, you can always check out their tours and tastings.
For $7 or $8 per glass, patrons can taste cocktails at the Little Distillery with herbs picked from the garden alongside the distillery. The mixologist will create your own special cocktail using the Little Water Distillery spirits and blending them with the herbs of your choosing.
When people see how much the brothers put into their product and when they taste the cocktail, they will see why the brand is so special, Ganter said.
"Our vision is about the brand and who we are in Atlantic City," Ganter said. "I like the tours and tastings because it is a way for people to learn about our spirits, our brand and our business."
So, for two 40-somethings doing a change of career, Ganter said, "My day starts at 7 a.m. and ends at 7 p.m. It is the same for Eric. When we host events, it is even later. But we are doing well. We always strive to do better and develop a better product. Just creating a brand based on our own commitment and our own vision for what this brand is, has been the most enjoyable part."
Hours for tours and tastings are Thursday and Friday from 5 p.m. to 9 p.m. and Saturday 1 p.m. to 8 p.m. and Sunday 1 p.m. to 6 p.m. For more information call 609-344-7867 or email info@littlewaterdistillery.com.