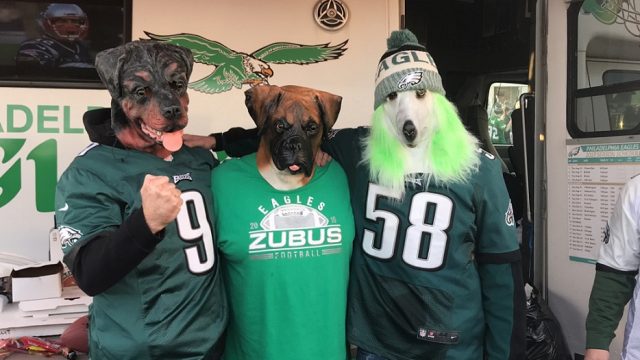 By Tim Kelly
Not even the most optimistic Eagles fans saw this one coming. And not because they had obstructed views through the eye holes of their dog masks.
In this most unlikely of seasons, Sunday's 38-7 destruction of the favored Minnesota Vikings in the NFC Championship game vaulted the Birds onto the game's biggest stage.
Philadelphia punched its ticket to Minneapolis (really? Minneapolis?) for Super Bowl 52 after spotting the Vikes a 7-0 lead and then rattling off 38 straight points. It's their first Super Bowl berth in 13 years and only their third in team history.
"This is why you pay full price for a preseason game," longtime season ticketholder Dave Niedbalski of South Philadelphia said, "so you can be here today to witness Eagles history. Say it with me: the Eagles are going to the Super Bowl."
And not just any Super Bowl, the 52nd edition of the game will feature a rematch of the Birds' loss to Tom Brady, Bill Belichick and company in 2004.  That said, the current edition of the Pats seems a lot more mortal and beatable.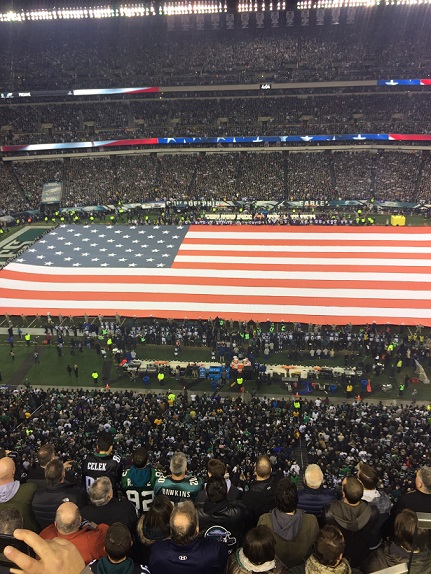 Despite the lopsided score on Sunday, a berth in the big game looked to be anything but a lock in the early going. A rocky start for Philadelphia saw the Vikings march the length of the field on their first possession for the early 7-0 lead.  The Eagles were forced to punt on their first series and Minnesota grabbed a quick first down.
"Here we go again," was a prevailing thought as longtime Eagles fans flashed back to home losses in the NFC title games in 2003 to Carolina and 2002 to Tampa Bay in the last football game at Veterans' Stadium.
Those thoughts were put to rest as the Eagles defense that provided a spark and shift in momentum on a Patrick Robinson interception off a deflected Case Keenum pass and an electrifying 50-yard run back to tie the score.
It was all Eagles after that.
Nick Foles had his best day since taking over for injured MVP candidate, second year starting QB Carson Wentz. All Foles did was pass for 352 yards and three TD's  and committed zero turnovers for a 141 quarterback rating.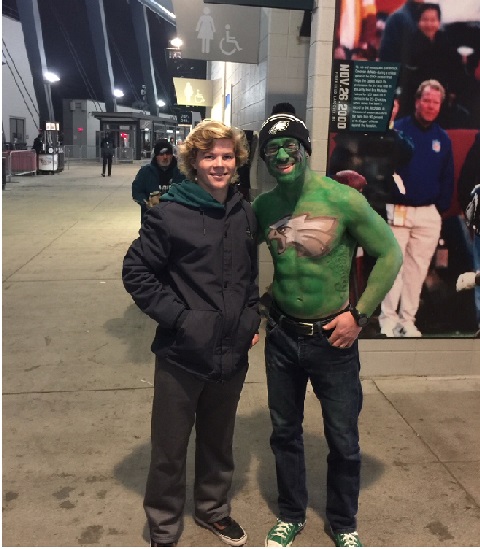 Since Wentz went down with a torn knee ligament week 13, Las Vegas hasn't given Philly much respect and installed them again as 5.5 point underdogs against the New England. Previously they were 2.5 point underdogs to the Atlanta Falcons in the Divisional round, and for the first time ever a top-seeded home team was not favored against a six seed.
If that weren't enough many of the media "experts" scoffed at the Eagles chances,
"Sorry Philadelphia, it's just not going to happen," CBS' talking head Jim Rome said following Wentz'departure on injured reserve.
All Pro Eagles offensive tackle Lane Johnson and linebacker Chris Long embraced the underdog role by donning dog masks when they left the field victoriously against Atlanta.
The "dogs" theme caught on and Eagles management waived its policy of banning masks at the gate for security reasons – provided they were dog masks.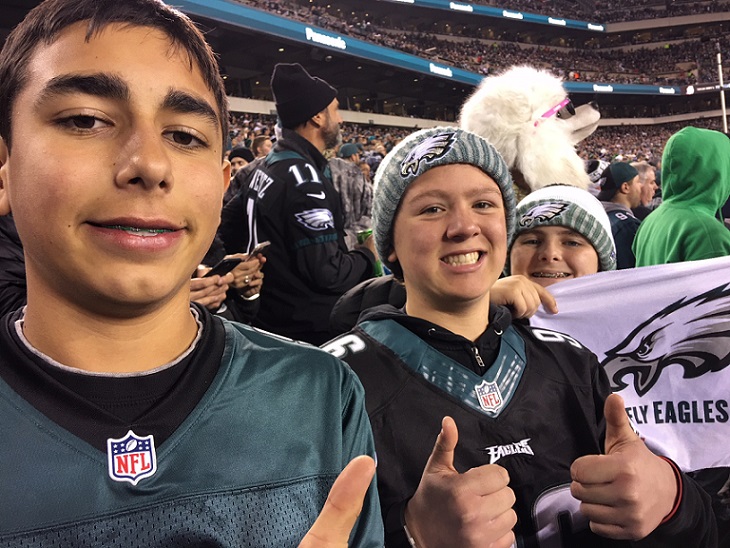 Thousands of fans responded and soon Amazon was sold out of every variety imaginable of dog mask. Every breed was seemingly represented by the disguised fans and some tailgates took it further, decorating with oversized plastic dog bones, dog houses, leashes, tailgate food served in bowls and outfits that included studded collars and leashes.
"Hey this dog theme seems to be working for us, we might as well keep it going," one fan said. "
In the second quarter Sunday, Derek Barnett allowed the Eagles to take control of the game with a strip sack of Keenum and Long's recovery of the loose ball. Foles capitalized with a 53-yard strike to Alshon Jeffrey to make it 21-7. After another defensive stop, Foles engineered a last minute drive into Jake Elliott's range for a 38-yard field goal and a three-possession game at the half.
Then Birds received the second half kickoff and Torrey Smith capped the drive by hauling in a 41-yard Foles TD, officially setting off the party in the stands with more than 25 minutes still to be played.
Fans derisively mocked the Minnesota fans' "Skol" chant and overhand clapping motion and literally danced in the aisles when music blared during TV timeouts. At one point, even the players seemed to be joining the fans in a sing-along of Tom Petty's "I Won't Back Down."
The festivities had actually begun hours before kickoff, as tailgating earlybirds began at 7 a.m.in some parking lots and FDR park. When a reporter arrived at 1 p.m., more than five and a half hours before the scheduled start, all of the coveted free street spots were taken and the paid lots were filling rapidly.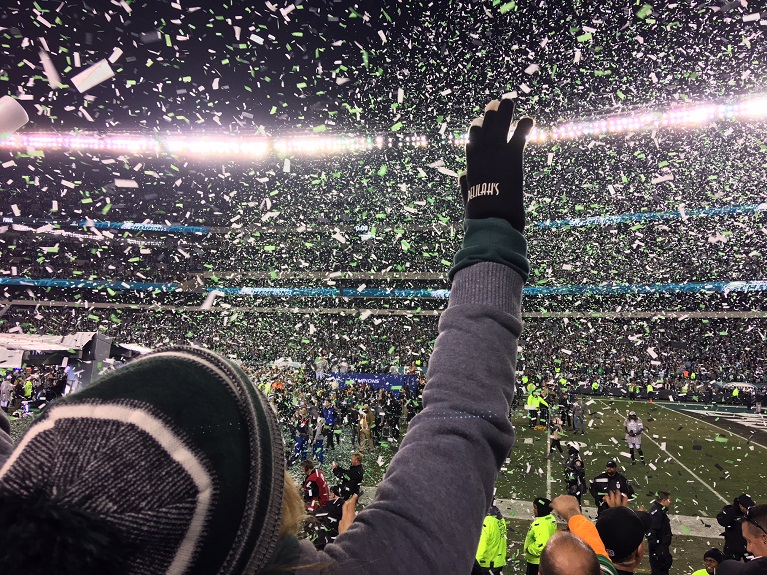 Afterward, few fans left their seats as the NFC Championship trophy was awarded, Coach Doug Pederson praised his players resolve and the fans' support, and Foles received the loudest ovation of all amid flying confetti and Fox broadcaster Terry Bradshaw sang "Fly Eagles Fly" and donned a dog mask.
"These fans are the most passionate in sports," Eagles owner Jeffrey Lurie said.
When they finally left the building, many Birds fans resumed their parties in the lots and surrounding streets. Unlike the loud and boisterous pregame, the scene was mellow with more quiet talk over cigars and champagne toasts, and less chants.
Mellow or not, the talk always turned to the next and final hurdle toward that elusive Lombardi Trophy.
"We're in the Super Bowl and I'm not even sure how we are supposed to celebrate because at the start of the season nobody expected this," said a cigar-chomping man in his 40s who gave his name only as "Jimmy."
"All I know is I gave everything I had for my team and I don't have a whole lot left right now," he said. "That's OK, I have two full weeks to recover and get ready for the big one. This is a chance for revenge.  This is a chance to send the Patriots packing and to have that parade down Broad Street we all want to see."