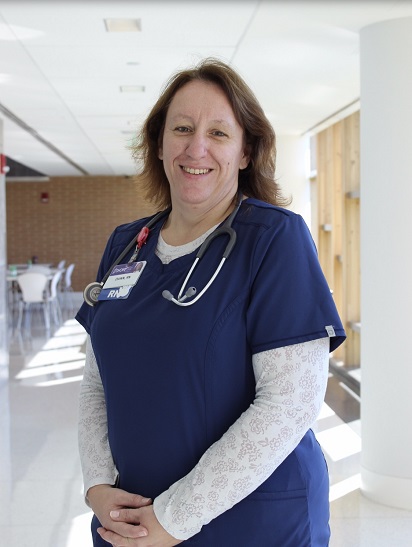 Shore Medical Center is proud to recognize emergency department nurse Dawn Lee, RN, as its November Guardian Angel of the Month for providing passionate and exceptional care to Shore's patients. The Guardian Angel program was established to enable members of the community to say thank you to a special Shore caregiver through a donation to the medical center.
Lee was hired as a nurse in Shore's emergency department in 2013, where her roles include triage nurse, charge nurse and critical transport nurse.
Annmarie Guerrieri, RN, BSN, nurse manager of the emergency department, says Lee gives 100 percent to the department and her patients.
"Dawn is skilled at multitasking while always keeping her main focus on her patients. She's a team player and strong advocate for her patients and their loved ones," says Guerrieri.
A family member of a patient Lee treated said Dawn provided his family member with excellent care.
"She was knowledgeable, attentive and extremely kind and compassionate," he said.
Lee lives in Millville with her husband and daughters.
ABOUT SHORE MEDICAL CENTER
At Shore Medical Center, located in Somers Point, NJ, kindness complements an extraordinary level of clinical sophistication. People are the foundation of this modern medical center where advanced technology harmonizes with compassionate care. Shore Medical Center attracts the area's best physicians, nurses and clinicians, and is the first and only hospital in New Jersey and one of 86 healthcare organizations worldwide to earn Designation as a Planetree Patient-Centered Care Hospital®. Recognized for its dedication to patient safety, Shore has received five consecutive "A" grades in The Leapfrog Group's Hospital Safety Score since Fall 2014. Shore Medical Center is home to six Centers of Excellence for Cancer, Cardiovascular, Neurosciences, Spine and Orthopedic, Emergency and Maternity and Pediatric care. Shore's affiliations include Penn Medicine, Onsite Neonatal Partners, St. Christopher's Hospital for Children, Advanced ICU Care, Mayo Medical Laboratories, and Advanced Radiology Solutions. In addition, Shore is a member of the Jefferson Neuroscience Network and has physicians on staff from the Rothman Institute. In 2011, Shore opened its Pediatric Care Center, the first of its kind in New Jersey, and its state-of-the-art Surgical Pavilion and Campus Expansion. The Shore Medical Center Planned Giving & Development team (www.GivetoShore.org) creates and implements dynamic philanthropic programs that support the mission of Shore Medical Center.