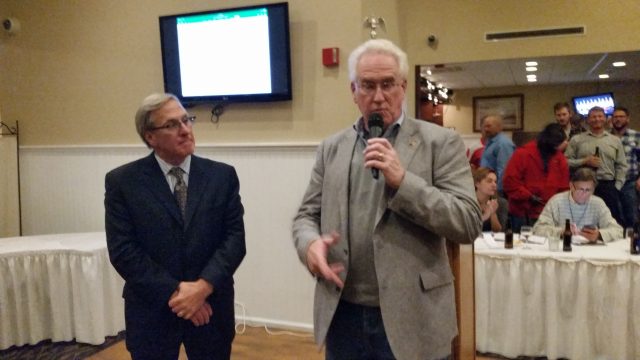 By Donald Wittkowski
Cape May County Republican Freeholders Will Morey and Jeffrey Pierson cruised to victory Tuesday night, while Sen. Jeff Van Drew led a Democratic sweep in the First Legislative District.
In New Jersey's top race, Democrat and former Wall Street executive Phil Murphy defeated Republican Lt. Gov. Kim Guadagno to win the governor's seat. Guadagno served in the No. 2 position for eight years under Republican Gov. Chris Christie, who was restricted from running for a third term.
Morey and Pierson beat back a challenge from Democrats Danielle Davies and Gregory Wall, both political newcomers, to keep the five-member Cape May County freeholder board entirely in Republican control.
Freeholder terms are for three years. Morey won his third term, while Pierson captured his first. Pierson, a retired Army brigadier general, was appointed to the board in 2016 to fill the unexpired term of former Freeholder Kristine Gabor after she resigned to accept a new job.
In unofficial results late Tuesday night, Morey had 16,249 votes, Pierson 15,253, Davies 11,806 and Wall 11,213.
Morey and Pierson thanked a roomful of jubilant supporters at the Republican campaign headquarters at the Bellevue Tavern in Cape May Court House.
"As Will says, we're building our tomorrow. We're making it happen," Pierson told the cheering crowd.
For Morey, it was the first time he faced opposition in his freeholder career. He ran unopposed in his first two elections.
"It made me think, 'This is a precious opportunity. Make sure you do it well,''' Morey said of having to fight for re-election this time around. "It was a great learning experience."
In the past 40 years, only two Democrats have won election to the freeholder board, according to Cape May County Clerk Rita Marie Fulginiti.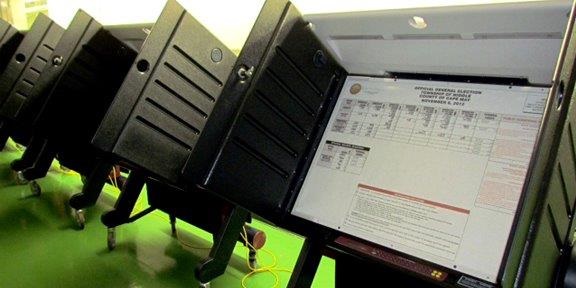 Meanwhile, the First Legislative District race saw Van Drew capture his fourth term in the Senate by easily defeating Republican Mary Gruccio, the Superintendent of Schools in Vineland and former Cumberland County freeholder.
Van Drew outpolled Gruccio by more than a 2-to-1 margin in Cape May County and nearly doubled her vote total in Cumberland County, according to unofficial returns,
Van Drew's running mates, incumbent Assemblymen Bob Andrzejczak and R. Bruce Land, held off Republicans Jim Sauro and Robert Campbell to keep the First Legislative District in Democratic hands.
Andrzejczak and Land scored decisive margins in both Cape May and Cumberland counties. Sauro, a Cumberland County freeholder, and Campbell, the mayor of Downe Township, had trouble making inroads in their Cumberland County base.
The First Legislative District encompasses all of Cape May County, most of Cumberland County and a small part of Atlantic County.
Overall, voter turnout was low. Even with the governor's race topping the election, it appears many voters decided to stay home instead of venturing out in the soggy weather through most of the day and night. In Cape May County, for instance, turnout was only 44 percent of the 70,120 registered voters.
"In past governor's races, I've seen a 50 to 55 percent voter turnout, but with the rain it could be low. People don't want to go out when it rains," Fulginiti said.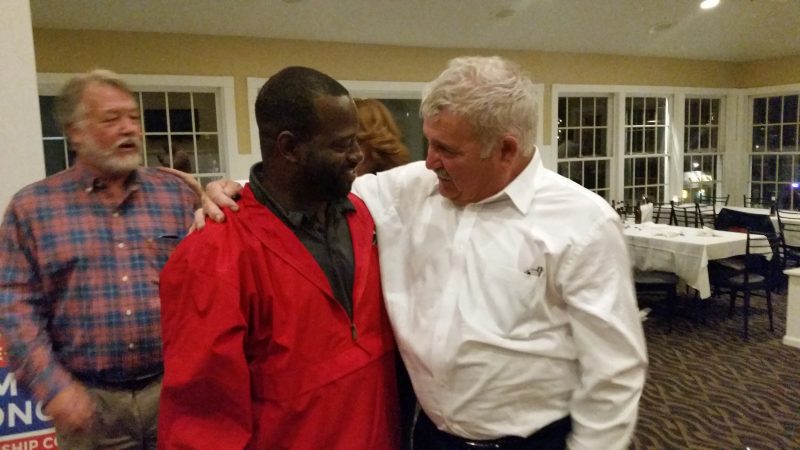 While the freeholder election wasn't tight, the race for Cape May County Sheriff saw Republican Robert Nolan edging Democrat Richard Harron. With all but one district reporting, Nolan garnered 14,713 votes to Harron's 14,084.
Nolan, who currently serves as undersheriff, will succeed Sheriff Gary Schaffer, who is retiring. In a victory speech, Nolan told supporters at the Bellevue Tavern that it was a hard-fought win.
"I never thought in a million years that the race was going to be this tough," Nolan said, while praising Harron for his election effort.
Nolan, who has worked in the Sheriff's Department for more than 30 years, said it was his "dream" to become sheriff.
Republican Dean Marcolongo ran unopposed for Cape May County surrogate. Marcolongo will replace Susan Sheppard, who resigned as surrogate this year to become a state Superior Court judge.
Meanwhile, in one key Atlantic County race, incumbent Republicans Kirk Gerety and James Toto won re-election in Somers Point to City Council.
Gerety defeated Democrat Genevieve DeVito in the First Ward. In unofficial results, Gerety had 232 votes to DeVito's 184.
Toto fended off Democratic challenger John DiMaria in the Second Ward. Toto had 421 votes, while DiMaria, a former Somers Point mayor and councilman, had 312.
The election also included Board of Education races in Somers Point, Ocean City and Sea Isle City.
Four candidates sought three seats on the Somers Point school board. The winners were incumbents John Conover and Michael Sweeder and newcomer Joshua Palombo. Another newcomer, Anthony Zappile, came up short.
In Ocean City, school board incumbents Joseph Clark, Cecilia Gallelli-Keyes and Michael James ran unopposed.
Sea Isle school board incumbents Dan Tumolo and Kerry Mullane also faced no opposition.