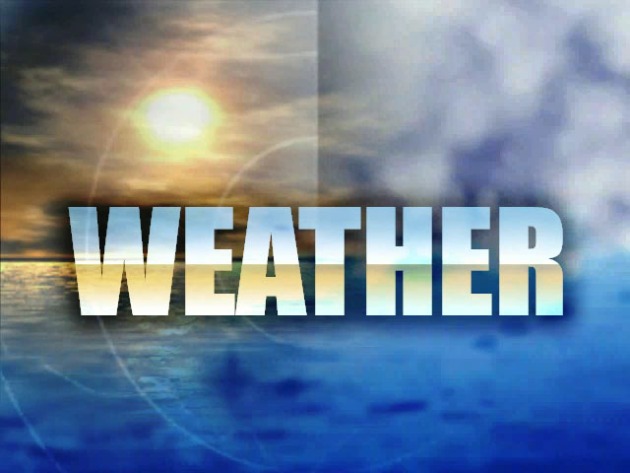 A rare summertime coastal storm is set to strike our area later Friday into Saturday with periods of heavy rain and flooding. This storm, similar to a fall or winter-like Nor'easter will track across the Mid-Atlantic and intensify offshore.
Flash Flood Watch is in effect for the potential for 2-5″ of rain which will cause street flooding. You should avoid parking in the usual flood prone streets.
The heaviest rain will arrive late Friday and continue through Early Saturday morning.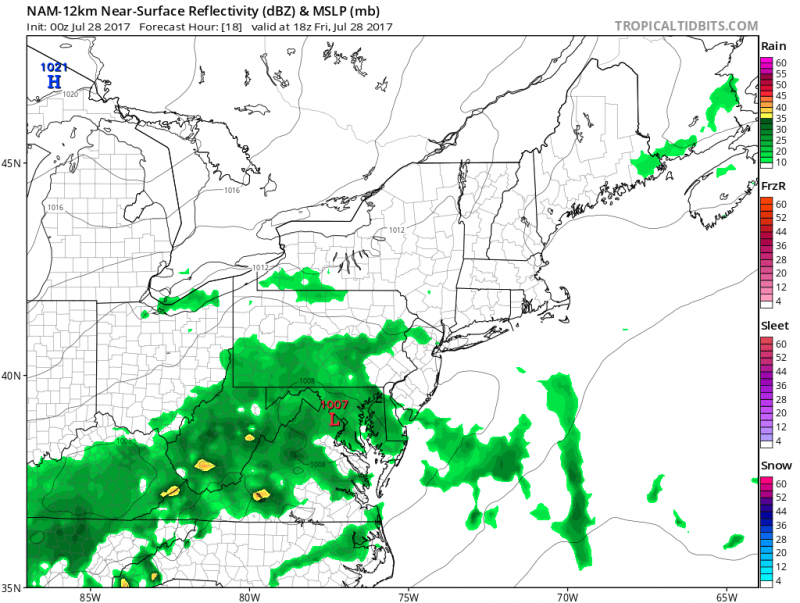 Friday afternoon shows the heaviest rain still to our south & west.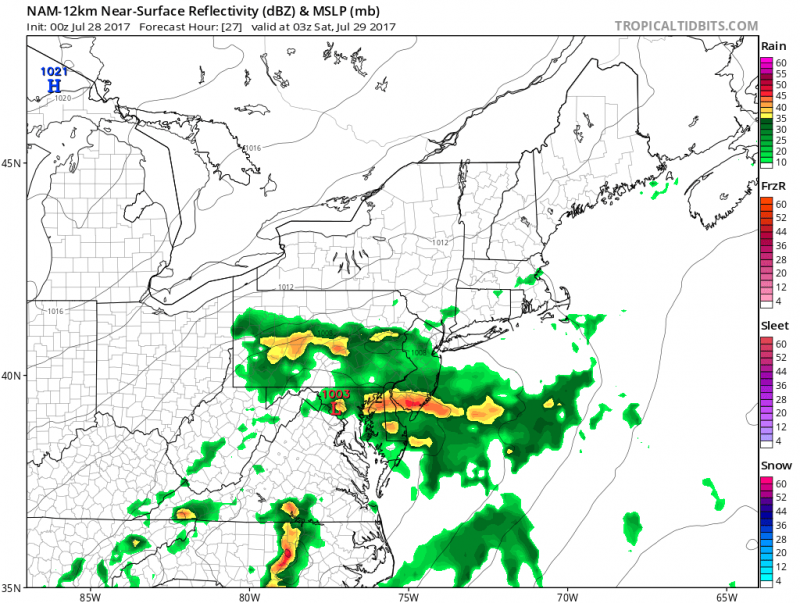 Heavy rain.t'storms move in Friday night.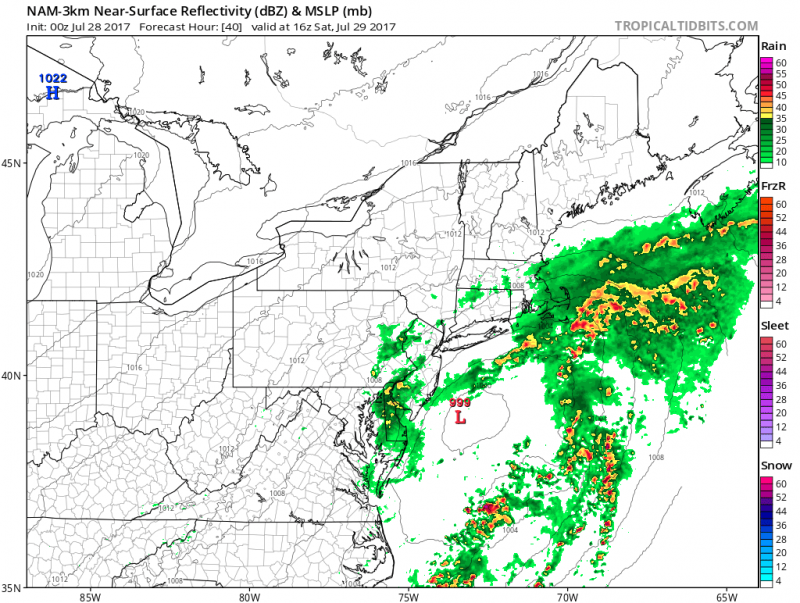 Lingering rain could continue into Saturday afternoon.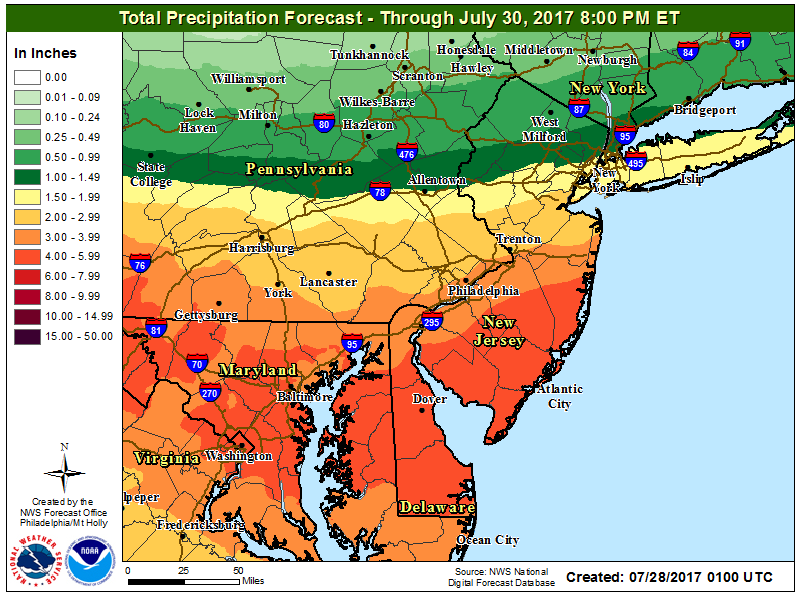 NOAA: Rainfall amounts of 2″-4″ with locally higher amounts are possible.
As the storm intensifies and slowly pulls away on Saturday, winds will increase out of the northeast gusting over 20mph. Fortunately, we are in between full and new moon which means tides are running below normal. This will keep any significant tidal flooding threat. In fact, the only threat of minor tidal flooding could be after the heaviest rain has ended. The best chance of any minor tidal flooding Saturday night and Sunday as persistent onshore winds continue and wave heights offshore increase.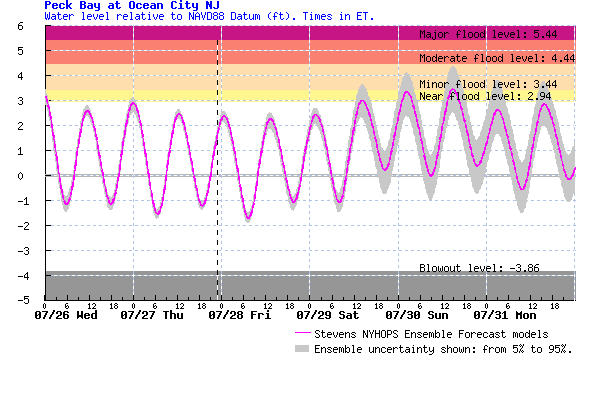 Uncertainty lies for the remainder of the weekend, it will be much drier on Sunday but we still could see some light rain or drizzle. Temperatures will be cooler as well, temperatures will hold in the low to mid 70s. Not a great beach weekend…UV Index will remain low due to extensive cloud cover and seas will slowly increase from 2-3 feet Friday to 3-5 feet over the weekend.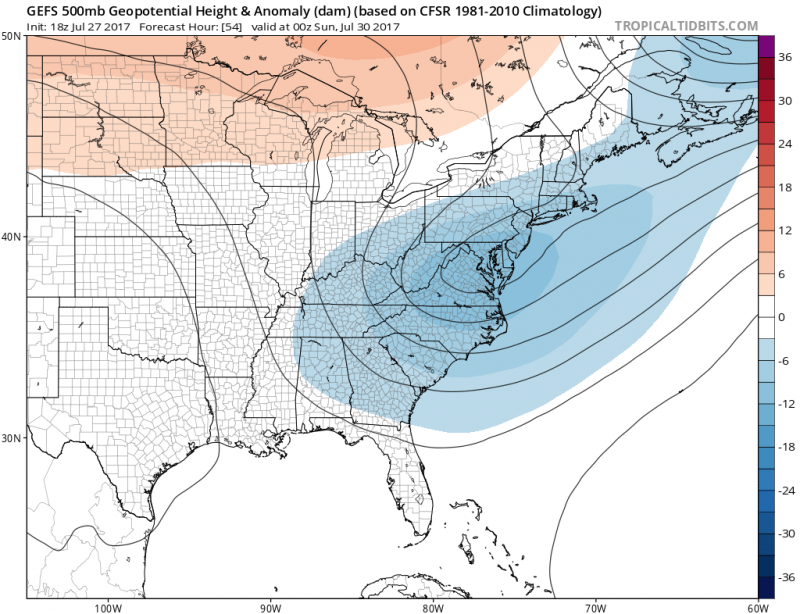 Clouds and cooler temperatures will continue into early next week as the trough of low pressure remains along the East Coast. Sunshine and warmer temperatures should return by Tuesday.