By Donald Wittkowski
There were boxes and baskets brimming with big, plump juicy tomatoes and succulent corn on the cob.
Mouthwatering zucchini, squash, cucumbers and peppers were also among the freshly grown vegetables that came from Andy Kraynock's farm in Cedarville, Cumberland County.
All of them carried Kraynock's "home grown" label to certify that they were, indeed, vegetables harvested from his fields.
Although farmers markets are a common summer treat for motorists venturing out on the rural roads of South Jersey, Kraynock's fruits and vegetables were being sold at a place you might not ordinarily expect: a hospital.
Bringing it back for a second year, Shore Medical Center in Somers Point celebrated the grand opening Friday of its Farmers Market & Craft Fair. Dignitaries marked the occasion with a watermelon-cutting ceremony, providing a humorous twist on the traditional ribbon-cuttings that are usually held to celebrate grand openings.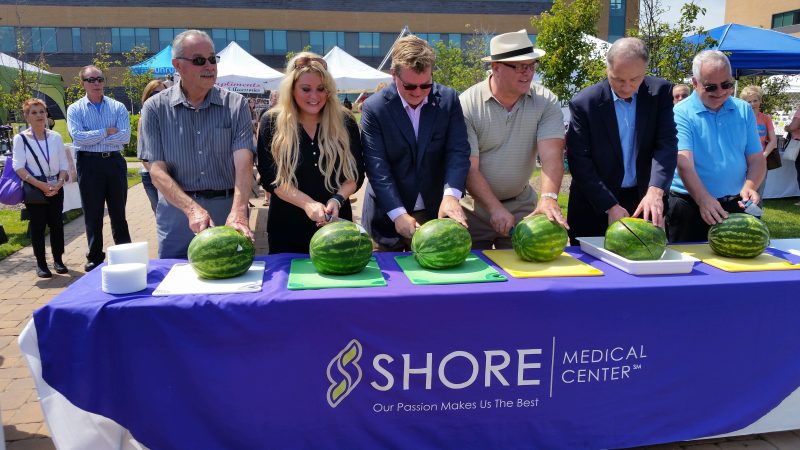 One of the VIPs on hand for the ceremony, state Assemblyman Vince Mazzeo, who has his own produce and fruit business in Northfield, joked that he has cut many a watermelon in his day.
Mazzeo, D-Atlantic, noted that farmers markets have been popping up all over New Jersey in recent years as more and more people shop for the freshest foods and embrace healthier eating.
"When you buy local, it's very good for the community and your health," Mazzeo said.
Ron Johnson, president and chief executive officer of Shore Medical Center, explained that the farmers market is another way the hospital serves the local community and promotes a healthy lifestyle.
"For us, being part of the community is very, very important. We want to be as close to the community as we possibly can," Johnson said.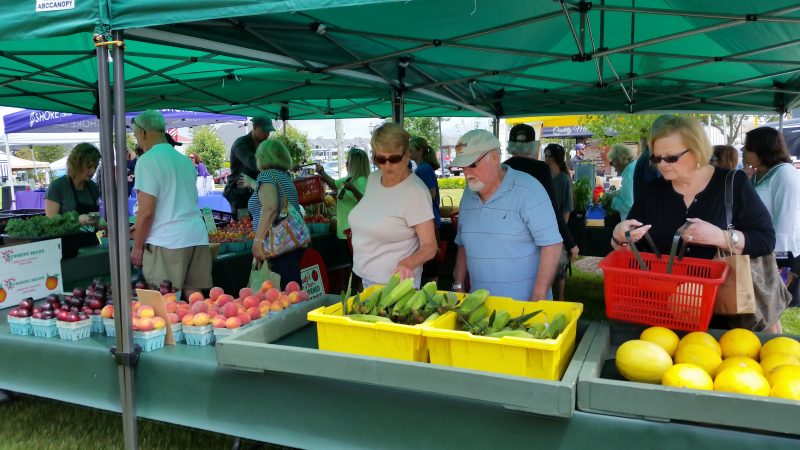 To accommodate the Farmers Market & Craft Fair, the hospital lawn overlooking Bay Avenue has been transformed into a miniature tent city featuring local vendors selling everything from handmade soaps to stylish clothes to fine jewelry and much, much more, including baked goods.
The Farmers Market & Craft Fair will be open every Friday from 2-6 p.m. through Sept. 8. Shore Medical Center will also hold a patriotic ceremony of songs and flags honoring the men and women of the military each Friday beginning at 6 p.m. on the same grounds.
Kraynock, who also operates a country food stand in Petersburg, Cape May County, said he intends to be at Shore's farmers market each week "God willing."
A farmer since 1969, Kraynock emphasized that his produce is grown without using pesticides or herbicides.
He seemed especially proud of his supersized, Jersey tomatoes, which were bright red and bursting with flavor.
"We are well-known for our tomatoes," he said. "They taste as good as they look. Get a pound of bacon and a pound of white bread with them and you'll have a nice, little dinner there."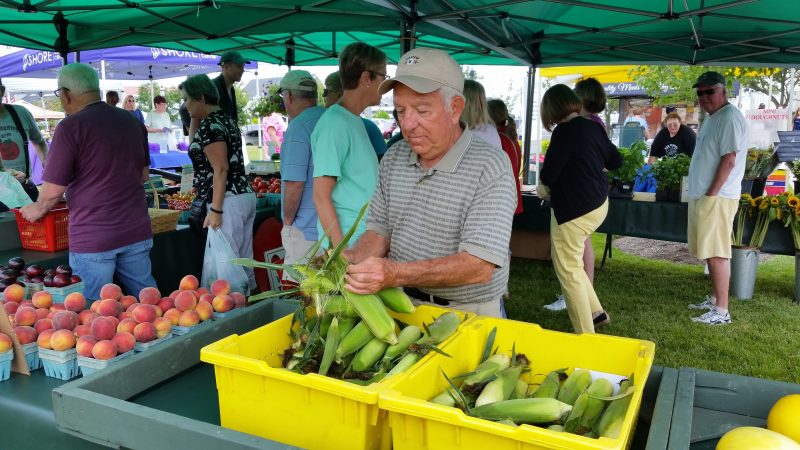 One shopper, Carmen D'Angelo, of Ocean City, was picking up some tomatoes and corn for a dinner at home with his wife, Norma.
"I'm looking for something fresh," D'Angelo said. "There's nothing like fresh, home-grown food. It's good for you."
Carole and Robert Trautz, a married couple from Somers Point, were buying corn, zucchini and cucumbers. Carole said she planned to cook the zucchini with a salmon dinner.
The farmers market gave Carole an afternoon outing with her husband.
"Anything that has to do with good food, we're agreeable," she said, laughing. "It's the freshness of it all. Everything looks so good."