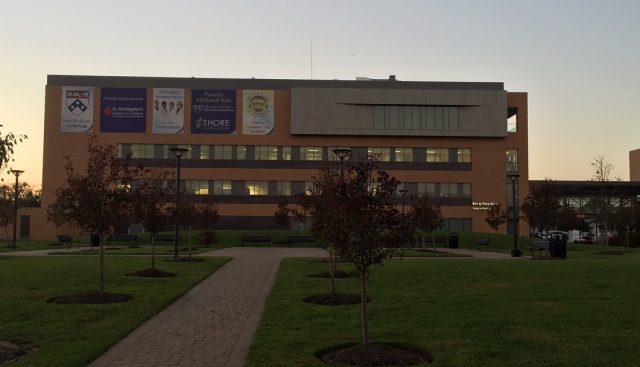 Shore Medical Center Presents the 2017 Farmers Market and Craft Fair in partnership with The AC Hub and Somers Point-Community First 
Keeping with its mission of caring for the community, Shore Medical Center is proud to announce that it has partnered with local event company, The AC Hub, and local volunteer organization, Somers Point-Community First, to bring the 2017 Farmers Market and Craft Fair to Somers Point, NJ. This market will be held every Friday, from June 16 to September 8, from 2 pm to 6pm. It will be located in front of the hospital on Bay Avenue between Medical Center Way and New York Avenue. A portion of the proceeds from the weekly event will be donated to Shore's Cancer Center.
"We tested the waters with our Farmers Market and Craft fair in the fall, and the response was incredible," said Brian Cahill, Marketing Director for Shore Medical Center. "This summer's market, which will be held every Friday afternoon, will feature even more local produce, food and craft vendors, plus additional offerings like nutrition and wellness educators, food vendors, yoga, local honey, fresh cut flowers and more."
"We are excited to partner with Shore Medical Center in bringing a farmers market and craft fair to the Somers Point community every Friday this summer," said Dina Guzzardo, director of public relations for The Hub. "This market will provide an opportunity for local vendors to offer a vast selection of diverse items as well as the benefit to the neighborhood to come together and purchase fresh fruits and vegetables as well as handmade treasures and other quality items. Our pleasure and priority is always to provide a benefit to the local community. In keeping with our culture and belief in the importance of giving back, we will donate a portion of the proceeds to Shore Medical Center's Cancer Center."
"With the Farmers Market and Craft fair in the afternoon, followed by the beach concerts, Somers Point is going to own Fridays this summer," said David Hughes, Somers Point resident and volunteer member of Somers Point-Community First. "It is so great to see the vendors, the medical center, and community leaders coming together with the support of local officials to make this happen. As residents of Somers Point, we're thrilled to have helped bring another great offering to the town which will further bring the community together."
Vendor opportunities are available. To become a vendor, please contact Dina at dina@theachub.com or 609-377-8484.
Parking will be available in the Medical Center parking lot, which is accessible off of Medical Center Way, for $5.
ABOUT SHORE MEDICAL CENTER At Shore Medical Center, located in Somers Point, NJ, kindness complements an extraordinary level of clinical sophistication. People are the foundation of this modern medical center where advanced technology harmonizes with compassionate care. Shore Medical Center attracts the area's best physicians, nurses and clinicians, and is the first and only hospital in New Jersey and one of 86 healthcare organizations worldwide to earn Designation as a Planetree Patient-Centered Care Hospital®. Recognized for its dedication to patient safety, Shore has received six consecutive "A" grades in The Leapfrog Group's Hospital Safety Score since Fall 2014.  Shore's affiliations include Penn Medicine, Onsite Neonatal Partners, St. Christopher's Hospital for Children, Advanced ICU Care, Mayo Medical Laboratories, and Advanced Radiology Solutions. In addition, Shore is a member of the Jefferson Neuroscience Network and has physicians on staff from the Rothman Institute. In 2011, Shore opened its Pediatric Care Center, the first of its kind in New Jersey, and its state-of-the-art Surgical Pavilion and Campus Expansion.
ABOUT SOMERS POINT-COMMUNITY FIRST
 Somers Point – Community First is a volunteer organization that serves as a voice of the Somers Point community and assists in various projects that promote the betterment of the city.  It assists in offering organizations and businesses advice, expertise, community project partnerships, and more, but does not provide financial support. If your organization would like to be considered for assistance, please contact David Hughes at 609.653.3299.