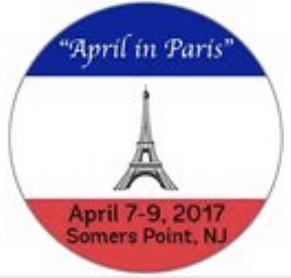 April in Paris
When Somers Point, NJ Comes Alive with everything French!!
April 7, 8 and 9
~ The Schedule at a Glance ~
April in Paris is three-day weekend event throughout Somers Point that will feature a number of special "French" themed events & activities.
FRIDAY, April 7
Learn French: Conversational French for Beginners L'Art de France, French Art Exhibit meet & greet the artists; Wine tastings Gypsy Jazz by "Ameranouche"
SATURDAY, April 8
 French Onion Soup Competition Allons-y! A Wine Tour of France French Cafe Dining & Music with French duo JAC & CO
SUNDAY, April 9
Lunch & A French Film,  Amelie (R)
PRE-EVENT
Wednesday, April 5
Spring Evening of Spoken Words & Music
Businesses in town are Participating. Be sure to Check them out.
"April in Paris" is being Presented By The Somers Point Business Association With Additional Sponsors & Partners  City of Somers Point/EDAC, Somers Point Arts Commission, South Jersey Jazz Society, Jim Tuohy, Greate Bay CC, Somers Point Unique Experiences Club, Shore Medical Center, Somers Point Community First, Mainland Regional HS French Club, South Jersey Wine Friends