By Donald Wittkowski
Four City Council incumbents in Somers Point are facing challengers in an election battle that features Republicans trying to retain their super-majority against a slate of Democrats that includes a former mayor.
Major issues in Tuesday's election include taxes, city services, economic growth and the development of the Gateway Playhouse, the historic city-owned theater that is scheduled to reopen next year after a lengthy closing.
Both the Republican and Democratic sides said they are running a unified ticket. Currently, City Council is controlled by Republicans by a 6-1 margin.
Veteran Councilman Carl D'Adamo, the lone Democrat on the governing body, is among the incumbents seeking re-election. D'Adamo will face Republican Michael Owen for an at-large Council seat.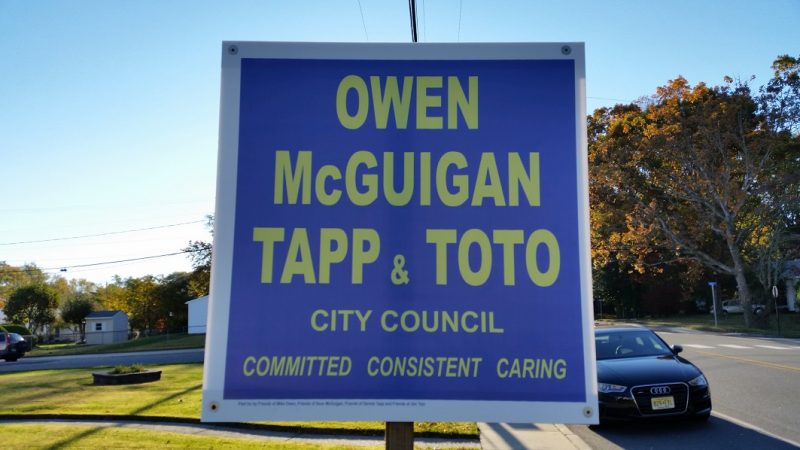 In the First Ward, incumbent Republican Sean McGuigan is being challenged by Democrat Genevieve DeVito.
The race for a full, three-year term in the Second Ward pits Council President Dennis Tapp, a Republican, against Democrat John DiMaria, a former mayor and ex-councilman.
Also in the Second Ward, incumbent Republican James Toto will square off against Democrat Susan Slaughter, DiMaria's wife, to fill the final year of an unexpired term.
Toto was appointed to fill a vacancy created when former Councilwoman Maureen Kern was elected as an Atlantic County freeholder. The race between Toto and Slaughter is to complete the remainder of Kern's term through 2017.
Attracting much of the attention is the matchup between Tapp and DiMaria, which renews an old rivalry. Both men have defeated each other in previous elections. DiMaria won their first encounter, but Tapp came back to win the next time around.
Deep divisions separate the Republican and Democratic slates. The Republican team is touting itself for maintaining city services and ppkeeping the tax rate stable.
"That really is the key issue," Tapp said.
DiMaria, though, said taxes "just keep going up" while Republicans have been in power.
Calling for an overhaul of city government, DiMaria is hopeful that at least three of the four Democrats will win on election night.
DiMaria said the Republicans have been too eager to follow the "marching orders" of party leaders.
Tapp, though, said Republicans have had an open and transparent government while avoiding controversies.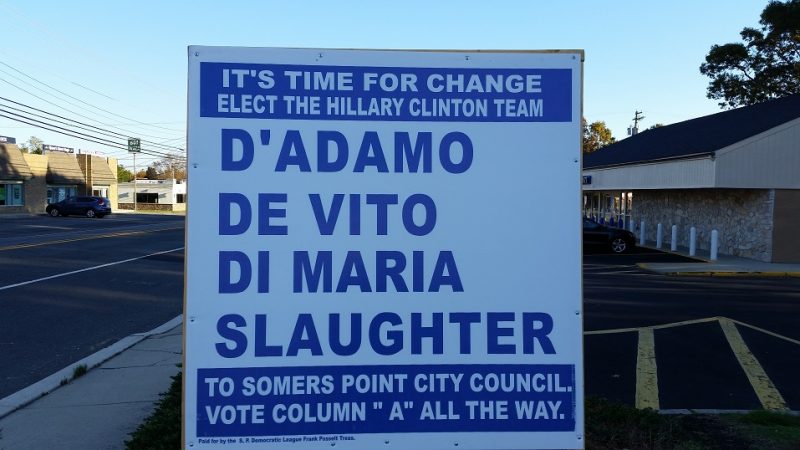 "People are happy," Tapp said. "We've turned the town around."
Republicans say they have engineered an economic revival that has made the bayfront town more appealing to investors, visitors and retirees.
The rebirth of the Gateway Playhouse and the renovation of the distressed Bayview Courts apartment complex into more attractive housing are two centerpieces of the city's revitalization, Tapp said.
The playhouse on Bay Avenue closed in 2005 and suffered another blow in 2012 when it was damaged by Hurricane Sandy. However, hurricane disaster funding is helping to get the theater reopened.
Tapp said City Council has awarded a $675,000 construction contract to have the Gateway ready by next spring. Republicans believe the theater is pivotal in efforts to promote Somers Point as a year-round tourist destination.
"To me, that is a big shot in the arm for economic development," Tapp said of the Gateway. "It will bring more people here and make Somers Point more attractive."
While Tapp views the Gateway as crucial for the city's growth, DiMaria criticized it as a financial drain. DiMaria noted that city officials have been debating what to do with the Gateway for about 20 years.
"That thing has been nothing but a bottomless pit," DiMaria said. "There is no end to it."