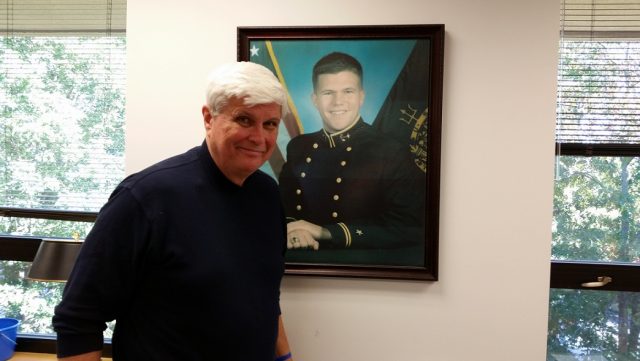 By Donald Wittkowski
His name and picture are on signs, billboards, posters, websites and other media promoting the John R. Elliott HERO Campaign for Designated Drivers.
Tragically, his name is also on a small granite cross at a roadside memorial that marks the spot in Upper Pittsgrove Township, Salem County, where Elliott was killed by a drunken driver on July 22, 2000.
Bill Elliott, along with his wife, Muriel, founded the HERO Campaign to honor their son's memory and fight drunken driving. Now, Bill Elliott wants the public to get to know John on a more intimate level.
Sixteen years after his son's death, Elliott is working on a biography that promises to go much deeper than what has already been written and said about John through the HERO Campaign.
Titled "The HERO Officer," the book will focus on John's experiences at the U.S. Naval Academy in Annapolis, Md., including memories shared by his former classmates. It is expected to be completed next year.
"This is a true labor of love, not something I feel compelled to do in honor of his legacy and memory," Bill Elliott said.
The HERO acronym stands for Human Education Resources Officer. This type of HERO is selected by their peers at the Naval Academy to serve as a mentor and counselor. John Elliott was named the top HERO of his graduating class.
"He was so caring and so good," Bill Elliott recalled. "In his senior year, he was named HERO of the Year."
John Elliott is buried at the Naval Academy Cemetery in Annapolis. His tombstone bears the family tribute "Our Hero." It is followed by the inscription, "Beloved son, brother and friend. He filled our lives with love, laughter and happiness and will live on in our hearts forever."
His graduation photo from the Naval Academy serves as the iconic image for the HERO Campaign. In the picture, the handsome 22-year-old ensign is clad in a dress blue uniform and smiles confidently, as if he sensed he would accomplish great things in his life.
But only two months after graduating in May 2000, he was killed. The crash also killed the drunken driver who hit Elliott's car head-on. Elliott was en route to his parents' home in Egg Harbor Township to celebrate his mother's birthday.
His death inspired his parents to create the HERO Campaign in October 2000. John's Law, a state bill named in Elliott's honor, followed in 2001, allowing New Jersey police to seize the vehicles of suspected drunken drivers for up to 12 hours after they are arrested.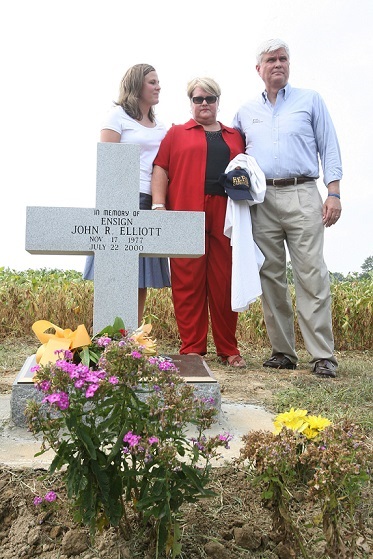 Bill and Muriel Elliott and their daughter Jennifer Adamchak standing at the roadside memorial that marks the spot where John Elliott was killed by the drunken driver in Upper Pittsgrove Township, Salem County, in 2000.
The man who killed Elliott had been arrested and charged with drunken driving just two hours before the crash, but was released to the custody of a friend, who let him get behind the wheel again.
Bill Elliott said police have told him that 7,500 vehicles per year are impounded as a result of John's Law, keeping them out of the hands of alleged drunken drivers while they are still inebriated.
The HERO Campaign, meanwhile, has grown to about 30,000 people who have signed pledge cards to serve as designated drivers or to use them when alcohol is involved. Bars, taverns and restaurants participating in the campaign — there are about 200 in New Jersey and 100 in Pennsylvania — provide designated drivers with free soft drinks.
"It becomes a standard behavior that you just do, like wearing a seatbelt," Elliott said of using designated drivers when other people are drinking.
New Jersey, Delaware, Pennsylvania, Kentucky and Virginia have formally embraced the HERO Campaign's call for designated drivers. Maryland and Massachusetts have not gone as far as those states, but do have HERO Campaign-related events, Elliott said.
The HERO Campaign, a nonprofit organization that largely depends on corporate sponsors and private donations, will hold a fundraising event on the Ocean City Boardwalk this Sunday. Now in its sixth year, the 5K HERO Walk is scheduled to begin 11 a.m. at Sixth Street and the Boardwalk.
Bill Elliott said the event, which usually attracts 800 to 1,000 people, is expected to raise about $50,000.
The Ocean City High School girls' soccer team will be featured in a new "Be a Hero" television commercial filmed at the fundraising walk to promote designated driving. Members of the soccer team, as well as their coach, Kelly Halliday, and her family, have raised nearly $15,000 for the HERO Campaign in the past five years, according to a press release.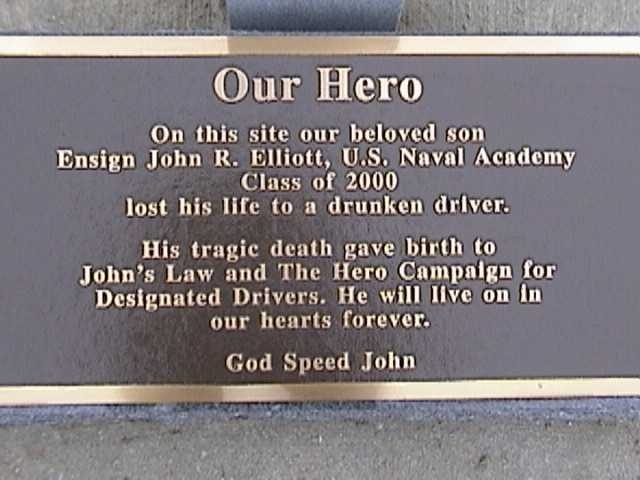 Ocean City teachers, students and their families will join the soccer team at Sunday's event. Teams from Ocean City's primary, intermediate and high schools and the Key Club will also be there to add to the $30,000 they have raised for the HERO Campaign in the past five years, the press release said.
Looking back at the HERO Campaign's achievements in the past 16 years, Bill Elliott said the organization has been credited with helping to reduce drunken driving fatalities in New Jersey and other states.
A recent poll by Stockton University of 800 people in Atlantic and Cape May counties found that 70 percent of the respondents were aware of the HERO Campaign and 40 percent had served as designated drivers in the past 12 months, according to Elliott.
"That indicates we are on the right track," he said. "We want people to think of us when they hear, 'Be a Hero.'"
While the research indicates that the HERO Campaign has a high degree of recognition locally and regionally, the organization hopes to spread its mission nationally through new partnerships with corporations and other affiliations, Elliott said.
"It's a good time now to take stock of where we're going in the future," he said.
Wawa, the convenience store chain, has been the campaign's biggest corporate sponsor, donating hundreds of thousands of dollars. Uber, the ride-hailing service, recently signed up 2,000 of its drivers in New Jersey and Pennsylvania to take the HERO pledge as designated drivers, Elliott said.
Currently, the 67-year-old Elliott serves as the campaign's co-chairman and chief executive officer. His wife, Muriel, also 67, is co-chair. Their daughter, Jennifer Adamchak, is vice chair.
Elliott said many people have asked him, "Why aren't you a national campaign?"
As it considers new partnerships and a push to a nationwide presence, the HERO Campaign is eager to "take it to the next level," Elliott noted.
Elliott said he doesn't necessarily need to continue overseeing the campaign's day-to-day operations if it becomes a national organization.
However, he stressed that the HERO Campaign's mission would continue to focus on promoting designated drivers and that John Elliott's name would remain.
By retaining his son's name, the HERO Campaign would keep John's legacy alive for years to come, Elliott said. He believes his son's legacy is also rooted at the Naval Academy, where John earned the honor as the top HERO.
"There were friends who called him 'Admiral' because of how smart he was and how he helped them," Elliott said. "He also had this special leadership quality to reach out and touch people."