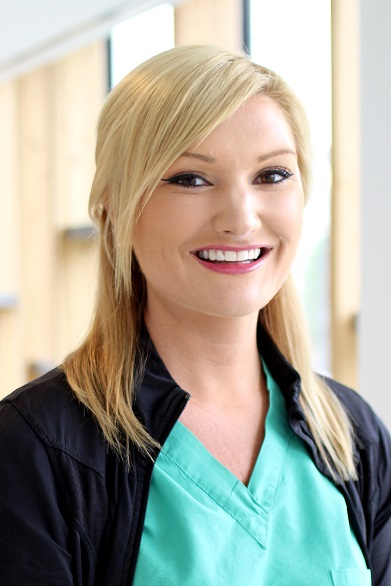 For consistently delivering outstanding patient-centered service and embodying Shore Medical Center's Mission, Vision and Values, Shore is proud to announce that Lactation Consultant and Childbirth Educator Lauren Matalucci, BA, IBCLC, ALC, CLC has been named the medical center's June 2017 Employee of the Month.
Matalucci joined Shore in December of 2012 as a lactation counselor, and soon became Co-Director of Shore Beginnings Prenatal & Wellness program. As a Lamaze-trained childbirth educator, she coaches expecting parents through the childbirth experience, and as an International Board Certified Lactation Consultant, she helps new mothers with lactation support so they can be successful in their breastfeeding journey. Matalucci is also the Perinatal Bereavement Coordinator and Clinical Informatics Data Analyst for the Maternal Child Health department. She is known to give out her private number to new moms for coaching and counseling at any time. Her care and attention allows her to make a personal connection with new parents, putting them at ease during what can be an overwhelming time.
As an active and enthusiastic member of the hospital-wide community, Matalucci serves on several committees and work groups and has become involved in many patient-centered initiatives, employee engagement efforts and most recently became active in the hospital's Garden Club.
Matalucci says working at Shore Medical Center feels like home to her.
"Not only am I fortunate enough to have found a career and institution that allows me to apply my passion, but also an associate and other colleagues who provide tremendous support through seamless collaborative efforts."
A resident of Cape May Court House, Matalucci enjoys spending time with her husband, son and daughter, and establishing creative projects, whether it be at Shore or through personal ventures.
 About Shore Medical Center
At Shore Medical Center, located in Somers Point, NJ, kindness complements an extraordinary level of clinical sophistication. People are the foundation of this modern medical center where advanced technology harmonizes with compassionate care. Shore Medical Center attracts the area's best physicians, nurses and clinicians, and is the first and only hospital in New Jersey and one of 86 healthcare organizations worldwide to earn Designation as a Planetree Patient-Centered Care Hospital®. Recognized for its dedication to patient safety, Shore has received six consecutive "A" grades in The Leapfrog Group's Hospital Safety Score since Fall 2014. Shore Medical Center is home to six Centers of Excellence for Cancer, Cardiovascular, Neurosciences, Spine and Orthopedic, Emergency and Maternity and Pediatric care. Shore's affiliations include Penn Medicine, Onsite Neonatal Partners, St. Christopher's Hospital for Children, Advanced ICU Care, Mayo Medical Laboratories, and Advanced Radiology Solutions. In addition, Shore is a member of the Jefferson Neuroscience Network and has physicians on staff from the Rothman Institute. In 2011, Shore opened its Pediatric Care Center, the first of its kind in New Jersey, and its state-of-the-art Surgical Pavilion and Campus Expansion. The Shore Medical Center Planned Giving & Development team (www.GivetoShore.org) creates and implements dynamic philanthropic programs that support the mission of Shore Medical Center. For more information about Shore Medical Center, visit www.ShoreMedicalCenter.org.