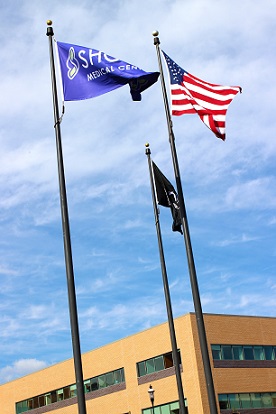 (Somers Point, NJ) – May 18, 2017 – Shore Medical Center is proud to announce that it will host a weekly Patriotic Tribute to all women and men in uniform every Friday this summer, beginning Memorial Day weekend. Ceremonies will be held at the flag poles in the park located in front of the hospital along Bay Avenue, starting at 6pm. Shore is inviting the community to join together in saluting those who have served and who are currently serving in the armed forces.
"It is our honor and duty to start Memorial Day weekend and the summer season by paying tribute to those who have served so that we may enjoy the freedoms and opportunities of this great country," said David Hughes, Shore Medical Center's Chief Financial Officer and Chief Development Officer. "Then, starting June 16, the 6pm tribute will be held at the conclusion of our community farmer's market and an hour before the Somers Point beach concerts. It is a great opportunity to join together as a community, reflect on our nation's heroes, and pay our respects to those who have given so much."
The first ceremony will be held on Friday, May 26, to kick off the Memorial Day weekend with a tribute to those who have made the ultimate sacrifice while serving our country. Each week following, the ceremonies will celebrate those who have served both during conflict and peacetime.
Members of the community will have the opportunity to have the name of a loved one who served read aloud at each ceremony, beginning with the ceremony on June 2. To have a loved one's name read during the ceremony, simply email their name and branch of service to patriotictribute@shoremedicalcenter.org
About Shore Medical Center
At Shore Medical Center, located in Somers Point, NJ, kindness complements an extraordinary level of clinical sophistication. People are the foundation of this modern medical center where advanced technology harmonizes with compassionate care. Shore Medical Center attracts the area's best physicians, nurses and clinicians, and is the first and only hospital in New Jersey and one of 86 healthcare organizations worldwide to earn Designation as a Planetree Patient-Centered Care Hospital®. Recognized for its dedication to patient safety, Shore has received six consecutive "A" grades in The Leapfrog Group's Hospital Safety Score since Fall 2014. Shore Medical Center is home to six Centers of Excellence for Cancer, Cardiovascular, Neurosciences, Spine and Orthopedic, Emergency and Maternity and Pediatric care. Shore's affiliations include Penn Medicine, Onsite Neonatal Partners, St. Christopher's Hospital for Children, Advanced ICU Care, Mayo Medical Laboratories, and Advanced Radiology Solutions. In addition, Shore is a member of the Jefferson Neuroscience Network and has physicians on staff from the Rothman Institute. In 2011, Shore opened its Pediatric Care Center, the first of its kind in New Jersey, and its state-of-the-art Surgical Pavilion and Campus Expansion. The Shore Medical Center Planned Giving & Development team (www.GivetoShore.org) creates and implements dynamic philanthropic programs that support the mission of Shore Medical Center. For more information about Shore Medical Center, visit www.ShoreMedicalCenter.org.