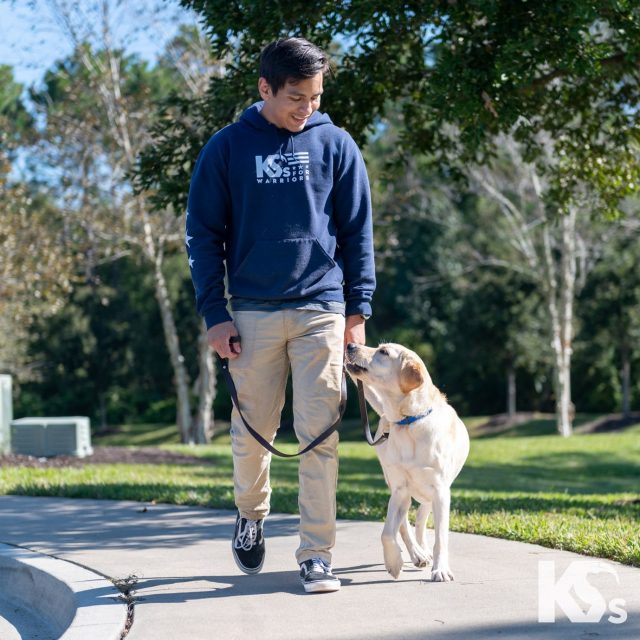 K9s For Warriors is a nonprofit organization dedicated to equipping veterans with service dogs throughout the US. These K9s receive an average of six months of training and ultimately provide these Warriors with unwavering support, compassion, and loyalty that aids them in recovering from trauma they experienced during their military service. In the following article, K9s For Warriors explains why their commitment to a warrior in their program does not end after they are matched with their service dog.
When a veteran is dealing with service-connected traumas, offering them the support they need is vital. IK9s For Warriors wants every service member to understand how important their process is once a veteran fills out their application. There is a science behind pairing the proper service dog with a veteran based on the unique background of the animal and the warrior. Once a warrior application is submitted, K9s For Warriors conducts multiple interviews to understand better where the warrior is at in their PTSD journey as well as important information that will aid the team in pairing the veteran with the right dog.
The thorough background process allows Service Dogs to be matched appropriately, leading to a quicker, unconditional bond. For instance, dogs that love water may be paired with a veteran who spends a lot of time at the lake or beach. K9s For Warriors has a track record of seeing Service Dogs immediately positively influence the lives of a veteran experiencing debilitating symptoms, like PTSD, from military service-connected traumas.
Most of the dogs that go through the training process at K9s For Warriors are rescues. By saving the lives of these animals from euthanasia or abandonment, these incredible animals are given a purpose. The majority of pairs that graduate from the K9s For Warriors program represent two lives saved – the Warrior and the Service Dog.
When veterans return home with their Service Dogs, the role of K9s For Warriors in their lives is just getting started. Any warrior who is accepted into the program at K9s For Warriors should know they have unwavering support and services for life. K9s For Warriors not only pledges advocacy on behalf of veterans, but Warriors receive caregiver support and monthly check-ins from the K9s team. The goal is to ensure every warrior knows they have an available support team.
The ability to offer support to veterans that can quite literally save lives is something K9s For Warriors takes great pride in. With every graduation ceremony, the awareness of this lifesaving organization grows. Anyone inspired by the work of K9s For Warriors should know there are multiple ways they can help support the cause. In addition to monetary donations, K9s For Warriors is always looking for talented people who are able to volunteer their time. For instance, all of the meals cooked onsite for Warriors during their three weeks of training are done by volunteers.
Many businesses also play a significant role in the support of K9s For Warriors mission by sponsoring dogs, raising dollars via point of sale asks at registers, and supporting fundraising events and initiatives, just to name a few. Individuals also get involved, planning their own fundraising events on behalf of K9s.
Anyone looking to give back to K9s For Warriors in any way they can is encouraged to visit this page: https://k9sforwarriors.org/ways-to-support/. Whether donating time, money, or resources, each gift goes towards rescuing more dogs to pair with more Warriors.