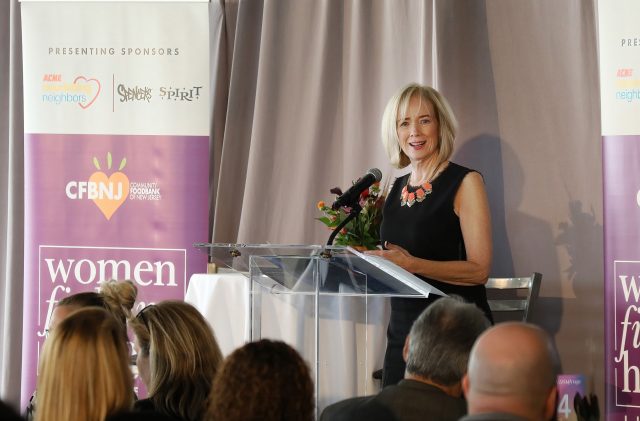 The Community FoodBank of New Jersey (CFBNJ) hosted its Eighth Annual Women Fighting Hunger Luncheon on Wednesday, October 25 at Linwood Country Club in Linwood and the Park Avenue Club in Florham Park to support CFBNJ's healthy food distribution efforts, according to a news release.
For the second time, the event was held in two locations simultaneously – one in North Jersey and one in South Jersey – to unite supporters from across the state. In total, 550 people attended the Luncheon, which raised more than $350,000 with the generous support of sponsors, event chairs and attendees.
The South Jersey event was sponsored by ACME Nourishing Neighbors, Spencer's & Spirit Halloween, and Atlantic City Electric.
CFBNJ works to address hunger as a health issue, providing nearly 37 million pounds of fresh produce annually so that people in need can live healthy, active, and productive lives. The organization distributes over 90 million meals annually to support neighbors' nutritional needs related to health concerns, cultural considerations, and food preferences, according to the news release.
Luncheon attendees supported a healthy lifestyle and spice food drive to help CFBNJ provide healthy, flavorful food. They brought low-sodium canned vegetables, canned chicken, low-sodium canned soups, and bottled spices and dried herbs to the event for distribution to CFBNJ's partner pantries.
The drive collected nearly 2,400 pounds of these sought-after items.
The luncheon began at 11 a.m. with a volunteer hour at both locations, during which attendees packed close to 1,100 healthy lifestyle meal kits that included canned chicken, low-sodium chicken broth, low-sodium canned vegetables, fruit in natural juice, split peas, rice, garlic powder, Italian herbs, and a recipe card.
"Access to food, healthcare, education, and other critical necessities shapes health and well-being. That's why CFBNJ works to create and follow strict guidelines about the nutritional quality of foods we source and distribute to our neighbors," said Elizabeth McCarthy, president/CEO of the Community FoodBank of New Jersey.