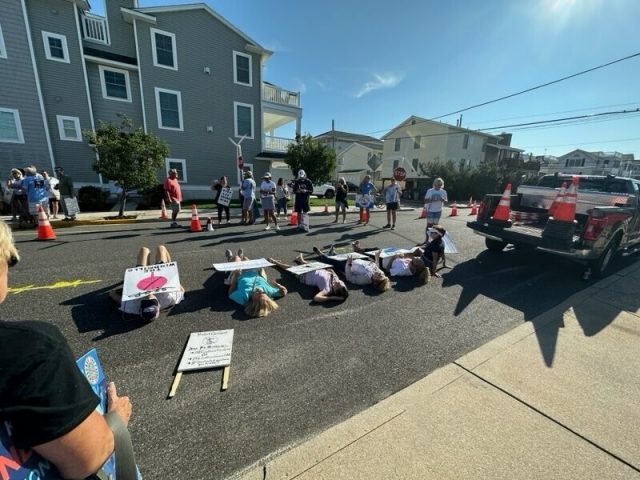 By MADDY VITALE
Six offshore wind farm opponents were arrested Tuesday afternoon during a protest of preliminary work along the 35th Street corridor in Ocean City for an underground transmission cable that would link wind turbines with a land-based electric grid at the former B.L. England power plant in Upper Township.
About 60 protesters attended the rally with the goal of stopping workers from drilling holes in an early step in Orsted's Ocean Wind 1 project. When police asked them to relocate about 10 feet from the site, many did.
Six of them refused, resulting in workers not being able to start their work to drill holes along the corridor, Police Chief Jay Prettyman said. They were charged with two disorderly persons offenses, failure to disperse and obstruction of highways or public pathways.
They are as follows:
Denise Philipp, 53, of Doylestown, Pa.
Karen Corsi, 66, of Woodbury, N.J.
Shani Kovacevic, 44, of Ocean View, N.J.
Bonna Dataneang-Weinstein, 58, of Rydal, Pa.
Robert Weinstein, 73 of Rydal, Pa.
Lee Darby-Rinaldi, 59, of Absecon
Mayor Jay Gillian stopped by the protest. He did not address the protesters. He said he just wanted to see what was going on at the site. He has been a critic of the way the project has been handled by Orsted and thinks it has been a "money grab" by the offshore wind farm company.
"I stopped down and everything was peaceful," Gillian said. "People are passionate about this. What the protesters are doing is what democracy is all about. What the state is doing and some of the politicians are doing is not democracy."
Orsted's wind farm project is proposed for 15 miles off the coast between Atlantic City and Stone Harbor, passing by Ocean City, Sea Isle City and other beach towns in the process.
Opponents believe the project would cause irreversible harm to the environment and Cape May County's tourism-dependent economy. They have blamed a series of whale and dolphin deaths in recent months on sonar mapping of the seabed for the wind farm, although Orsted has denied any connection.
Prettyman said in an interview that the protesters gathered in the southern lane and the southern sidewalk of 35th Street between Asbury Avenue and Central Avenue. They were repeatedly asked by police to move across the street, away from the construction work.
"We tried our very best to avoid making any arrests. We issued a warning early this morning and directed them to an area within close proximity to the work site to gather legally and they chose to illegally occupy the workspace," Prettyman said.
By the fourth request over the course of nearly four hours, from 8:30 a.m. to 12:15 p.m., the six protesters were arrested. Work resumed afterward.
"I went to the scene and begged them to move to the other side of the roadway where they could gather legally," Prettyman said. "I explained to them if they didn't move then we would be forced to remove them from the roadway. The police gave them a fourth warning and they refused and were transported to the police station."
Protester Shani Kovacevic said she "dug her heels in today."
"That is the only thing we have left. They took away our rights. Everything else has failed. Taxpayers were shut out, and that is all we have left," she said in an interview.
Kovacevic, an Upper Township resident, owns the pet boutique Animal House on Asbury Avenue in Ocean City.
She said her livelihood is at stake if the wind farm is built.
"It will hurt business. It will hurt tourism. It will hurt commercial fishing," she said.
Another protester who was arrested, Denise Phillip, said she is law-abiding and until Tuesday, never "even got a ticket." Phillip lives in Doylestown, Pa., and has a vacation home in Ocean City.
Phillip said she never protested anything in her life before Tuesday.
"I want my children and grandchildren to have the ocean," Phillip said. "I think we are well-aware that the whales are being killed by what Orsted is doing. If you don't stand for something, you stand for nothing. We aren't big money. We aren't big organizations. We are all doing this because we love this community."
Ocean City resident Suzanne Hornick, an outspoken critic of the wind farm project and Orsted, said the turnout was "great" and is hopeful for the future.
"People came from as far away as Point Pleasant and Cape May Point to join us today in this fight," Hornick said. "I organized this to stop the work for a few hours today to send a clear message to Orsted, its stockholders, Gov. (Phil) Murphy and our state government. We, the coastal residents of New Jersey, don't want offshore wind."  
Hornick, who noted that she was the main organizer of the rally, said she "received tremendous support from Defend Brigantine Beach and Save the Jersey Shore."
"They share my commitment to stop offshore wind before irreparable damage to our environment, ocean, endangered species, tourism and fishing industries, property values, electric rates and national security occurs," she said of the groups.
She said that she hopes people will continue to protest the project daily on 35th Street until the work is done.